Long and Short Reviews welcomes Abbie Roads who is celebrating the upcoming release of Saving Mercy, the first in her new Fatal Truth series. Leave a comment for a chance to win a bundle of Race the Darkness and Hunt the Dawn (US only please).
Behind the Scenes with Abbie Roads…
My first thought when I read this topic was I'm going to bore these people to death. My life is the exact opposite of exciting. If it's a work day, I wake up, go to work, come home, eat and write until bed. If it's a writing day, I write, I eat, then write some more. See… boring…
Except…
Well, I've had a few days that have been Crazy with a capital C!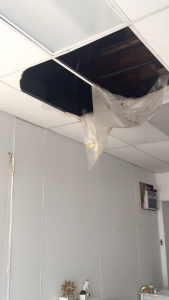 Two weeks ago, the ceiling in a building we own collapsed and was pouring water into the office space below.
My husband calls me from his work and begs me to go over and fix it because he can't leave and is over an hour away.
Me… He asked me to fix it. WTF?
He made it sound so easy. Just turn off the hot water heater to the apartment above the office space. But where the hell was the hot water heater? In another office space. In the basement. Tucked in a dark corner. And I swear there were four different hot water heaters and every one of them had twenty thingies to turn that all looked like they might shut off the water.
Thank God, I was able to call on the emergency assistance of my Dad. But when it turned out the hot water heater wasn't the issue, another phone call with my husband resulted in him talking hack saws and shark bites and installing new shut off valves. My eyes glazed over and I stopped listening.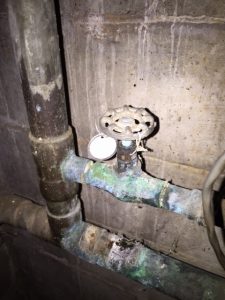 Finally, me and Dad found the shut off valve that saved the day. We shut the water off to all the apartments! They only had to go three hours without water until my husband could get over there and fix the problem. I still called it a success.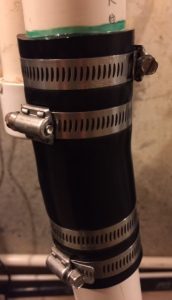 And then yesterday… A pipe leading to the sump pump in the basement of our home sprung a leak. And of course, everyone in town was sold out of the part we needed to fix it. Some improvising occurred. Then some googling. Thirteen hours later and after using half a bottle of KY Jelly (Google recommended KY Jelly to slide the rubber thingie onto the pipe. I swear I really am talking plumbing not sex), we finally got it fixed after only minor basement flooding.
If bad things come in threes… Uh… Oh… I've got another one headed my way…
Does your husband ever way overestimate your plumbing capabilities?
Does Google give you crazy answers like using KY Jelly? Or is it just us…
First in a chilling new paranormal romantic suspense series from award-winning author Abbie Roads

He's found her at last

Cain Killion knows himself to be a damaged man, his only saving grace the extrasensory connection to blood that he uses to catch murderers. His latest case takes a macabre turn when he discovers a familiar and haunting symbol linking the crime to his own horrific past—and only one woman could know what it means.

Only to lose her to a nightmare

Mercy Ledger is brave, resilient, beautiful—and in terrible danger. The moment he sees Mercy, Cain knows he's the one who can save her. He also knows he's beyond redemption. But the lines between good and evil blur and the only thing clear to Cain and Mercy is that they belong together. Love is the antidote for blood—but is their bond strong enough to overcome the evil that stalks them?
About the Author: Abbie Roads is a mental health counselor known for her blunt, honest style of therapy. By night she writes dark emotional novels, always giving her characters the happy ending she wishes for all her clients. Her novels have finaled in RWA contest, including the Golden Heart. She lives with her family in Marion, OH.
Website
Buy the book at Amazon, Barnes and Noble, or iBooks.