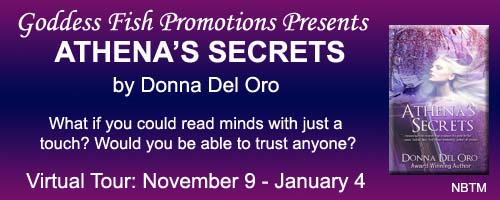 This post is part of a virtual book tour organized by
Goddess Fish Promotions
. Donna Del Oro will be awarding a print copy of The Delphi Bloodline, Born to Sing, Scheming, or Dreaming in Los Angeles to a randomly drawn winner via rafflecopter during the tour. Click on the tour banner to see the other stops on the tour.
Behind ATHENA'S SECRETS and THE DELPHI BLOODLINE Series: The Philosophy of "The Flow"
by Donna Del Oro
How to explain my vision of "The Flow" or spirit world that my heroine Athena Butler, a gifted clairvoyant, alludes to often in my ESP romantic thriller, ATHENA'S SECRETS? Below is a passage that might begin to explain this vision of mine and its important role in the story.
Athena has just explained to her friend, Kas Skoros, that she has telepathic visits with her psychic mother. That is how they keep in touch with each other at night when they are separated by thousands of miles.
"How do your night visits with your mother work?" Kas asked.

"Difficult to explain. I send my Upper Mind, which is separate from my biological brain—anyway, I send it out there into…"

"Yeah?"

"Into the Flow, a dimension where our spiritual consciousness lives. I can float about at will, go where I want, observe, interact with other spiritual entities or souls. Sometimes, a spirit will call me. Sometimes I'm drawn to a certain spirit or moment in time.

"My mother calls it The Flow, or the World of Spirits. I think physicists would call it a dimension we have not discovered yet, the invisible dimension around our planet that holds all of the thoughts and memories of past and future mankind. Everything that humans have experienced or will experience. A kind of vast CD storage place. Did you know, Kas, that most physicists believe there are at least ten dimensions? Humans know and experience only three. Einstein discovered a fourth. The others will become known as humans evolve."

"Uh-huh," was all Kas could manage.

"Anyway, it's our way of connecting with each other when we're apart. My mother and me. She comes to me or I go to her. Tonight I'm going to try to go to Italy and find her. I feel she's in the mountains somewhere."
Athena's disembodied voice, soft and modulated, was lulling him to sleep. He wanted to keep listening to her, fought to stay awake. The Flow. Spiritual entities. In his concrete, material world, this was all bizarre as hell.

"Wow. You bottle this, Athena—this ability to move your mind around this planet and it'll put the airlines out of business," he joked. His own voice sounded rough and slurred, like he'd just been shot with Novocain. "It's a kind of time travel. My mother travels forward. You travel back in time to ancient Greece. Incredible." He yawned loudly. "Tell Annabella hello for me."
Although Kas Skoros claims to be a Guardian of the Delphi bloodline, like his father is to his mother, he lacks the psychic ability of these women he admires so much. Nevertheless, his courage and commitment to the survival of this bloodline compensate for this lack. His dark, good looks and good humor ultimately win Athena over, and she allows him the privilege of being her Guardian. They do not plan on falling in love with each other, and it is this newfound love of theirs that prompts Athena to visit The Flow again, this time to visit the spirit of Kas's dead brother. What she tells Kas about that visit becomes the emotional and philosophical climax of the book.
Writing about The Flow was a wonderful release for me spiritually. I've always believed in another dimension of spiritual energy, and the physics of such a dimension made so much logical sense to me. I'm looking forward to hearing from readers about The Flow. Do they believe such a dimension is possible, even likely? How closely does this vision of The Flow align with the Judeo-Christian idea of heaven? The Hindus' belief in the Afterlife? Have they ever experienced a connection with such a dimension?
Athena Butler, the twenty year-old descendant of an ancient bloodline of psychics, yearns to lead a normal life. She wants a career, a boyfriend, independence. Her clairvoyant powers, however, have taught her that people can be false and dangerous. Although warned to keep her gift a secret, she's recruited by law enforcement to help search for a serial killer and uncover a terrorist cell.

Can Athena stay alive long enough to fulfill her dream?
About the Author:Donna Del Oro lives in Northern California with her husband and three cats. She taught high school and community college English classes for 30+ years and is now happily retired. When not writing novels or reading voraciously, she travels and sings with the medal winning Sacramento Valley Chorus.
Donna is a member of Capitol Crimes, the Sacramento chapter of Sisters in Crime in addition to the Valleyrose chapter of the RWA. She has judged RITA entries and does developmental editing on the side. Two of her novels, Operation Familia and Born To Sing, have won national and international awards.
Follow clairvoyant artist Athena Butler in the next book in The Delphi Bloodline series: ATHENA'S QUEST.
Website
Buy the book at Amazon or Barnes and Noble.