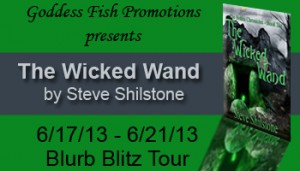 This post is part of a virtual book tour organized by
Goddess Fish Promotions
. Steven will be awarding the first 5 stories of the series in eBook format to a randomly drawn commenter during the tour. Click on the tour banner to see the other stops on the tour.
Bekka, in your 6th chronicle, The Wicked Wand, please heed the warning of your best friend Kar. Be satisfied with your new collection of 22 magic rings. Don't try to find the hiding place of the Wand just because it, too, now belongs to you. It's dangerous. You know it. Kar knows it. You say you can control it. Kar doubts that deeply, but she will help if you insist on going. She won't allow you to travel alone on your quest even though she thinks it foolish. You're lucky to have a friend like Kar, and soon, oh soon, you'll know why.
Excerpt
I broke off a corner of cupboard to snack on and led the way to the troll's collapsed house. Truth, I raised my hand to press the proper ring to my lips. I had a plan. I muttered a chant. The proper ring fit snug on my left index finger and displayed a single pink diamond set on a striped gold and silver band. The chant completed, the ring buzzed my lips. I shrank, miniaturized from hat tip to the bottoms of my buckle shoes. I felt tingly dizzy at first. The dizziness faded, and I stared up into the emerald eye of the immense glassy snake, Kar.
"Shrinking ring?" she asked.
"Yoss," I peeped in a tiny voice. "Stick out your … lung … no … tongue … Yoss. That's it."
Kar flicked out her green emerald tongue, and I walked it like as strolling on a carpet to her mouth. I caught hold of a nostril and pulled myself up onto her head. I sat between her eyes and ordered her into the ruins. In we slid.
About the Author:

Born in Louisville, Kentucky, Steve moved as a toddler with his family to Denver, Colorado, where his passion for books was sparked early by such titles as McElligot's Pool, The Little House, Little Toot, and more. His father's employment with the Pennsylvania Railroad had the family moving to Seattle, Washington when Steve was 10. There he dragged home an armload of books every week from the library. He plowed through the Oz books, the horse books, and the dog books while maintaining vast stacks of comic books, mainly Little Lulu and Scrooge McDuck. It was at this time that he wrote his first piece, something called 'Art Ant Off To War'.
Lo, the teenage years raged in and found Steve's family – an older brother, a younger brother, a father and a mother – plunked down for good in Redwood City, California on the San Francisco peninsula. Now Steve's reading frenzy really kicked into high gear. He buzzsawed through all of Dickens and all of Tolstoy in addition to his regular mound of scifi and fantasy and Moby Dick on the side. Trapped in the tentacles of teenageritis, he wrote stories with titles like 'The Coffin' and 'The Guillotine'. Anguished poetry was a given.
Steve eventually attended and graduated from UCLA with a degree in Anthropology, and following that, gave thanks for the asthma which exempted him from a trip to Vietnam. From then until on, he painted and wrote, observed hippiedom with interest from the sidelines, distributed mail for the United States Postal Service, unloaded trucks and worked in the stockrooms of various Mervyn's department stores, coached youth baseball for a quarter of a century, and became parental. He also finally got around to reading Ulysses by James Joyce, thereby freeing his writing self from the shackles of convention.
His baseball novel, Chance, debuted in 1996. His middle grade fantasy e-book series, The Bekka Chronicles, began appearing in 2010. He lives sometimes in Redwood City, sometimes at South Lake Tahoe. He continues to play with words. His child of hippies novel, CHILDREN OF VINEYARD, is due out in 2014 from Livingston Press.
Email: steve@steveshilstone.com
Website: < href="http://steveshilstone.com/">http://steveshilstone.com/
eBook Blog: http://bekkaofthorns.com/
dada Humor Blog: http://dochortonsloondiary.com/
Amazon: Amazon
Goodreads: http://www.goodreads.com/author/show/878076.Steve_Shilstone
Facebook: >a href="https://www.facebook.com/SteveShilstone">https://www.facebook.com/SteveShilstone
Twitter: https://twitter.com/steveshilstone
G+: https://plus.google.com/106099026541084889139/
Purchase Steve's Books from Wild Child: http://www.wildchildpublishing.com/index.php?main_page=advanced_search_result&search_in_description=1&keyword=steve+shilstone