Long and Short Reviews welcomes Andrea Downing, whose first contemporary novel, Dances of the Heart, came out in February. Leave a comment for a chance to win a digital copy of the book.
BATTLING THE LITERARY SNOBS
If you're here reading this at Long and Short Reviews, most likely it's because you love Romance. And if you love Romance, it's probably 'happened' to you: you know the look, the word, the little smirk. Someone sees what you're reading or asks what you're writing, or they spot the loving couple on the cover, and there's this little blink or quick movement of the eye, and then that smirk. The attack of the Literary Snob. "Oh. A Romance?" And if they've picked up the book to look at it, they sort of hand it back as if you'd asked them to hold the contents of your dog's pooper scoop for a moment.
If you've ever taken a college English course, you'll be aware that the actual definition of a Romance novel, here defined by Dictionary.com, is "a novel or other prose narrative depicting heroic or marvelous deeds, pageantry, romantic exploits, etc., usually in a historical or imaginary setting." Dictionary.com goes on with, "the colorful world, life, or conditions depicted in such tales" and "a medieval narrative, originally one in verse and in some Romance dialect, treating of heroic, fantastic, or supernatural events…"
The word Romance actually comes from Romance languages, languages that evolved from Latin and, in the case of English, 'Middle English'—the language of Chaucer. Did Chaucer write "romance" as we think of it today? You betcha. Bawdy is a word that is often applied to Chaucer's "Canterbury Tales". Erotic is what we would say today.
But let's get back to those definitions. "Heroic or marvelous deeds?" I'll settle for that. Most romance heroes or heroines have to overcome some obstacle to reach their goal—the motivation and conflict that drive a novel. "Pageantry, romantic exploits?" Well, the romantic exploits are definitely in modern romance; pageantry might be a stretch but I'm thinking that, as the clothes come off, it's definitely a pageant of sorts. "Historical or imaginary setting?" Yup. Absolutely.
But let's move on from the medieval and other old definitions of Romance. Let's think about Romance vs. Literary Fiction today. What's the difference? Are these snobs criticizing us because we want a happy ending? What's wrong with that? Is there a difference between the Romance novel written by a romance novelist and the romantic novel written by a literary novelist? A few years ago, I read a wonderful book that I passed on to several friends. It had been in the literary section of the bookshop, but it was most definitely a romance: it was a love story and it had an HEA. But the author was well known for HIS literary fiction. So here's the thing: what is the difference between his oeuvre and an author who owns up to writing Romance in the current definition of a book with an HEA? For some reason, there is an entire contingent out there who seem to think that Romance is not well written, is missing its Ps and Qs, and whose stories are somehow second rate to the stories of authors in other genres or in literary fiction. Why?
Well-written fiction, no matter what genre, no matter what shelf at the bookshop, is well-written fiction. That's it. Period. And if you prefer reading something with an HEA to something that ends dangling (as so much modern literary fiction seems to do), or sad, or inconclusive, just look back, with a questioning glance, at that snob holding your book. "Did you ever read Chaucer in school?" you can ask. "He was a Romance writer, too."
Successful, workaholic author Carrie Bennett lives through her writing, but can't succeed at writing a man into her life. Furthermore, her equally successful but cynical daughter, Paige, proves inconsolable after the death of her fiancé.

Hard-drinking rancher Ray Ryder can find humor in just about anything—except the loss of his oldest son. His younger son, Jake, recently returned from Iraq, now keeps a secret that could shatter his deceased brother's good name.
On one sultry night in Texas, relationships blossom when the four meet, starting a series of events that move from the dancehalls of Hill Country to the beach parties of East Hampton, and from the penthouses of New York to the backstreets of a Mexican border town. But the hurts of the past are hard to leave behind, especially when old adversaries threaten the fragile ties that bind family to family…and lover to lover.
Enjoy an excerpt:
"You still frettin' over your body?" His words met her closing the bathroom door.
For a moment, she stayed silent while she washed and got ready for sleep. Then she stepped out. "I shall always fret over my body. You'll be disgusted by it soon. You'll see. Who wants to make love to a withered old hag?"

Ray inhaled, obviously frustrated with having to deal with this again. "You know," he drawled out, "there's two of us aging here. You don't hear me worrying 'bout my old broken down body appearing in front of you with all its flabby bits. I'm not in love with your body, Carrie. I'm in love with you, you dang fool." He reached out a hand and drew her over. "Find something else to worry about, will you?"
He was right; she knew she didn't give a damn what the hell he looked like. To her, he was the best looking damn man on earth. Worry about something else? "I have," she finally answered him. "I should have phoned Paige again today. She sounded too crisp and business-like to me on the phone yesterday." It was going to be a long night. Her mind was turning over too much.
Ray stole a glance at the bedside clock. "She'll be fine," he assured her. "First thing tomorrow, you can call, but I'm sure she'll be fine." He lay back on the pillow. "Anyway, I didn't know Paige had anything but 'crisp and business-like' when speaking. Seems that's the way a lawyer should be…even with her mother," he added quickly. He patted the bed beside him.
Carrie curled herself in again as Ray switched off the low bedside light.
"You think again about how long you can stay? Not that I want you to go—I want to make that clear."
"Oh." She gave a quiet giggle. "I guess maybe as long as Mabel lets me." Lying against him, the quake of his laughter quivered against her skin. "Seriously, I don't know. It sort of depends on…"
"You miss New York? Your friends?"
"Yes. But then, if I were there, I'd be missing you, so which is worse?" She craned her neck to meet his gaze. A sudden feeling of contentment washed over her, and she curled up again, resting her head against him.
For a while, she listened to the broken record song of the cicadas and frogs until that was joined by the soft whistle of Ray's even breathing. But such satisfaction did not send her to sleep; it was a night when her mind would not rest and the restlessness won.
Carrie slipped one leg down and then the other to stand and quietly make her way out the door, drawing it shut behind her. The hallway was pitch black, a night in which clouds blanketed the moon, and, like a criminal, she stole her way to the sunroom. Feeling for the switch, she inundated the room in the white light of the ceiling fan bulb and flipped the computer open, jabbing in her password and sitting, waiting for the home page to appear.
And then the dogs started barking.
Slipping back from the table, she rose to see if she could spot a deer that might have set them off as Jake had mentioned. The void of blackness was menacing, a complete emptiness of life as if she were the last person left on the planet. The glare of the light bulb and her own reflection forced her to lean right up to the cold glass, but nothing greeted her, a vacancy was all there was.
She decided it was nothing more making them bark than a passing animal she couldn't see, and she started to sit down when she became aware of something. Dogs were still barking, but it sounded like there were only two of them barking now, which puzzled her. They were barking more frantically, too, with a sort of whining cry emitted, a terrible yowling of desperation.
And then came the screech of the kennel door.
Hurriedly rising from her chair again, her heart pounding as if it wanted to escape her chest, Carrie rushed to the glass of the sunroom windows, desperately searching the emptiness for a sign of movement. The room's reflections in the glass sketched specters outside, unnerving doppelgangers in an alternate world. Her hand instinctively went to her chest as she searched the void franticly.
And then, two staring, disembodied eyes came floating through this ghostly setting and, catching the light from the room for a second, a knife held out, red stains of blood just dulling its sheen.
About the Author: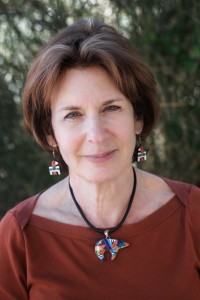 Andrea Downing likes to say that when she decided to do a Masters Degree, she made the mistake of turning left out of New York, where she was born, instead of right to the west, and ended up in the UK. She eventually married there, raising a beautiful daughter and staying for longer than she cares to admit. Teaching, editing a poetry magazine, writing travel articles, and a short stint in Nigeria filled those years until in 2008 she returned to NYC. She now divides her time between the city and the shore, and often trades the canyons of New York for the wide open spaces of Wyoming. Family vacations are often out west and, to date, she and her daughter have been to some 24 ranches throughout the west. Loveland, her first book, was a finalist for Best American Historical at the 2013 RONE Awards. Lawless Love, a short story, part of The Wild Rose Press 'Lawmen and Outlaws' series, was a finalist for Best Historical Novella at the RONE Awards and placed in the 2014 International Digital Awards Historical Short contest. Dearest Darling, a novella, is part of The Wild Rose Press Love Letters series, and came out Oct. 8th, 2014, and Dances of the Heart, her first contemporary novel, came out in February, 2015.
Website | Facebook | Twitter | Goodreads | LinkedIn | Amazon Author Page
Buy the book at Amazon, The Wild Rose Press, or Barnes and Noble.