Long and Short Reviews welcomes Lori Handeland, author of the Sisters of the Craft series. The second book of the series, Heat of the Moment, released June 30.
Balancing Life and Writing
Balancing life and writing is always a challenge, and one I've never been very good at. The only way I've been able to manage it the slightest bit is to treat writing like a job. I write for certain hours every day, and I don't change that unless there's an emergency.
When my kids were small, I wrote from when the bus picked them up until it dropped them off. If volunteers were needed, I volunteered in the evening or after school.
My family learned not to call during my work hours. I wasn't going to answer. Leave a message and I'll get back to you.
The problem I've always had is taking a break. Since a book is in my head, it's always there. Since my office is in my home, same thing. I can't remember the last vacation I took where I didn't bring along a computer or a print out of a manuscript. I'm not sure there's been one in the twenty plus years I've been writing.
I try to take weekends off from the actual creative writing. I still take care of social media and email, as well as packaging contest prizes, updating mailing lists, re-issuing backlist and the like.
In the same vein of working during certain hours, I also play when those hours are done. Evenings I read, crochet, watch TV shows, movies or sporting events. I go out with writing friends–drinks, meals, writing retreats. Which may sound like more work, but it's so much fun I can't really classify it in that column. I spend time with my family and their dogs. Dogs are great for balance. You have to walk them, and then, hey, it's sunny out! Woo, hoo.
A spell that tore three sisters apart is broken four hundred years later, when the magic in their blood reunites them. Now, one of them will discover her gift-and reignite a love long thought lost…

Flame-haired Becca Carstairs was born to be a veterinarian. Since childhood, her affinity for animals has been special, and her healing touch nothing short of magic. But only Becca knows the truth-that she alone can hear the creatures' voices. She's always trusted her sixth sense…until a string of missing pets, an attempted murder, and a face from her past converge into one explosive mystery, with her at its center. Is haunted Owen McAllister, the boy who broke her heart ten years ago, related to the sinister crimes that have peaceful Three Harbors, Wisconsin, on its guard? Or is his reappearance part of the answer to questions that have troubled her all her life? As Becca delves into her strange heritage, she'll have to fight for her life…and the man she will always love.
b>About the Author: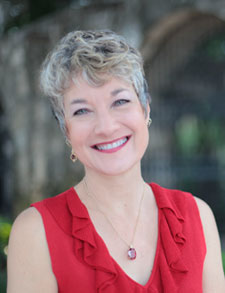 Lori Handeland is a New York Times, USA Today, Waldenbooks and Bookscan Bestselling Author and the recipient of many industry awards, including two RITA Awards from Romance Writers of America for Best Paranormal (BLUE MOON) and Best Long Contemporary Romance (THE MOMMY QUEST), a Romantic Times Award for Best Harlequin Superromance (A SOLDIER'S QUEST), the Colorado Romance Writers Award of Excellence, the Write Touch Readers Award, the National Readers Choice Award and the Prism Award.
Lori is published world wide in several genres–historical, contemporary, series and paranormal romance, as well as urban fantasy and historical fantasy–by such publishers as: Dorchester, Kensington, Harlequin, St. Martin's Press, Harper-Collins, Simon and Schuster and Penguin/Putnam.
She also publishes gritty, sexy western historical romance under the name Lori Austin.
Lori lives in Wisconsin with her husband, enjoying occasional visits from her grown sons. She loves to hear from readers and can be reached at LHANDEL120@aol.com.
Buy the book at Amazon or Barnes and Noble.