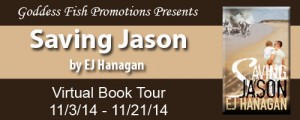 This post is part of a virtual book tour organized by
Goddess Fish Promotions
. EJ will be awarding a $50 Starbucks GC to a randomly selected winner via rafflecopter during the tour. Click on the tour banner to see the rest of the stops.
Balancing Life and Writing
When I decided to leave my day job and focus solely on writing, I envisioned a world with endless amounts of time where I could just sit in front of my laptop and dream up characters and plot. I fantasized about getting comfy with a cup of coffee and creating, as the hours would pass by in a cozy cafe.
One thing that non-writers may not know though, is that with writing comes research. And depending on your story, that could mean lots and lots of research. It could mean traveling countless miles to interview someone for a topic, or it could mean that you spend hours on Pinterest searching for the perfect 60s wedding dress for the main character in your next scene. So, with that said, writing is just never simply "writing" alone and the hours of pounding the keys that I dreamed of, turned out to be a bit different. I squeeze in writing and marketing time while my one year old daughter naps and often times I'm cut off mid-sentence when I hear a sweet little squawk erupt from her room down the hall. Also, while my dogs tend to spend most of their time sleeping, it's not rare for me to be interrupted by a barking fit every now and then. It's usually a squirrel trying to break into our backyard or something harmless like that, but it usually gets me out of my chair to assess the situation, thus taking away from more of those endless writing hours that I dreamed about.
Another balance issue is the whole reading thing. Every writer knows that in order to get better, we need to READ. It's basically like creeping on other author's to enhance our own work. So, since most of my time at home is spent writing, marketing, mommying and taming my wild dogs, I use my gym time to read. Thanks to my handy little kindle, I can climb the Stairmaster or run on the treadmill while I study the work of my fellow authors. Music can be blaring in the background and weight lifters all around me may be grunting, but I love to read so much that I manage to block it all out and escape into a story while I sweat.
Like all jobs and hobbies, if you love it enough, you manage to squeeze it all in. I'd rather congest my life with a million little things that I love and be fluttering around searching for more time, than do one thing that I only semi-like all day long. Maybe that is why my days go by so fast.
Jason Barnes is a free spirit. Underneath that fun-loving surface lurks a severe case of PTSD, his personal souvenir from the war on terror. After his young marriage breaks up, he bounces from girlfriend to girlfriend, never allowing himself to get too close, all while maintaining a friendship with his ex-wife, Samantha Colton.

Everything changes when he meets Abby Jacobsen, a smart and sassy artist – but with love comes jealousy, and Abby doesn't stand for Jason's cozy friendship with Samantha. Two hours after a heated argument causes Jason to storm out of their apartment, Abby receives a phone call from the intensive care unit of a New Hampshire hospital. The hospital walls close in on Abby and Samantha as they are forced to make tough decisions while trying hard not to kill each other. The two form a rare bond when Emma Jane, Jason's mom, arrives on the scene. Three weeks after Jason's accident, Abby is left alone and hovering over a handful of positive pregnancy tests. During her pregnancy, Abby works with Samantha to dig up clues of Jason's past. As the truth is discovered, their worlds are irreversibly changed.

An emotionally-moving look at PTSD and the intersection of three lives, Saving Jason is a riveting glimpse into unexpected friendships and the ripples we leave without our knowledge.
This book is currently only available through Amazon.
Enjoy an excerpt:
Jason pinned his body as tightly as he could against the rigid edge of the climbing rock at Heartbreak Park. Fingers clenching the pointed edge, he raised his right leg, feeling for a protrusion to rest his foot. He looked down at the ground twenty­five feet below, where the mix of leaves coated in a fiery red and orange served as a bed for his rock climbing gear. It was the first time he'd attempted a free climb without the safety of a harness attaching him to the side of the boulder. A rush of fear passed through him when he took his next step. Putting all of his body weight into that step, he was no longer supported by the ledge; instead he was falling to the ground, face scraping against the serrated boulders along the way. Time stood still for the thirty seconds that his body descended to the ground. Silence softened his busy mind and the world was calm until he landed in a pile of leaves on top of his gear. The last thing he saw was a set of piercing silvery blue eyes flashing across his vision like lightning in the midst of a storm.
About the Author: EJ Hanagan is a fitness fanatic, obsessive reader and animal lover. She currently lives in a sleepy little beach town just outside of Boston with her husband, their new daughter, and the family's two giant Newfoundland dogs. After spending four years in the Air Force, she put her fire for fitness to good use and worked as a personal trainer while attending college. EJ credits the amazing, brave people she met in the military for giving her the passion and focus to raise awareness for veterans with PTSD. Her hope is to bring the invisible scars of war to the surface through her writing and community involvement.
You can learn more about EJ, her books, and her charity work at her website or connect with her online at Twitter and Facebook.