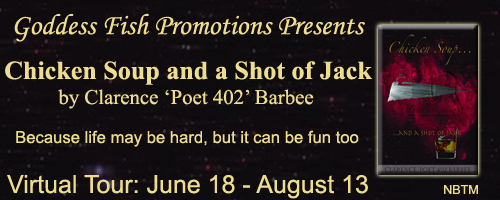 This post is part of a virtual book tour organized by
Goddess Fish Promotions
. Clarence will be awarding $10 Amazon or B/N GC to a randomly drawn winner via rafflecopter during the tour. Click on the tour banner to see the other stops on the tour.
Balancing Life and Writing
If there were an easy answer to how to balance life and writing, every writer would be happy on the high wire, tight rope, without balance stick, smiling below to all the viewers. There is no magic mathematical formula to plug into life; God kind of left us alone on that one. If there were such a thing as a inspiration indicator, it would be nice, and I promise you, I have scientist working on it, 24 hours a day, seven days a week, 1000 feet below the surface—no not really, but it sounds nice doesn't it?
Life is complicated, as long as you're not 6. There are things that have to be done such as deadlines, spending time with loved ones and children, and the occasional class on creativity. Life is wonderful and it can be very filled, the trick to balancing life and writing, truly is time. When do we find the time in life to write? The short answer is easy, we make it. How this is done is up to you, whether you are a master scheduler who can create some time in your day, your week, you month, or if you are a white knuckler who just bangs it out and makes that hole in time so you can actually write. I prefer a bit of both. I am blessed to have a job that I work 3-4 times a week, and pays me enough to pay my bills. Granted I have no significant other, nor children, so I am able to keep my expenses low enough. However, on the days I don't work, I make sure to take that time to write.
The next trick in writing is inspiration. Sometimes we just don't feel like writing, or what we write, we know is trash—we weren't inspired enough. In many aspects, if we don't write when we get inspired, then we lose it, we forget our train of thought, we get caught up in that distraction. What I've done is keep a notebook always handy, and I always have my phone on me. What my phone does is act as a recording device to document my moments of inspiration on whatever comes to mind. I like recording my voice, as I can hear the excitement, and later when I listen to it, I can get excited and inspired all over again.
So how do we balance life and writing? We do it the best way we can. Some things may fall to the way-side, and sometimes it is our writing. However, if we are diligent, and committed, we can and will find that balance…at some points.
Chicken Soup, and a Shot of Jack is a strikingly impressive work of literary fiction from new author Clarence Barbee. The writer weaves his form of prose, delighting readers with thought provoking lessons on how to balance the good and bad in life. The book offers common sense values filled with humorous stories and tales.
Enjoy an excerpt:
She was amazing! A fire was burning on the stove, her son, who she had spent fourteen hours birthin', was in danger of losing his left nipple by way of a hot dog grease fire. And all she could do was rock in that damn chair, and talk about the pork chop; which at this point was nothing more than a gnarled up bone.
–From the short story "Just Had to Be Grown"
About the Author: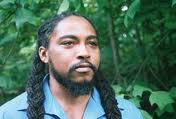 Clarence Barbee has been writing and performing poetry for over a decade. He has produced 9 spoken word albums, under the pseudonyms Nabraska and Poet402. Clarence is now working on self-publishing books of essays and short stories.
In his professional life he has worked with, educated, and supported many children. Clarence believes in keeping an eye on political planes and social occurrences such as changes in world leadership, and social inequalities. These actions of men are a huge curiosity to the author; he believes in writing about them, and discussing them, so solutions can be made.
Clarence has taken these experiences and written about them extensively. He asks, "Who doesn't want to be happy," then goes about the business of finding the answer. Please take some time to join him on this journey as they are set through words, sometimes with music, and always taken with a grain of salt.
Website | Twitter | Facebook | YouTube | Blog | Soundcloud
Buy the book at Amazon.