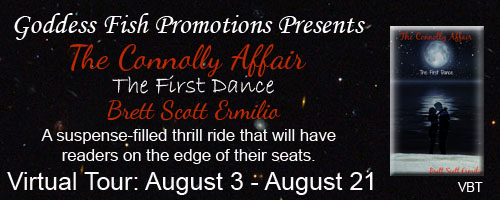 This post is part of a virtual book tour organized by Goddess Fish Promotions. Brett Scott Ermilio will be awarding a $20 Amazon/BN GC to a randomly drawn winner via rafflecopter during the tour. Click on the tour banner to see the other stops on the tour.
Balancing Life and Writing
This is a very tricky topic and one that has actually impacted my first marriage. I am on marriage number two which is one I call it "my first." Being a creative person requires massive amounts of time and energy. And my wife, the love of my life, tells me quite often, "You're not always there. Even when you're here, you're not really here—not all of you." My mind happily wanders into a multitude of platforms and stories that exits away from the real world surrounding me.
It can be a tremendous challenge to dedicate one's self to what I like to refer to as the Selfish Art. Writing is a self-serving process in which I feel compelled to tell story after story. In fact, if I don't find time to write and a few days pass, I'll become moody and on edge. Writing has become such a part of my existence, it is emotionally embedded inside me. I literally live in my stories. But make no mistake, I get a satisfaction out of writing a great story. This is why I call it a selfish art. I sit alone in a room and put words to paper.
It can be a high-wire act balancing your life, family, possibly another job (which I've had a second job or "day job" my entire life while writing) and kids. The challenges can become overwhelming. As I said, marriage one was impacted greatly during my creative process in which I filmed a movie. I was writer/director and it took massive amounts of time. Then, while I worked full-time, I had to be present for editing at night. The strain, both financially and time wise, was too great for us to overcome. Of course, there are many reasons a marriage can end and these were just a couple. We had others—trust me. 
I had to balance my time and learn to share my creative world with others. My amazing wife and I do have moments in which she has a great desire to stab me over my writing. We have, however, learned to find a middle ground. I am an obsessive creator who would stop at nothing if life didn't get in the way. I can fall deep into stories and write one after another without stopping. I very much so value my ability to create other worlds but it is my wife and kids who ground me.
I have learned that writing in high volume will never make up for lost time. Making fake memories isn't as good as making real ones. So I have to balance my time while fulfilling my need to put words to paper. My suggestion for others who struggle with balancing life and writing is to manage your time as if it was oxygen. You need oxygen to breath and writers need their words to exist. So time management is the key to everything. "Happy wife-happy life."
She reminds me of that all the time.

Nicki Connolly's life has flat lined. Nicki's dull marriage to her husband, Aiden, flounders further and further into a hopeless abyss. Despite the setbacks, Nicki attempts to balance being a working mother, a successful attorney and relishes the distractions of a budding romance with a man named Taylor Diamond. Nicki has been assigned lead attorney in a massive class-action lawsuit that will make or break her career at the firm of Rapture and Myers. That is when the handsome Taylor Diamond appears in her life.

Taylor Diamond has been named second chair for the big case. Taylor has it all: looks, brains, a strong family name and many connections. But dark forces loom and converge upon Nicki and Taylor. As obstacles grow, the two form a fiery bond just as the case and her life reach an epic breaking point.

The Connolly Affair delivers a suspense-filled thrill ride that will have readers on the edge of their seats.
Enjoy an excerpt:
See, everything new became old. Everything special became ordinary. I'd love to blame him for my betrayals, but mirrors are all too honest. And there was no way around it. I made this choice.
But even so, it is hard to fathom happiness, evaporating like a water droplet on a blistering hot day. And that's what happened. Our spark was gone, our flame had dulled.
And there it was. I had a wonderfully honest and kind husband, I had two amazing children, I was a partner at my law firm, and in a single fall moment I risked it all.
About the Author:
Award winning writer Brett Scott Ermilio currently resides on the Jersey Shore with his nine colorful roommates: his loving wife, four beautifully chaotic children, three small yapping dogs and one moody fish.
The nephew of Neil Scott Bogart (The Disco King and founder of Casablanca Records), Brett has been writing stories since he was sixteen. His first completed screenplay was written at age seventeen. He won a screenwriting award for his move script, "Jacob."
Over the years, Brett has written, directed and produced a feature film, worked on numerous screenplays. He had his first book published through Lyons Press: Going Platinum: KISS, Donna Summer and How Neil Bogart Built Casablanca Records, a biography highlighting the meteoric rise of Neil Bogart from birth to death.
Over the next year, Brett is releasing his highly anticipated romance/suspense trilogy, The Connolly Affair, and plans to continue writing enthralling stories and looks forward to sharing his thrilling adventures with the world.
Goodreads | Website | Facebook | Twitter
Buy the book at
Amazon
.