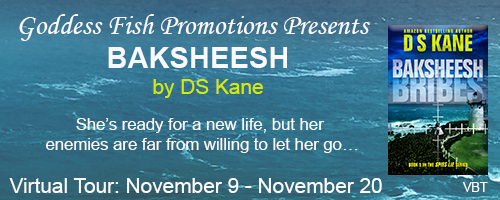 This post is part of a virtual book tour organized by Goddess Fish Promotions. DS Kane will be awarding ebook versions of the whole Spies Lie series (which includes Bloodridge, DeathByte, Swiftshadow, GrayNet, and Baksheesh) to a randomly drawn winner via rafflecopter during the tour. Click on the tour banner to see the other stops on the tour.
The war between our government and hackers
I was a hacker long ago. I worked for a group within the United Sates government. Some of my friends are white hat hackers. Now, I write the Spies Lie series of Amazon bestselling technothriller espionage novels. The characters in my books are traditional spies, hackers, mercenaries and politicians. Sort of a typical day in any nation's capital.
While white hat hackers try to keep us safe by determining if there are flaws in the software we use, there are also black hats who exploit those flaws for their own economic benefit, stealing identities and selling them wholesale. The NSA's charter calls for them to protect the data of American businesses, government entities and individuals. On this, they continue to fail miserably, instead searching the data of Americans without any warrant to do so… a violation of law and individual rights to privacy.
Last week the United States Senate passed the Cybersecurity Information Sharing Act (CISA), which faces vehement opposition from leading tech companies and privacy advocates. Apple, Twitter, LinkedIn, Microsoft, Google, Dropbox, Salesforce and others. This bill will not in any significant way make anyone's identity safe and won't protect American businesses or make them more secure. In fact, it offers black hat hackers a larger target than they had before.
An article on this bill states that "the bill works so hard to encourage companies to share information with the government that it cuts corners on privacy, oversight and legal accountability. One major concern is that when companies share information on threats—such as an email that was part of a phishing attack or a file infected with malware—those files could contain customers' personal data. Normally, the government would have to go to court to get a warrant to access this kind of private information. But under the Senate bill, the companies would be absolved of any liability for sharing this private information with law enforcement agencies." (http://qz.com/543692/americans-should-probably-be-more-freaked-out-about-that-new-cybersecurity-bill/)
If passed by the full Congress, you can expect that hackers will focus on government agencies that receive data dumps from corporations, resulting in more Americans having their identities stolen. I expect that the next step will target white hat hackers and make them criminals.
Over 200 million Americans have suffered identity theft. When my identity and my wife's were stolen, it cost us about $10,000 in legal fees to convince the IRS we weren't terrorists. I hacked enough data bases to find the black hat thief and he's now in prison. My brother's identity was also stolen, directly from the IRS. Our government has no clue how to prevent this. White hat hackers are sitting on the scrimmage line, our best defense.
Will your identity be stolen next, or has it already been stolen?
She spied for her country, blackmailed her president, and ran from more threats than she can remember. But when the love of her life proposes, covert agent Cassandra Sashakovich is finally ready to settle down. Unfortunately her past is not quite ready to let her walk away.

Old enemies—including a vengeful president—want her dead, and they're willing to attack her loved ones, including her adopted teenage daughter, if that's what it takes.

But Cassandra has other pressing problems—a world leader is assassinated and an arm dealer's revenge threatens to lead to nuclear war. Now Cassandra and her security firm, Swiftshadow must defuse the threats and find a way to outmaneuver those who threaten not only her family, but her country as well.
Enjoy an excerpt:
Lee Ainsley, her boyfriend, knelt, holding up the tiny ring with its miniature diamond in his hand, offering it to her. He seemed to sense the tsunami of emotions overpowering her. Feelings mixed with logic, pointing in every direction away from what she truly wanted.
He grinned slyly, like a child who'd waited too long for Christmas. "What's your answer? Cassandra Sashakovich, I'm hopelessly in love with you. Please marry me."
Her eyes had popped wide open the first time he asked. Now, she tried to speak but her lips wouldn't move.
She'd shown him her heart, her only private place where thought had no currency.
She forced herself to moisten her lips through the pain, preparing to speak. The voice inside her head told her not to try and sort all of it out before she answered him.
Time to feel? Time to think?
She realized there wasn't time to sort this out properly. Cassie tried thinking anyway, since—for her—thinking always happened before any action. She wondered what she really wanted. Of course she wanted Lee. And the voice in the back of her head stated bluntly that having Lee would be dangerous for him. She wasn't safe. No one with her could ever be safe.
Now, what she had originally dreamed of, being wanted and loved by an intelligent, good-looking man, was about to become her dream come true. But Lee had been targeted for death because of her. Accepting his proposal would only exaggerate his peril. And, Ann, her adopted daughter would be at greater risk with both her and Lee as choke points. Furthermore, it would be so much easier for any enemies of Cassie to use her family as leverage against her. Yet, if she declined, she'd acknowledge that her enemies had succeeded in destroying her life.
Cassie sighed. It was a lose-lose situation.
Her heart leaped at the sight of the miniscule ring. Where had he bought it? When had he had time? It had to have been just before he was picked up by the FBI and taken to Guantanamo Bay; it was so small that he'd probably bought it the day after they'd left the Israeli embassy in Washington, DC.
Cassie realized, ohmigod, he's been planning this for months.
She heard Ann tiptoe down the stairs. She saw the teen's reflection, watching from just beyond the kitchen doors, facing Cassie's back. Ann's ragged hair had been dyed back to its natural mousy brown, from the purple and pink she'd colored it to disguise herself when she ran from a Saudi assassin weeks ago. Ann held Gizmo, their small, black kitten in her arms. She smiled. "Do it, mom," she whispered.
Time to choose.
About the Author:
DS Kane worked in the field of covert intelligence for over a decade. During that time, his cover was his real name, and he was on the faculty of NYU's Stern Graduate School of Business. He traveled globally for clients including government and military agencies, the largest banks, and Fortune 100 corporations, and while in-country, he did side jobs for the government. One of the banks DS Kane investigated housed the banking assets of many of the world's intelligence agencies and secret police forces, including the CIA and NSA. Much of his work product was pure but believable fiction, lies he told, and truths he concealed. Secrets that–if revealed–might have gotten him killed. When his cover got blown, he fled the field and moved 3,000 miles.
Now, DS Kane is a former spy, still writing fiction. Through his novels, he exposes the way intelligence agencies craft fiction for sale to sway their countries and manipulate their national policy, driving countries into dangerous conflicts.
To learn more about DS Kane and his books, visit www.dskane.com or join him on Facebook for book giveaways and details on espionage.
Amazon | Goodreads