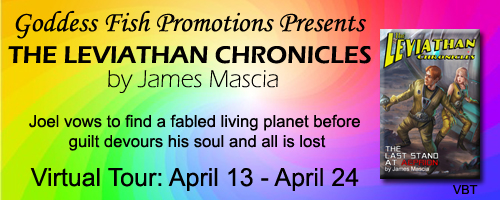 This post is part of a virtual book tour organized by
Goddess Fish Promotions
. James Mascia will be awarding 5 copies of the ebook in either mobi or epub formats to a randomly drawn winner via rafflecopter during the tour. Click on the tour banner to see the other stops on the tour.
The Leviathan Chronicles started out about fifteen years ago when a wide-eyed high school graduate (who shall remain nameless, but I'm sure you will guess their identity) wrote a Star Wars fanfiction with a whole new set of characters travelling aboard the starship Leviathan. It was a project I worked on through my freshman and sophomore years of college, where the stories themselves took on their own identity and far removed themselves from the Star Wars universe.
Even though I enjoyed working on them, there came a time when schoolwork took over my life and I was forced to abandon them to the void that would be a subfolder on my hard-drive (amazingly, I managed to keep that subfolder through several computer changes since then). I worked on new projects, got myself a book deal with a small-press for my High School Heroes series, published four books in that series, along with two graphic novels, and a whole bunch of short stories.
So, now that I am wrapping up High School Heroes/b>, it came time to start thinking about a new project. I have been reading many old science-fiction stories from Amazing Stories, Planet Stories, Startling Stories, and other old pulp fiction magazines like these. It amazed me how well my old stories would have fit in there, like the old Buck Rogers, or Flash Gordon stories. So, I decided to dig them out and bring new life to them.
Of course, having fifteen years between my writing then and my writing now, I could barely look at those old stories without my stomach churning a little at the way they were written. So, I said, we would start from the ground up. I would totally recreate my universe, rewriting everything, and I would do it by starting with the very first story I wrote for The Leviathan Chronicles series. Hence, we have The Last Stand at Aeprion, the story of Joel, who has lost virtually everything in his life, tries to fulfill a promise while fighting off an insane alien hunter.
It was amazing to me, how much the story changed from the original as I was rewriting it, which lead to a completely different ending than the one I had originally written for it. I won't go into details, but I will say that the new ending is a billion (yes, a billion) times better than the original.
I was also pleased by the fact that I enjoyed rewriting the story as much as I did. I am usually the kind of writer who will have a great idea and then just run with wherever the plot takes me. I can sometimes get bored writing when I know how the story is going to end up. I prefer to be as surprised as the reader when at all the twists and turns the story takes. But, writing this was a pleasure, even though I knew about half the turns the story would take when I set out.
So, there you have it. A little bit about my book and how I wrote it. I hope that you have found it informative.
Still reeling from his wife's murder, Joel tries to escape the alien hunter and fulfill a promise he made to her. Years of searching for the fabled planet, Aeprion, has left the space freighter captain torn between giving up the search or giving himself up to Kraxem, an alien hunter.

When Kraxem and his minions attack Joel's ship again, he is forced into the nebula, where he'll have to do repairs. Once there, his thoughts revert back to the final day of Kate's life and the promises that were made. Learning to come to terms with her loss and release the guilt that he feels will be a hard battle to fight, but giving up will prove to be even more difficult and, perhaps, deadly.

Steeling his resolve to forge on, Joel vows to find the fabled living planet before guilt devours his soul and all is lost.
Enjoy an excerpt:
He stopped eating. He'd gone almost a whole day without thinking about her. Now that he had, he was overcome with an emptiness in his chest he couldn't escape. He stared at the seat at the small table where she would always sit. If he closed his eyes, he could almost imagine she was still there, insisting that even though the food was crap, they could still eat like civilized human beings.
"Dammit!" He tossed the half empty ration pack at her seat, no longer hungry, and left the room.
He couldn't keep doing this to himself. He knew that. But until they invented a pill that could erase memories, he really had no choice. It was all his fault. If it hadn't been for him, she's still be here.
He returned to the cockpit just as the air filled with the wail of the proximity alarm.
Jumping back into the pilot's chair, he pulled up his sensor logs, and didn't like what he saw. "Computer, is that what I think it is?"
"It is a Class-B frigate, of Quacock design with an armament of…"
He didn't need to hear anymore.
The bulkhead groaned as Joel swung the Wanderer around, speeding away from the incoming craft.
He slammed his hand on the console. "How the hell did he find me?"
He'd been careful. Since he'd left the last port, he'd avoided all the shipping lanes, he'd made several course corrections, and he'd even masked his energy output to make it impossible to follow his trail.
"How'd the bastard do it?" he muttered.
"Please restate the question," chimed the computer.
He didn't respond to the machine. A warning beeped on the console a second before long streams of green energy burst forth from the pursuing craft and Joel jerked the controls to the right, sliding the Wanderer out of the way just in time. The beam of light passed only meters below the ship.
It had probably singed the armor, but at least no alarms blared. At least there was no lasting damage. It didn't stop sweat from forming on his brow. It was a little too close, and if he wasn't careful, he might not escape from the alien this time.
About the Author: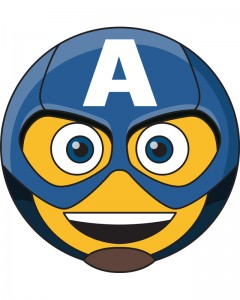 He fights evil across the known universe and crushes them between his fingers (at least, he does this with his words).
James Mascia is an accomplished writer with a bestselling series, High School Heroes, as well as a bestselling graphic novel, The Poe Murders. He has always been a fan of sci-fi, and is glad to be delving back into the galaxy once again.
James teaches in Maryland, where he also writes. He has a lovely wife and a tiny terror (a two-year-old) driving him mad, but making him laugh.
Check out some of his other work below:

Island of Dren | Twitter | DeviantArt | Amazon Author Page