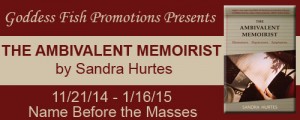 This post is part of a virtual book tour organized by Goddess Fish Promotions. Sandra will be awarding a copy of her book in the winner's choice of either print (US only) or digital to a randomly drawn winner via rafflecopter during the tour. Click on the tour banner to see the other stops on the tour.
Background of The Ambivalent Memoirist
I looked out the window of my studio apartment which faced north on East 42nd Street in Manhattan. I breathed deep. It was June 2004, and I had recently moved to a wondrous building in the center of the world, after a lifetime of living in Brooklyn. I was 53, had walked over the Brooklyn Bridge two thousand times (a modest calculation), but moving, crossing and not looking back, that was momentous, surreal.
Out the window, the Queensboro Bridge loomed; its midnight lights flickered in the early morning dawn. To the left was Second Avenue and close behind, Grand Central Terminal. My mother's face, so warm and glowing, seemed to peer down at me, nod approval that I went off—finally—in search of a life. A life of my choosing would have freed my mother from a burden —her inability to forgive herself for raising me inside the circle of her pain, a pain which had kept me close, like a shadow.
When I was a young girl, my mother, an Auschwitz survivor, told me the stories of her life. She held me on her lap in our Brooklyn apartment and wove a tapestry of memories. She told me of her impoverished childhood in Czechoslovakia, her enormous grief for her mother who died when my mother was fifteen, and of the traumas of the camps.
I had only von dress. I vore it every day and vashed it at night. My mother vent hungry, so her children could eat. In Auschwitz, the SS trew us in the showers. The vater vas like needles on my head. But I vas strong! They put me to verk; that's how I survived.
Then my mother put her head in my lap, and I tapped her shoulder. Tiny touches. Rat-a-tat-tat. When she wrapped me close and said, my little Goldilocks', don't ever leave me, I vowed that I never would.
For most of my adult life, I had wanted to live in Manhattan. Two years after my mother died of heart disease, I left Brooklyn for the possibilities that littered Manhattan's streets. I was single, had no children, and was still trying to figure out where my place in life was.
While newcomers to the city escaped for the hipness of Brooklyn—while the borough became the hottest place in the country—I pointed my compass in the opposite direction. But one thing I would never, could never, leave behind was my Brooklyn childhood; it had shaped me into a woman afraid to move freely about the world. My mother's stories had weighed me down. But they became my means for lifting me up, for I became a storyteller. The place that had given my parents—survivors both—shelter and safety after the war, held a treasure chest of material, each word a priceless gem.
In The Ambivalent Memoirist I circle around and ponder the contents of that chest. Gems, yes, certainly for a writer. But did they all glitter? That depended on which corner of the chest I dug my hand into. My past was a kaleidoscope. There was my mother, fussing over me, her young daughter born from war. There was my father, praying each morning before the windows, his shoulders hunched with fatigue and sorrow.
Through the lenses of teaching, writing, yoga and my family history, I search for clues as to where and how to live my life.
Enjoy an excerpt:
DAYBREAK
I have no classes today; still, I'm out at 6:00 a.m., emptying my palate of the lingering taste of dreams. Outdoors, half a block from my apartment building, I walk up a long concrete staircase leading to the Tudor City parks. I run into a neighbor who is also an early riser. She tells me she's moving home to Sri Lanka, where she has a house, large enough to contain ten Tudor City studios. But it is not the comfort of that largesse that lures her; she can't find work, here, in Manhattan.
She puts her hands out on either side of her body, like scales. "Move to Queens?" she says, lowering her left. "Sri Lanka?" Her right hand rises. "I lived in Jackson Heights for three years," she says, "and was lonely and depressed. But I can't afford to live in Manhattan."
I nod, thinking, I can't either. But Manhattan is good to single people.
Last night at dinner with my friend Stephanie, I listened with a mixture of envy and pleasure as she described her Sunday mornings. By 6:00 I'm on my deck, with a mug of Earl Grey. I pictured her in her Secaucus condo, surrounded by trees, leaves dotted with morning dew, her palm warm and steamy.
Today I want to live in the country. Inhale the scent of grass and late night rain. I want to walk barefoot in the damp grass. I want to hang my laundry outside on a line to dry, have wooden clothespins in a basket.
Then the city announces itself. Buses, taxis, people on their way to work. I plan my day: shop for cute tops for yoga, hit Starbucks afterwards with a heap of student papers and a café au lait, extra hot and foamy.
I take out the Windex and paper towels, remove the three potted coleus from the sills, clean my windows.
". . .[an] honest memoir full of compassion and wit that infuses ordinary events with intimacy and intensity. . .Teaching college English courses and preparing her first essay collection, she must address her own pain. . .as well as her parents' experiences during the Holocaust. . . Writing as art and psychological salvation is at the heart of this book, taking "readers deep below the surface" of words toward personal vindication."

~~Publishers Weekly

About the Author: 11_21 Author Pic The Ambivalent Memoirist
Sandra Hurtes is the author of The Ambivalent Memoirist and the essay collection On My Way to Someplace Else. She is the daughter of Holocaust survivors and this legacy is examined in her work. She is an adjunct assistant professor in the English Department at John Jay College and teaches creative nonfiction in private workshops.
http://www.Sandrahurtes.com ~ http://www.sandrahurtes.blogspot.com
Buy the book at Amazon: http://www.amazon.com/Ambivalent-Memoirist-Obsessions-Digressions-Epiphanies/dp/1492359726/ref=la_B005MGRLEA_1_1?s=books&ie=UTF8&qid=1413890507&sr=1-1