Autumn Perspective
by Adele Downs
Fall colors are some of the most beautiful in nature and the season is filled with opportunities to enjoy them. When I'm not writing books, I like to take my digital camera on the road in my home state of Pennsylvania and take photographs of places rich in history and agriculture.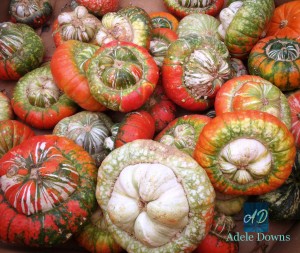 My picture taking is strictly a hobby, but photography is fun and relaxing, and gives me another outlet for my creative urges. My readers and blog followers seem to like my "eye", or perspective, and that gives me incentive to continue finding subject matter I think might interest them.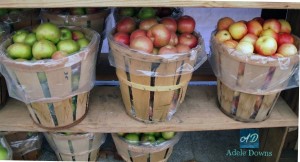 In fiction, the characters tell the story through their unique perspectives, or points of view (POV). We learn about the heroine, her hero, secondary characters, and the antagonist by the way they describe what they see, feel, and experience to the reader. The author animates the characters, but their voices tell the tale. A good storyteller avoids what's called author intrusion and allows the characters to speak to readers in their individual style.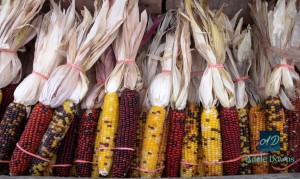 One of my favorite releases NATURALLY YOURS is set in the fall. The cover artist used a colorful photograph to depict the hero and heroine, but their love story comes from their unique perspectives. Mickey is an Iraq war veteran turned paramedic, and Amanda is the organic foods chef determined to restore his zest for life through her cooking. Both see the world in black and white until they discover the transformative power of love beneath the light of the Harvest Moon.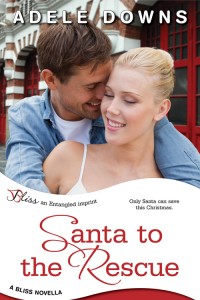 Do you have a favorite season of the year? Which is it, and why? Leave a comment and be automatically entered to win a Kindle gift copy of my sweet firefighter romance novella SANTA TO THE RESCUE.
NATURALLY YOURS   by Adele Downs
Award of Excellence Finalist

Who will save a man who saves the world?

Paramedic Mickey Kendall hasn't slept a full night since his return from Iraq. He rescues victims by day and protects the innocent after dark. Mickey doesn't do it for glory; he wants absolution, not admiration. He lives by the rule: No personal contact after a rescue. That code meets the ultimate test when Mickey saves a child's life on a roadside and declines the parents' invitation to dinner at their upscale restaurant.

Master chef Amanda Greer lives by the principle that delicious food and good company build bridges. When she learns Mickey has refused her business partners' hospitality, she persuades him to change his mind. The handsome paramedic visits her restaurant and Amanda joins him at his table. Their unexpected chemistry turns kinetic and leads to a passionate kiss.

In Amanda's arms, Mickey finds relief from the stressors that haunt him, but resists falling in love. When Amanda challenges him to face his demons and accept the love she offers, Mickey arrives at a crossroad. The war-weary paramedic must first save himself to claim the woman who reignites his passion for living and revives his wounded heart.

"You can't go wrong with Adele Downs." ~Will Work for Books
Excerpt:
"They called you a hero in the press." Her dark lashes lowered and lifted and she smiled at him with admiration shining in her eyes. "They were right, of course. What you did for Jack can never be repaid."
Mickey winced at the hero reference. "I hate to disappoint you, but I only did what I'm trained to do."
Amanda made sounds of disagreement low in her throat. "Elena told me at least a hundred and fifty cars passed her on the highway. Every one of them ignored her cries for help. Of all those people, don't you think one might have been medically trained? Or at least cared enough to respond? No. You stopped. Only you."
Oh. He hadn't thought of that.
She pointed a finger at his chest. "There's a difference between you and other people. There's no other way to explain what happened on that roadway. Elena is convinced you're special, and I never doubt her perceptions. That's another reason why I wanted to meet you."
Mickey stared into Amanda's eyes and her pupils dilated. Her lips parted, ever so slightly, as if to welcome a kiss. Her tongue touched the inside of her bottom lip and disappeared. Mickey knew then, she felt it too. Synergy. Chemistry. An attraction so powerful it turned kinetic on contact.
Some called it love at first sight.
Amanda. Even her name was beautiful.
She took a sip of her drink and he watched her mouth and throat work the liquid. When she set down the tumbler, she wiped a droplet from the corner of her mouth with a trimmed, unpolished fingertip. Mickey wished he could have swiped the bead away with his tongue.
Amanda leaned closer and pressed a hand to his wrist. "Trained or not, you were the only stranger on that highway who had a heart."
Mickey laid his hand over hers and she let him keep it there. Until now, he wasn't sure he still had a heart. His had been chipped away, piece by piece, like a block of ice since the war. He'd considered it long gone, with his soul. In mere minutes, what was left had thawed in the center, leaving him raw and exposed.
Amanda continued to speak; clearly unaware she'd stripped away another layer. "I love Jack like he's my own son. He's a terrific kid. I've helped take care of him since the day the Martins and I started this restaurant. When you saved him, you saved us all." Amanda leaned in and pressed a quick, sweet kiss against Mickey's jaw.
Their gazes locked when she sat back in her chair. The gravity of her words and her straightforward kiss humbled him into speechlessness. He'd been thanked many times before, but this woman had gotten to him like no one else. He squeezed her hand and then downed the rest of his drink. Amanda took another sip of hers and set the glass on the table before retreating into silence. She turned the tumbler slowly in her hands.
Mickey looked back at her and tapped two fingers against the menu's leather cover. "Nothing here is what I expected."
Amanda returned a quiet smile, either assuming he meant food choices, or pretending he had. She tucked her arms beneath her breasts and leaned forward against the edge of the table, lifting perfect white swells above the neckline of her blouse. "Organic means untouched by artificiality. Grown and consumed in its natural state. We eat only healthy foods unspoiled by chemicals, preservatives, hormones, steroids, antibiotics, and genetically modified seeds or cells. Pure."
Pure. Mickey gazed at the stunning woman by his side. The texture of her skin looked smooth as cream and welcoming to the touch. He longed to run his hands along her thighs, imagining sleek roads leading to heaven at their apex. "I like the sound of that." The way she looked back at him while he studied her face made him wonder if she'd read his mind.
The one that had gone dirty.
***
Buy NATURALLY YOURS on Amazon!
About The Author: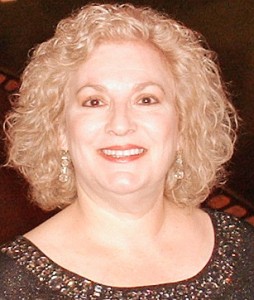 Adele Downs is the best-selling, award-winning author of more than 20 romance titles, including those written under another pen name, and a former journalist with hundreds of articles to her credit. When not writing in her home office in rural Pennsylvania, she can be found reading a book on the nearest beach, taking photographs, or riding in her convertible. Visit Adele on her website.
Amazon Author Page | Blog | Facebook | Twitter | Goodreads | Street Team