Long and Short Reviews welcomes Karyn Good, whose newest book Exposed, the second book in her Aspen Lake series released Friday. Leave a comment for a chance to win a $10 Amazon/BN GC.
It's nearing the end of summer here on the Canadian prairies and the air is ripe with the changing of the seasons. I love autumn. The colors, the scents, the fresh produce make for a lovely time of year. It means cooler temperatures, returning to routine and a renewed sense of purpose. If you're like me, it's a time to set goals and make plans for the rest of the year.
"Winter is an etching, spring a watercolor, summer an oil painting, and autumn a mosaic of them all." Stanley Horowitz
I look forward to wearing cozier clothing. Yes to sweaters and boots instead of shorts and flip-flops. The slow cooker comes out of the cupboard for pot roast and stews. My calendar is filling up with appointments. And my newest release, Exposed, was just released.
It's also autumn in my romantic suspense, Exposed. My fictional town of Aspen Lake is gearing down after a busy tourist season and getting ready to host their annual Gothic Revival Festival, which happens at the end of October. It's everything pumpkin and wheat sheaves and Edgar Allan Poe.
Not everything is running smoothly. A radical group is threatening to shut things down. Kate Logan, my heroine and head of the festival, can't afford the disaster that is brewing. But no one can predict how far a person will go to get his or her own way. Least of all Seth Stone, my hero, who's new in town and looking for a little quiet time when he gets dragged into his new boss's problems.
Enjoy an excerpt:
Seth Stone crossed the massive summertime patio surrounding the front of the Abbey. The main floor housed a four star pizza joint, the second floor a cavernous cabaret hall. Tonight the patio and above deck were lit with thousands of white fairy lights. Candles burned in hurricane lamps. Piles of pumpkins and urns of fall flowers sat stacked in corners along with bundles of wheat sheaves.
A little glitz and glam under prairie skies. She'd pulled it off. In spades. He waited in line to climb the stairs. Women in long dresses and men in suits pressed in ahead of him. They crowded in behind him. Laughter and excitement perfumed the clear, crisp air. Too bad he'd never felt less like a party.
More lights, more candles, more pumpkins decorated the impromptu ballroom. Tables covered in white linen with bronze runners held vases bursting with fall flowers. Swags of purple hung down from the roof. It should have looked cheesy, but somehow it all came together with enough shadow to be mysterious and enough light to cast a spell.
Thank you to Long and Short Reviews for hosting me today. To enter your name in my draw for a $10 Amazon Gift card tell me a little something about your favorite season.
Kate Logan needs a safe haven, a place to start over after her modeling career disintegrates in scandal. But her hometown of Aspen Lake isn't the sanctuary she hoped. Her vow of a low-key life is disrupted by a break-in and other strange happenings at her boutique. As the chair of Aspen Lake's Gothic Revival Festival, she's also drawn the ire of a religious fanatic. Kate is up to her stilettos in drama and intrigue including one sexy carpenter who's determined to get in her way.

New to town, Seth Stone is seeking inspiration and solitude to concentrate on his art. Short on funds, he agrees to take on a second job restoring the damage to Kate's Closet. Trouble erupts along with the desire to get to know Kate better. When he's used as a pawn in a smear campaign against his gorgeous boss Seth fights back. But now the whole town is watching. Including the man determined to further his own agenda. Time is running out with nowhere to hide.
About the Author: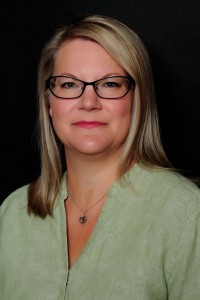 I grew up on a farm in the middle of Canada's breadbasket. Under the canopy of crisp blue prairie skies I read books. Lots and lots of books. One day the inevitable happened and I knew without question the time was right. What to write was never the issue – romance and the gut wrenching journey towards forever.
Website | Facebook | Twitter | Pinterest | Goodreads
Buy the book at Amazon or Barnes and Noble.