Long and Short Reviews welcomes Dena Garson, whose latest book Mystic's Touch was released in February.
Mystic's Touch is Dena's sixth book with Ellora's Cave–two were actually short stories, but were released as "Naughty Nooners" (she loves the title of the collection!)  Her book Ghostly Persuasion was the most fun to write because of the association with the Emerald Isle Fantasies series.
"A group of us got together and developed the concept of a haunted castle turned hotel in Ireland. We named it Tullamore Castle," she said. "Each of us wrote a story based on the setting we came up with – including the different paranormal elements. It was so much fun tossing ideas around with those ladies. And now I consider them a great support group – a place I can go to with questions or ideas or even just a hug."
Dena always has more than one manuscript going (four or five in progress at any given time) so she can switch to a different story if she gets stuck on one.  She has a couple in specific that she's hopping back and forth on. I asked her to tell us about them.
"One is a Native American historical. Of course it's going to be erotic romance but it will also have a touch of paranormal. I'm not sure what category that will be when it's finished though!
"I live in Oklahoma and I'm surrounded my Native American culture. More than once it's been suggested I write a story with a Native American hero and/or heroine. I filed the idea away in the back of my mind. Then one day I stumbled across a series of legends about medicine men or shaman who could transform into animals. The legends said when the shaman first learned to make the transformation, they had to wear the animal skin but as they become more comfortable with the magic they didn't need the skin any longer.
"I was captivated.
"Native American medicine men. Magic. Shifters. There is definitely a story in there.
"The other story I'm working on is something that came to me a couple years ago. I wrote the first three chapters and put it down. But after writing Mystic's Touch, I realized the two stories might be linked. So I've been reviewing all my story notes and filling in the blanks that I didn't have answers for before.
"This one is about the granddaughter of the King who has magical gifts she's been taught to keep hidden. When she discovers a beast in the castle dungeons she follows clues and helps him escape. The beast turns out to be one of the sons from a neighboring kingdom who was transformed by someone practicing dark magic.
"I just love myths, magic and the paranormal!"
I wondered, "What do you like to do when you are not writing?"
"I make beaded jewelry and I read a lot. I have two boys at home and they're trying to teach me to play their video games. I keep telling them it's not easy when you're used to one joystick and one firing button (think Atari here).Our xbox controller has something ridiculous like ten buttons and two controllers. Holy cow! But I'm getting pretty good with a shotgun on Black Ops!"
Dena is insatiably curious and is constantly looking things up.
"If there is something weird, odd, unusual and maybe even a little twisted, it's going to catch my attention," she assured me.
If she needs to know something for a story, she'll check the internet; she'll read books and magazines: she'll talk to experts or people who have witnessed or experienced something.
"I do enough research to lend credibility to my story if/when I think it's necessary but I don't like getting bogged down with boring details. I'd rather let the story unfold," she told me. "'As an example, for the manuscript I'm working on now, I did a little research to find out what kind of clothing and footwear would have been worn during that time period. I also looked for pictures and descriptions of tepees. Most of that information simply helped me set the scene in my head. It won't necessarily find its way onto the page."
Finally, I asked Dena, "What advice would you give a new writer just starting out?"
"Write. Write a lot. Find your voice, gain some confidence and don't be afraid of rejection. Just because a publisher says no to your manuscript, doesn't mean that someone else won't say yes. You have to find the publisher who is looking for whatever you're writing or have written.
"Oh, and if you haven't yet, read Stephen King's book 'On Writing'."
 About the Author:
 Dena Garson loves to read romance – the hotter the better. When one of her BFF's said "one of us should be writing this stuff" she took up the challenge. If she isn't writing, she's making beaded jewelry and somehow still manages to make it into the office on a regular basis.
Facebook | Twitter | Goodreads | Blog | Ellora's Cave | Amazon Author Page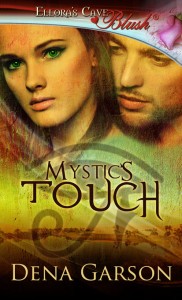 When Prince Ceros returns home to take his place on the throne, he falls prey to a mysterious malady that leaves him unable to speak or move, though his thoughts and awareness remain intact. Danet, a talented healer, realizes the prince is alert inside his body. The two are able to share thoughts telepathically. Unfortunately her connection with Ceros may bring unwanted attention to her abilities and result in her banishment from the city.
Their unique bond grows as Danet races to find a remedy for the prince's condition. Desire turns to love, which makes Danet fear for their future when he awakens. They seek out the villain attempting to take the throne and endeavor to find a way to stay together.
Inside Scoop: Ceros' secret shifter status adds complication and intrigue to their budding romance.
Buy Links for Mystic's Touch
Ellora's Cave  /  Amazon  /  Barnes & Noble