Long and Short Reviews welcomes Allie Boniface, whose newest trilogy Cocktail Cruise Line was released this summer. Leave a comment or ask Allie a question for a free e-book of the winner's choice of any 1 of the Cocktail Cruise Series (Tequila Sunrise, Sex on the Beach, or Between the Sheets).
Allie has been published since 2007 with three small presses and has been indie-published since 2013.
"The industry is constantly changing, and that's one thing that's so exciting about it," she told me. "Everyone thought e-books would be a fad or would take forever to catch up to print book sales, but look what's happened in just a decade or so! Amazing."
Allie iscurrently working on the third book in her Hometown Heroes series, Labyrinth of Love. The first two in the series, Beacon of Love and Inferno of Love, are both set in the fictional small town of Lindsey Point, Connecticut, and focus on hunky small-town guys who'll do anything to protect the women they love. These three books comprise her 8th, 9th, and 10th books.
I asked her which of her books was her favorite.
"My favorite is my first, The Promise of Paradise. The hero, Eddie, is still a guy that readers swoon over. I wish for the ease of that story every time I sit down at my keyboard. I still haven't found it yet."
The hardest part of writing for Allie is finding the time to write.
"Since I work full-time outside the house, it's a challenge to find the time to write a complete novel," she explained. "I do try to write at least 1000 words a day. More on the weekends. And I try to draft at least 2 complete novels over the summer, when I'm not in school. That way I have something to revise when school starts up again!"
Allie grew up in a very small town in central New York and she credits her upbringing with being the reason she writes about small towns in her books.
"I love that everyone knows everyone else," she explained. "I love the beauty of the historic old homes, and I love that you can walk down Main Street at midnight and not worry an iota about being safe."
"What was the scariest moment of your life?" I asked.
"I don't know if it tops the list, but I was the driver in a pretty serious car accident almost 3 years ago. Another car pulled blindly into our path (on a major highway, while we were going 65 mph)and totaled our car. Those 5 seconds when we spun out of control down the road, and the 5 seconds after the car stopped and we were trying to process what had just happened, were pretty scary. Luckily I wasn't injured, but my husband still suffers from back and neck pain."
Finally, I asked, "What advice would you give a new writer just starting out?"
"Have patience and develop a thick skin. Yes, some people are break-out bestsellers with the first book they write. It takes the rest of us much, much longer – and most of us won't ever see our names on the New York Times or USA Today Best-Seller lists. That's okay. Write because you like to. Write because you want to. And don't let other people tell you what to write – unless it's your beta readers or your critique group or your agent and you really, really value their input. Finally, remember that some readers won't like your stories. They may even post negative reviews. That's okay too. Don't take them too hard. Learn from constructive criticism, but keep writing. Don't get discouraged."
About the Author: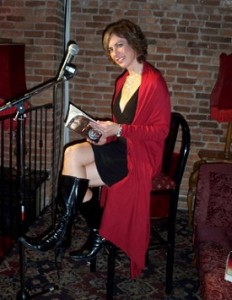 A high school English teacher by day, author Allie Boniface writes small-town sensual romance and is the author of the fast-paced One Night novels and the Hometown Heroes series. In addition, her indie published Cocktail Cruise Line trilogy was released Summer 2014. Allie is an RWA member and EPPIE award finalist who regularly attends writers' workshops and conferences. She loves chatting with readers and writers about all matters of the heart. Allie lives in the Hudson Valley, New York, with her husband and their two furry felines. You can keep up with all of Allie's news and new releases on Facebook, Twitter, or at her website or blog. Also find her on YouTube, Goodreads, or Amazon.
Andrea is determined to merge a cruise ship career and single motherhood. But that leaves zero time for sex or love, so when she has a chance for a fling with a sexy cruise ship dancer, she goes for it. Sebastian enjoys a low-key life as the ship's dance instructor, a welcome change from his previous life in Argentina as the star of a hugely popular dance show. But when Andrea sweeps into his life, everything changes. Will new love help him come to terms with his past, and convince her to find room in her life for another man?