This post is part of a virtual book tour organized by Goddess Fish Promotions. Kathleen will be awarding a $25 Amazon or B/N GC to a randomly drawn winner via rafflecopter during the tour. Click on the tour banner to see the other stops on the tour.
New York public relations consultant and self-proclaimed control freak Katie McDowell may have made the biggest career mistake of her life. She's agreed to temporarily leave her beloved Manhattan to manage the company's struggling New Orleans office, knowing her biggest client is television chef Andre Thibodeaux, whose massive masculine presence makes her feel hotter than the onset of menopause.

Finding her way in a funky new city and earning the trust of her employees is tough enough without annoying hot flashes, night sweats and ugly mood swings, not to mention the lingering memory of one steamy night she shared with the big man she thinks she can't have.

Sexy, smart, and successful, Chef Andre has everything a man could want except the right woman, and he's determined to learn why Katie rejected him. To convince her to stay in Louisiana, he'll need to find a way to make her fall in love-with him, as well as the vibrant southern city he calls home.
Enjoy an exclusive excerpt
We take our wine glasses and the half-finished bottle into the living room, where I flop onto the sofa, numb with mental fatigue.
"I know I could've done a better job of plannin' our weekend," Andre says, before refilling our glasses. "But when ya sent me that text, I rescheduled some things and made a hotel reservation without thinkin' it through."
"You rescheduled for me?"
"Of course, dawlin'. I wasn't about to let the opportunity pass me by." He throws one arm around my shoulders and draws me in.
"I'm stayin' tonight and I won't take 'no' for an answer."
"You won't get much sleep, I'm afraid. The airport car is picking me up at four a.m."
"I'll be all right, and at least I'll know you got off on time."
I rest my head on his chest and inhale his now-familiar woodsy scent while I try and collect my thoughts. Without warning, my internal furnace kicks on again, and a surge of heat rises in my chest. I press the cool wine glass to my forehead, hoping for some relief.
"Hot flash?" Andre asks.
I nod rapidly. Setting the glass down, I grab a magazine from the coffee table and begin fanning myself.
"If you're too warm," he says, grinning at me, "you could take off your top. I wouldn't mind."
"I will if you will."
About the Author: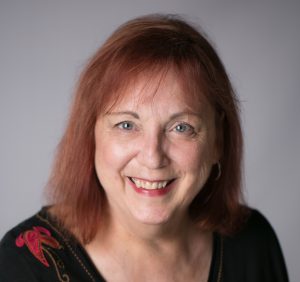 Kathleen Duhamel is the author of Deep Blue, Deeper, and At Home With Andre. She wrote and illustrated her first short story at the age of eight, and has been a writer for most of her life. Her love of the written word continued throughout her varied career as a newspaper journalist and editor, public relations executive, freelance travel writer and owner/operator of two small businesses. A native of Texas, she spent most of her adult life in Colorado before relocating to Virginia in 2014, where she lives with her husband, a standard poodle and geriatric cat. She is a lifelong devotee of rock and soul music, contemporary art and pop culture.
Website | Facebook | Twitter | Amazon Author Page
a Rafflecopter giveaway