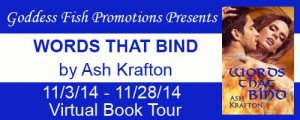 This post is part of a virtual book tour organized by
Goddess Fish Promotions
. Ash will be awarding a $25 gift card to Amazon or BN as well as a unique handmade book-inspired keychain to a randomly drawn commenter. Click on the tour banner to see the other stops on the tour.
Ash's Advice for Writers
When I first began my journey toward publication, I read piles of articles directed toward the working writer—on craft, on submissions, on handling rejection. I read blogs, amassed a writer's library, and took online workshops and classes. But it wasn't just knowledge or technique I was looking for.
It was encouragement.
I wanted to write. I didn't lack inspiration—I saw a story in nearly everything. What I lacked was any sense of ownership of the name "author".
After all, I had been a lifelong reader. I ate, slept, breathed books and my favorite authors were my heroes. I wanted to write…but I had a hard time envisioning myself within their ranks. I wasn't sure how I'd make that big step from hobby writer to published author because it seemed like a really huge step. And I worried that, while taking that step, I'd stumble.
So, instead of obsessing about a failure that hadn't yet happened, I did what made me happy. I wrote. And I wrote a lot. While I worked on my first novel, I wrote shorter things, too—poems and short stories, all sorts of things, which I submitted to editors of magazine and journals. I dreamed of being a novelist, but in the meantime, I was becoming a working writer, improving my craft and familiarizing myself with the business side of it all.
My husband worried I was distracting myself by spending so much time on what he called "the small stuff". While it was smaller, in a sense, it was no less important than my novel project, and the experience I gained was priceless.
I learned how to submit and query. I improved my professional demeanor. I learned how to handle rejection. I got to put into practice so much of what I'd read about way back in the beginning. Most importantly, I learned the biggest lesson of all, the one thing I'd been seeking when digging through web pages and ordering stacks of writing books. I found the encouragement I'd needed all along—and I found it within myself.
Perseverance.
Writing a novel is a huge thing. It's one thing to sit in the comfort of my home, tapping away to capture the images and the stories in my head. Sending it out into the world, however, is a totally different game. The whole time I wrote and revised and edited, I worried about the moment I would send that book out—and the rejections that would come. I worried I wouldn't be able to handle it, and that I would retreat at the first sign of adversity.
But, see…writing and submitting and publishing the small stuff kept me writing, kept me working. Yes, there were rejections with those things, but there were a lot of acceptances, too. I began building a tidy little bio, even earning a Pushcart Prize nomination—and with the YESs and the NOs and the HOORAYs came a sense of endurance, of experience, of accomplishment…and perseverance kept me moving forward.
So, if there are any writers out there listening—if I can tell you the single most empowering word, the one thing that will serve you well throughout your writing career, it's this:
Persevere. Just keep going. A rejection is a stepping stone that gets you closer to what you want. And remember, no piece of writing is insignificant. Even if a novel is your primary goal, don't discard the opportunity to write other things, like poetry and blog posts and writing articles. It all counts.
But the bottom line is keep writing, and persevere. It's the only way to get there.
Social worker Tam Kerish can't keep her cool professionalism when steamy client Mr. Burns kindles a desire for more than a client-therapist relationship—so she drops him. However, they discover she's the talisman to which Burns, an immortal djinn, has been bound since the days of King Solomon…and that makes it difficult.

Ethical guidelines are unequivocal when it comes to personal relationships with clients. However, the djinn has a thawing effect on the usually non-emotive Tam, who begins to feel true emotion whenever he is near. Tam has to make a difficult choice: to stay on the outside, forever looking in…or to turn her back on her entire world, just for the chance to finally experience what it means to fall in love.
Read an excerpt:
"So. You've destroyed a stereotype for me. A genie who lives in a library. Different."
"When in Rome, no?" He stirred his cup before setting down the spoon with a light clink against the saucer. "Or, I suppose it is more accurate to say when in human form. When I am Burns, I prefer here."
"Human form." It didn't sound right. Who said things like that, and meant it? "Can you change into anything you want? Any shape at all?"
He stretched out his legs and cocked his head, sliding his gaze up and away. "I suppose I could. I'm getting old and set in my ways. There's this…" He swept his hands down the line of his body.
Her eyes were unable to keep from following, not even when he lingered over his midsection. Even lounging, his shirt was tightly tucked into his beltline. No belly fat there.
He tilted his head and gave her an upper-teeth smile, nibbling gently at his lower lip. "And apparently this form is pleasing to the eye, so I wear it often. But there are others. Tiger, a favorite. Savage and regal and the colors of flames in the night. Fearsome to behold, but very useful when dealing with physical conditions in which a human form may be outmatched. Plus, I can lash my tail."
His voice took a teasing, conspirator's tone. "I love my tail. You'd love it too, if you saw it."
She trained her eyes firmly upon his. No way would she give him the pleasure of checking out his tail.
About the Author: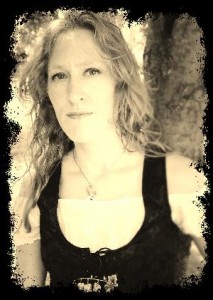 Ash Krafton is a speculative fiction author from northeastern Pennsylvania. Krafton's first novel, Bleeding Hearts was published in 2012 as part of an urban fantasy trilogy The Books of the Demimonde (Pink Narcissus Press). An urban fantasy novella, Strangers at the Hell Gate, was published by Wild Rose Press in 2013. Her newest release, Words That Bind, won first place in the HeRA RWA "Show Me the Spark" 2013 competition as well as a Zebulon award in 2014.
Krafton also writes New Adult speculative fiction novels under the pen name AJ Krafton. Upcoming titles include The Heartbeat Thief, Face of the Enemy, and the award-winning Takin' It Back. She is part of a YA/NA collective known as the Infinite Ink Authors.
In addition to novel-length fiction, Krafton enjoys writing poetry and short prose, some of which earned distinctions in various writing competitions. One of her poems was also nominated for the Pushcart Prize. She's a proud member of Pennwriters, Romance Writers of America, and Pikes Peak Writers. Krafton also writes for the Query Tracker Blog and the Prose and Cons blog.
She resides with her family in northeast Pennsylvania.
Facebook ~ Blog ~ Twitter ~ Goodreads ~ Pinterest
Buy the book at Wild Rose Publishing or Amazon.