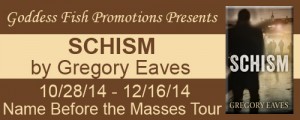 This post is part of a virtual book tour organized by
Goddess Fish Promotions
. Gregory will be awarding $15 Amazon GC to a randomly drawn commenter. Click on the tour banner to see the other stops on the tour.
As an author, what scares me the most…
…is the possibility that my last novel (fill in the blank – short story, non-fiction book or article, etc.) was it, that the well has run dry and I will never write anything as good as my last piece. It's a feeling I get every time I start a new project. At first I thought it was just me, just my own insecurity causing me to feel this way. Then I read that it's a common experience among writers. Most of us have experienced it at some point in our writing careers.
I guess I've been thinking about it a lot lately because I recently went through a dry spell in my writing output. It didn't quite reach the point of being "writer's block", but it came darned close. And it's a scary moment – almost a loss of identity, of that which is dearest to our heart and most precious.
I love being a writer, and I don't want to lose that.
Writing doesn't happen in a vacuum. It happens in the midst of a life full of other things – families, hobbies, day jobs, physical and cultural surroundings, mental states, health issues – and these things can drag your attention away from writing. That's exactly what happened to me, without even realizing it.
I have many passions in my life that give me great enjoyment. I like researching the genealogy of my family, restoring and collecting vintage mid-century-modern furniture and paintings, collecting vintage stereo gear, and collecting vinyl records. It all takes up a lot of time, time that could be spent writing. So I lost my focus for a while.
Writers do have to make some sacrifices when it comes to how we spend our time. I've found that if an activity is taking up too much time, I have to let it go – either cutting down the time spent on that non-writing activity, or quitting it altogether. I have to ask myself, do I want to write novels, or do I want to do these other things? You can't always do both. At least, I can't.
I'm not the kind of writer who can churn out 2000 words a day, no matter what, as long as I have X number of hours available. I can't turn it on by an act of willpower. I have to wait, to a certain degree, for the muse to talk to me. I have to spend a lot of time just being open and waiting for my subconscious to talk to me while I feed it with my conscious thoughts and feelings. This being the case, I need a lot of unscripted time, not just a block of time here or there.
So when I finally got back to working on my next novel, that old fear struck again. Can I do it again? Was the first one just a fluke? The fact that I had been away from writing so long made it doubly hard. So I guess my advice to new writers, with regard to this issue, would be to make those hard choices. Keep writing, and thinking about writing, as much as possible. Don't be distracted by other activities or by life's problems. Do whatever you have to do to stay focused on writing.
If you did it once, you can do it again.
SCHISM is an atmospheric journey back in time to the year 1970, when drugs and anti-war protests dominated the headlines. This psychological suspense mystery follows the life of a middle-aged college professor, Jackson Boone, as he tries to unravel the truth about his girlfriend. He is in danger of losing his job, and perhaps his life, when he takes on a violent radical group in the process. Haunted by a past mistake, Boone tries to do the right thing in a world of increasingly ambiguous moral shadings.
Enjoy an excerpt:
Like falling down a hole or a shaft of darkness, Boone was sucked back to his bedroom by a drastic change of music coming from the library, and he sat up. Stravinsky's Rite of Spring reverberated through the house, its sudden, exciting blasts from the horn section conjuring up prehistoric imagery instead of the usual pagan dances. He held his head on both sides because it seemed to release a pressure that had built up. He realized he was no longer human, that he was the first amphibian crawling out of the Paleozoic mud. He could feel his gills, not quite lungs, but almost, pulsating with life as he breathed air for the first time. There were no thoughts to form, no emotions to feel, just pure existence. A light seemed to be coming into his head from above, as if he were underwater and the sun was shining on the surface.
Again, he was sucked back to the bedroom, to solid form, and this time he felt like himself. He didn't know how much time had passed – it could have been eons, or it could have been a few minutes or an hour or two. He was strangely detached from his thoughts; in fact he wasn't thinking much at all. Boone took his socks off and stood up. Clothing seemed so unnecessary. He was an ancient human now, with strong, callused feet impervious to rough terrain. His feet were alive, as if he had been cut off from that part of his body, existing only as an ego that abused and ignored them. Boone walked over to the window and looked out with a sense of wonder and awe, marveling at the exquisite texture, shape, and color of the shrubs and flowers he saw. It was like he had never seen plant life before and he was viewing it for the first time, as a visitor from outer space would.
About the Author: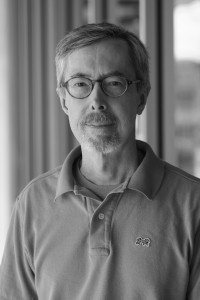 Gregory Eaves was born October 18, 1950, in Indianapolis, Indiana. He attended Speedway High School and Indiana University. In his twenties, he traveled extensively throughout the United States, with an eight year stay in San Diego, California, where he studied and practiced meditation.
Gregory moved to Florida and completed a master's degree in Library and Information Science from the University of South Florida.
Library school rekindled his interest in reading, which had been his favorite activity as a child growing up. Mysteries had been his first love, and he devoured his first mystery books with singular passion and zeal. Nothing else seemed to hit the sweet spot like reading The Hardy Boys, Sherlock Holmes, and Poirot. He later enjoyed authors like Raymond Chandler, John D. McDonald, Graham Greene, Patricia Highsmith, and others.
SCHISM is Gregory's first novel. His prior experience with writing included poetry and short stories. One of his short-shorts won runner-up in a contest in Alfred Hitchcock's Mystery Magazine.
He now lives on the east coast of Florida, and when he isn't writing, he enjoys playing guitar and collecting vintage stereo gear and vinyl records. He is a member of American Mensa.
Buy the book at Amazon or Barnes and Noble.