This post is part of a virtual book tour organized by
Goddess Fish Promotions
. Arial will be awarding a $15 Amazon or BN Gift Card (winner's choice) to a randomly drawn commenter during the tour. Also, at every stop a randomly drawn commenter will be awarded a 5-Star Short Story eBook, Romance Trading Card set and signed Bonded By Blood series post card. Click on the tour banner to see the other stops on the tour.
Arial Burnz's 4 Tips on How To Handle Negative Criticism
I am thrilled to be here today at Long and Short Reviews!! Such an honor and thank you for having me!
Speaking of reviews…
Part of being a writer is putting your stuff out there for everyone to see. It can be a little intimidating and, to a certain extent, make us vulnerable. Every time we publish a book, we open ourselves up to criticism. It comes with the territory and there really isn't anything we can do about it. As such, we need to learn to build a tough skin and not take someone's opinion personally.
From the writer's perspective, it can be hard to stomach. We pour our hearts and souls into our writing, love our characters as if they were truly our best friends…and even more so like they're our children. We did create them, birthed them onto the page, as it were, so it's no less painful to hear when someone doesn't like our baby. As much as it hurts, though…as much as we would LOVE to respond to negative reviews and comments with, "Oh yeah! Well, look at this review and this one and this one! They gave it five stars. Well you're just a pothead, an uneducated dweeb who doesn't know what s/he is talking about!" (Yes, I know…I used the word 'dweeb'. I'm dating myself here.)…we just can't do that. Such a response makes any writer look immature, sensitive and emotional. And I'm sure you've probably read your fair share of the flame wars, back and forth comments that just go on and on. It'll ruin a writer's career.
So how does one handle such criticism? How do we get past those negative reviews? Here are my 4 tips on how to handle negative criticism
1. Don't take it personally – *Arial ducks* Okay! I know that's hard to do, but hear me out. There's one thing we have to keep in mind about people in general: It's all about them. They were probably not even thinking about you (Author) when they wrote the review. Meaning, they weren't thinking about you as a person. They were focused on their feelings about what they read. Even if they're insulting toward you as an author, it's still about them. They don't know you, so they're spouting off about something of which they know nothing. And some people just live negative lives. They complain about everything! Again, that's them…not you. You know those readers. You look up all their reviews and you read one negative review after another. They're just sitting in their own negative cesspool and want to share the slime. Yay! At least they know how to share. (groan) I'm fond of saying, "Opinions are like belly buttons – everyone's got one!" Some are full of lint and stinky. Some aren't. But it doesn't mean they're wrong…they're just different. You can't please everyone and not everyone is going to like your book. It's not about you. It's about them, so don't take their review personally. And you can apply to this everyday living. Who cares what other people think…especially strangers who don't even know who you are?
2. Don't respond negatively – Many agents and editors will tell an author NOT to respond to negative reviews…period. NEVER, EVER, EVER respond to a negative review, they say. Personally, I don't agree with that, and my policy is, "If I can't say anything nice, I won't say anything at all." I usually respond to every review or comment left for my book and there IS something positive I can say. For example: "Thank you so much for taking the time to not only read my book, but leave a review. Your time is very valuable, and very appreciated. I'm so sorry you didn't like the story as much as I would have liked. Perhaps next time." I received a 3-star review from a reader and she said my story left her flat, but she would be giving the next book a try anyway. I thanked her for her time and pretty much left the same review I used as the example above. She was very thankful I responded and, not only enjoyed the second story more, but she actually defended me against some of the other reviews that weren't necessarily favorable (some people complained about the 2nd book leaving information out, but confessed they didn't read book 1). I now have an advocate for my books and she is thrilled to be caught up in the series.
3. Some Bad Reviews May be Helpful – If you repeatedly receive the same comments over and over in bad reviews, there might actually be some merit to what readers are saying. Do you have to change your book because of their comments? No, but perhaps you can be more conscious of the pet peeve readers are having with your last story when you write the next one. Just chalk it up to a learning experience and move on.
4. Don't Read Them – I've heard many writers go on and on about how they hate bad reviews. And when they get one (and ALL writers will), it will literally ruin their whole day. They will either bawl their eyes out and go into deep depression, or they'll prowl the internet after the person who reviewed them to dig up dirt, which seems to justify how wrong their review really was. If this is you, then you should probably do yourself one of two favors: Don't read reviews or stop writing. Many writers really can't stop writing. They would die if they couldn't write (I'm the same way), so quitting is just not an option. But NOT reading reviews is. I have a friend who never reads her reviews. Her husband does and he only reads her the good ones. He skips over the bad ones and she's happy not knowing about them. If you, Author, just responded with, "I CAN'T! I HAVE to read my reviews." Then my response is, "Then choose NOT to get upset." If bad reviews WILL happen to every writer, and definitely more than once, and this is GUARANTEED to happen, why stress over it? It happens. Move on. Or don't read them.
I know that last part may sound a little harsh, but my attitude is this: Life is too short to stress over strangers who don't like what I write. I'm too old for that crap and I ain't got the time. The only people I'm concerned with are the ones who love what I write and the people who are close to me that I care about. Everyone else can kiss my unicorn (I have a unicorn tattooed on my tushi) and I say, "Don't let the door hit your ass on the way out!"
Thank you so much for letting me spout off my opinion about handling criticism. I do hope this helps people handle criticism better – not only about their books, but about the opinion of others in general.
That's my two pence…
Arial 😉
Masked in a Gypsy guise, Broderick MacDougal hides his vampiric identity while seeking to destroy the man who slaughtered his family. When an old Clan rival ensnares Broderick in a trap using an enticing widow, he is compelled to discover if she is bait or an accomplice, and the cinnamon-haired beauty is his next conquest.

Widow of an abusive husband, Davina Stewart-Russell clings to the only image that gave her strength during those dark times—the Gypsy rogue who stole her heart as a youth. After nine years, she is finally face-to-face with him again, but reality clashes with fantasy as she is confronted with Broderick's passionate pursuit.

When Davina's past returns to haunt her, Broderick is forced to reveal a dark secret worse than anything Davina thought possible. The challenge before them has fatal risks and neither of them is prepared for the sacrifices expected for the sake of eternal love.
Cailin MacDougal has lived a dangerous life being the adopted daughter of vampire Broderick "Rick" MacDougal, so she had no choice but to learn to fight in order to protect herself. However, such behavior is hardly desirable in a dutiful wife who's supposed to embroider and run a household. This aggressive side of her behavior should be easy enough to hide from her betrothed…shouldn't it?

After being away at fencing school for seven years, James Knightly has returned as a master swordsman, ready to captain his own ship and finally wed his childhood sweetheart, Cailin MacDougal. What he finds waiting for him is a dagger-toting hellion for a bride, an immortal father-in-law, and an enemy bent on extracting revenge by threatening the family James holds most dear–the MacDougals.

Broderick MacDougal is lured away from his family with the promise of-at last-learning a way to protect those he loves from his clan enemy, Angus Campbell. Broderick knows he's headed for a trap, but the bait is too tempting to resist…and he unravels the beginning of a prophecy that will lead to redemption for all vampires. The cost of such redemption, though, may be the very soul of the woman he would die for…his wife, Davina.
About the Author: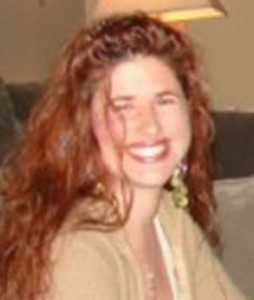 Arial Burnz has been an avid reader of both paranormal and fantasy fiction for over thirty years. With bedtime stories filled with unicorns, hobbits, dragons and elves, she had no choice but to craft her own tales, penning to life the many magical creatures roaming her mind and dreams. And with a romantic husband who's taught her the meaning of true love, she's helpless to weave romance into her tales. Now she shares them with the world. Arial Burnz lives in Rancho Cucamonga, California, with her husband (a.k.a. her romance novel hero)—who is also a descendent of Clan MacDougal—along with their dog and two cats.
Find Arial online at her website, Facebook page, or Twitter.
Buy the books at Amazon. See images of her characters at Pinterest.