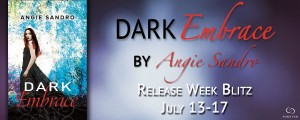 This post is part of a virtual book tour organized by the publisher for the release of Angie Sandro's latest release
Dark Embrace
.
Angie Sandro's Top 5 Favorite Book (Series) of All Time
Wow! Coming up with a list of my favorite books of all time made me realize I need to revisit some of these. The problem with favorite books is I don't really focus on individual books. I follow favorite authors. If I find a book/author I enjoy, I'll read everything they've ever written. It doesn't matter which genre. So basically my favorite book on this list will most likely be stuffed in the middle of a series. I loved the series, but this is my favorite book. Does that makes sense?
1) My favorite novel of all time is The Belgariad, by David Eddings.
I discovered this series for the first time in the 8th grade. It started my love for speculative fiction. It led to me discovering Robert Jordan, Raymond E. Feist, George R. R. Martin, and so many more.
2) Jane Eyre, by Charlotte Brontë.
This sparked my love for gothic novels and romance. I still watch every TV adaptation that comes out.
3) The Odyssey, by Homer.
I don't know why, but this time period intrigues me. Plus, Homer really knew how to hook a reader and keep them entertained.
4) Game of Thrones (A Song of Ice and Fire), by George R.R. Martin.
I read this series once a year. I'm absolutely in awe of this author. I have no idea how Mr. Martin manages to keep track of all of his characters and side plots. He's magical. If I met him in person, I'd probably embarrass myself by giving a fan girl squeal and passing out. My only issue with him is how long it takes between books. I want The Winds of Winter. NOW! (Love you, Mr. Martin)
5) Pride and Prejudice, by Jane Austen.
I must admit, I didn't discover Pride and Prejudice until I watched the 1995 Mini-Series with Colin Firth (Yum). It became an addiction after that. I've watched and read various adaptations, including Pride and Prejudice and Zombies (uh, I'm obsessed with zombies. Just sayin').
Well, I guess that's it. I could keep going, but you probably have your own favorite books to revisit now that I've reminded you that they're on your bookshelf, waiting for you to return to the comfort of their pages. Thanks for spending a bit of time with me.
Rescued from the brink of death by her cousin Mala, Dena Acker returns to the land of the living with a terrifying gift. Still connected to the darkness that almost claimed her, she can tell when someone's about to die–but there's nothing she can do to save them. Desperate to rid herself of this cursed ability, Dena has only one chance at peace . . . and two very different men willing to rescue her.

For centuries, Ashmael has seen more souls than he can count but he's never been drawn to anyone the way he is to fragile, beautiful Dena. She fills the dark void of his days with light, and he would sacrifice anything – even his immortality – to cross over to her world and ease her suffering. But he can't afford to be discovered by police detective Michael Anders, who is investigating the deaths that surround Dena. While Michael fights his growing attraction to her, the evidence still points to Dena as the killer. Both men have the ability to save Dena from her horrible fate, but which one can she trust with her darkest secrets?
About the Author: Angie Sandro was born at Whiteman Air Force Base in Missouri. Within six weeks, she began the first of eleven relocations throughout the United States, Spain, and Guam before the age of eighteen.
Friends were left behind. The only constants in her life were her family and the books she shipped wherever she went. Traveling the world inspired her imagination and allowed her to create her own imaginary friends. Visits to her father's family in Louisiana inspired this story.
Angie now lives in Northern California with her husband, two children, and an overweight Labrador.
Blog | Twitter | Facebook
Buy the book at Amazon, Barnes and Noble, iTunes, or Kobo.