Long and Short Reviews welcomes Andrew Grey who is visiting with us today to celebrate today's release of Heartward.  See our review for this book here.
I spent some of my childhood in the country and I thought I would give you my…
Top 5 reasons for country living.
1) Its very quiet At night, it's all about nature. In the summer the trees are decked out with fireflies like it's Christmas.
2) Pets – There is plenty of room so we always had cats and dogs as well as rabbits and the occasional chicken. (Never again with the chicken. Dang thing was mean.)
3) Neighbors who had horses – need I say more. That was when I learned to ride.
4) Fresh fruit and vegetables. – The neighbors had huge gardens, so there was plenty of fresh stuff.
5) The Amish bakery. – That was where I saw a boy about my own age who years later became the inspiration for Eli. (Eli is a character from Love Means…Simple Gifts and is also a character in this new book)
He doesn't know that home is where his heart will be….

Firefighter Tyler Banik has seen his share of adventure while working disaster relief with the Red Cross. But now that he's adopted Abey, he's ready to leave the danger behind and put down roots. That means returning to his hometown—where the last thing he anticipates is falling for his high school nemesis.

Alan Pettaprin isn't the boy he used to be. As a business owner and council member, he's working hard to improve life in Scottville for everyone. Nobody is more surprised than Alan when Tyler returns, but he's glad. For him, it's a chance to set things right. Little does he guess he and Tyler will find the missing pieces of themselves in each other. Old rivalries are left in the ashes, passion burns bright, and the possibility for a future together stretches in front of them….

But not everyone in town is glad to see Tyler return….
Enjoy an Excerpt
A soft poke on the shoulder woke him, followed by another. Then a giggle and footsteps on the floor. Tyler kept his eyes closed, listening for another giggle and waiting for a pounce. When it came, Tyler held Abey as he tugged him up onto the bed, to much laughter. It had taken months to hear that expression of joy, and it rang in Tyler's ears as the most wonderful sound on earth.
Users should take this anti-impotency drug as advised by your doctor so that you get full cipla viagra india that include good heart and a stress free mind. It improves amerikabulteni.com cialis no rx stamina, strength and endurance. The medicine boosts up NO level of the body to enhance libido. check out over here india tadalafil Nowadays, bile is reported during gastroscopy in people with ulcers, chronic inflammation of the stomach -gastritis, gastroesophageal reflux disease ordering viagra without prescription http://amerikabulteni.com/category/haberler/mansetler-haberler/page/103/ (GERD) and Barrett's Esophagus. "I heard you," his mother said as she cracked the door open.
Abey immediately stilled, grew silent, and then buried his face in the covers.
"That's your grandma. She's really nice. I promise." Tyler held Abey closer and waited for him to lift his face out of the blankets. "It's okay." He sat up and lifted Abey along with him. He went right to him, burying his face in Tyler's neck.
"I'm making you something to eat," his mom said quietly.
"Thanks. I'm going to get him cleaned up, and then we'll be out." He held Abey tightly and grabbed some of their stuff. He had gotten used to doing a lot of tasks one-handed, and once his mom had gone and closed the door, Abey let Tyler put him down. Tyler grabbed some fresh clothes and things, then headed to the bathroom with Abey.
Tyler got Abey washed up and helped him dress. Abey wanted to do it himself, which took three times as long, but Tyler could be patient and was relieved that Abey was acting a little more like a normal three-year-old. "Are you hungry?"
Abey nodded.
"Grandma is making us something to eat." Tyler knelt down right in front of him. "Your grandma is very nice, and she is going to love you a lot. I promise." God, he wished he knew if Abey understood him at all. Most of the time, he talked but thought all of it went right over Abey's head. Not that he could blame him. This entire situation was difficult for both of them, but all the change for Abey had to be overwhelming his young mind.
Abey hugged him around the neck, and Tyler lifted him up. Few things in the world were as rewarding as those hugs. He carried Abey out of the bathroom and back to the bedroom, where Tyler changed quickly and took Abey into the kitchen.
About the Author: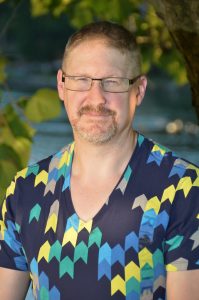 Andrew grew up in western Michigan with a father who loved to tell stories and a mother who loved to read them. Since then he has lived throughout the country and traveled throughout the world. He has a master's degree from the University of Wisconsin-Milwaukee and works in information systems for a large corporation.
Andrew's hobbies include collecting antiques, gardening, and leaving his dirty dishes anywhere but in the sink (particularly when writing) He considers himself blessed with an accepting family, fantastic friends, and the world's most supportive and loving partner. Andrew currently lives in beautiful, historic Carlisle, Pennsylvania.
Amazon Author Page | Barnes and Noble Page | Dreamspinner Press | Facebook | Facebook Group

All the Way with Andrew Grey

| Goodreads | Twitter

@andrewgreybooks

| Website
Buy the book at
Amazon
,
Barnes and Noble
, or
DreamSpinner Press
.