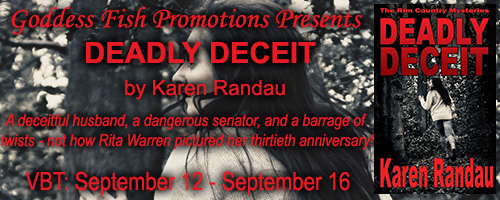 This post is part of a virtual book tour organized by
Goddess Fish Promotions
. Karen Randau will be awarding a $30 Amazon or Barnes and Noble GC to a randomly drawn winner via rafflecopter during the tour. Click on the tour banner to see the other stops on the tour.
An Interview With Rita Warren
By Karen Randau
Deadly Deceit is told from the point of view of Rita Warren, a middle-aged woman whose mother receives only passing mention as a vegetarian hippie artist. In the book, Rita says that her mother schlepped her to a shelter for abused women during each of Rita's father's drug-induced rampages, then retreated to an artist commune after her husband's overdose. While that's the extent of the explanation, those childhood experiences had a major impact on Rita.
KR: Rita, tell us about your mother.
RW: Mom was beautiful and kind but all used up after the hippie revolution of the 1960s. Because she loved animals, she refused to eat them. My favorite photo of her shows a tall and slender woman with sleek, dark hair that hung down her back. In this photo, she held her hair back with a beaded headband, but I often saw her wearing a crown of flowers and a flowing, long dress made of handwoven cotton. Around the house, she sometimes wore nothing but a braided band around her hips. She rarely wore shoes, and I don't think she owned a bra, even though she let me have one when I asked for it. Once my father died of a drug overdose, her anti-establishment rhetoric stopped, so I think that was more him than her. She retreated into her art after that, and I often felt ignored. When I disappointed her by marrying a bourgeois Marine, she moved to a nudist artist commune surrounded by a tall wall to protect residents from the world's "bad vibes." She seldom comes out.
KR: How did your mother influence who you are in Deadly Deceit?
RW: I didn't want to be anything like my mother, but I now realize that I just managed to create my own flaws for myself. When I was growing up, we were poor and bought our clothes at a flea market. We moved a lot. After I married Jared, I started wearing only designer clothes. I embraced all that society had to offer me, including a big house with expensive furnishings, a luxury car, over-the-top vacations, and friendships with influential people. I love my children with all my heart and would never ignore them or their needs. I would do anything to protect my children, and nearly died in Deadly Deceit protecting my daughter.
In many ways, I am like my mother. I have a soft spot for dogs, pretty flowers, art that tells a story, and poetry. Everything I went through in Deadly Deceit helped me realize that my chaotic and unconventional upbringing made me stronger than I ever thought. I notice things because of the art and beauty my mother brought into my life. I always wondered why I chose a best friend like Gail Upton, who dresses tacky, speaks her mind, and loves to help me be me. Because of Deadly Deceit, I know it's because Gail reminds me of all of the good in my mother, and of the simple life she tried to give me.
KR: Deadly Deceit has a scene where you're in a shelter for abused women and children. How did that affect you?
RW: My mother took me to places like that when my father was out of control. I had blocked out those memories, and they flooded back during the few days I stayed at that shelter. But those days gave me a sense of purpose. I want to be part of the Abused Women's Healing Network in my town of Rim Vista, Arizona. I want to help women and children to leave behind their days of abuse, to help set them on a path toward a bright and delightful future. I'm so glad I got a chance to do that in Deadly Deceit.
KR: And what about the detective who investigates your husband's murder? How does Cliff Avery fit into your future?
RW: Cliff is a hunk of a man, that's for sure. I started noticing his manliness fairly quickly in Deadly Deceit, but I was caught up in my grief over my husband's death and finding out who was threatening my family. I lean on Cliff a lot to get through my various trauma situations. By the end of this first tale in the series, Cliff is much more than a treasured friend. He'll be a big part of the stories I continue to tell in the Rim Country Mystery Series.
A cocoon of naiveté shatters on Rita Warren's thirtieth wedding anniversary, when a terrorist murders her ex-Marine husband Jared and thirteen other movie goers. Ensnarled in a cover-up that puts her in an assassin's crosshairs, Rita must unravel a web of lies and connections that date back to Jared's service in the Iraq war – before a mysterious kidnapper returns Rita's daughter Zoe one body part at a time. This fast-paced story is one you won't want to put down from beginning to end.
Enjoy an Excerpt:
Through a stunned haze, I saw him look down at me and disappear. He returned with Zoe over his shoulder and rushed down the hill toward a black pickup parked on a narrow side road.
At last, I gulped in air and jumped to my feet. I remembered my gun, and pulled it from my purse. While running toward him, I forced a bullet into the chamber and fired. Missed. I continued running until he turned Zoe toward me, and I lowered my gun. He dropped her into the bed of the truck, slipped a gun from under his shirt and pointed it at me.
"Take the antiquities certificates to the same park bench. No tricks this time. You have until noon tomorrow."
"I'll do whatever you want, but please don't take my daughter. She needs a doctor. Take me instead if you think you need a hostage."
Gunfire cracked behind me, and the man grabbed his left arm. Blood oozed from between his fingers. "If I see any cops, I'll kill her. Then come after you." He slid behind the steering wheel, and I turned to see Cliff at the top of the hill, his gun by his side.
I ran toward the dust stirred up by the truck as it sped away and shouted into the wind. "This is about my necklace?"
About the Author: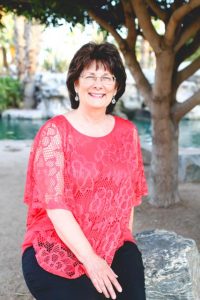 A native of the southwestern U.S., Karen Randau has been writing and telling stories since elementary school. She holds a degree in journalism/public relations from The University of Texas at Austin and has enjoyed a long career in marketing communications. In her work with an international non-profit, she has traveled to numerous developing countries, witnessing famines, violence, and hopeful people working to overcome abject poverty. She loves fast-paced mysteries and thrillers, especially those with intricate plots, lots of action, and rollercoaster-like twists and turns.
Blog | Facebook | Twitter | Goodreads | Amazon Author Page