A special welcome to Petie McCarty who is joining us today. Petie will be awarding a Kindle Copy of Angel to the Rescue to a randomly drawn commenter.
Petie has written eight complete novels, two additional romances are over half-finished — one a Highland romance and the other a regency time travel. Four are published with Desert Breeze and one more scheduled for an April release.
"The first two books I wrote are tucked away in a drawer — and on a computer thumb drive — where they won't see the light of day without a major re-write," she told me.
Petie is currently on deadline for her third Mystery Angel Romance scheduled for release in April 2015. Each love story has an angel hidden in the plot, and the angel's identity is not revealed until the finale unless the reader figures it out first. I asked her to tell us a little about it.
"In this as yet untitled MAR, a Black Ops Navy SEAL suspects his partner of sending stolen classified information to his sister in the states for safekeeping right before the partner was murdered by Syrian terrorists. The SEAL must get to the sister before the terrorists do. I'm leaning toward The SEAL's Angel for a title, but if anyone has any great suggestions, send me an email at petiemccarty@aol.com. I'd love to hear them."
When Petie first started writing, she thought her stories needed a "shtick" — a gimmick to make them unique and stand out. She'd always loved the television series, Touched by an Angel, and thought it would be fun to hide the angel's identity in the story. Thus, the Mystery Angel Romances were born.
"I'm writing my third MAR at present, and the reader comments I've received regarding my previously released MARs — No Going Back and Angel to the Rescue — indicate I've done well fooling my readers with the hidden angel," she said. "That adds even more fun to the writing. I get to leave red herrings throughout the plot to divert the reader from the identity of the real angel in the story."\
With her first two published novels, Everglades and Catch of the Day Petie went for a unique venue. She spent two years of her career conducting aquatic plant surveys in lakes, rivers, and wetland marshes all over Florida aboard every type of floatable craft and usually aboard airboats.
"Everything that happens to Kayli Heddon on the airboat safari in my novel, Everglades, happened to me at some time in my career: the midge storm, swimming with a gator, the leeches, the heart-stopping airboat maneuvers. Everything, that is, except getting stranded overnight with a sexy airboat guide," she said.
However, her experiences did lead to the scariest moment of her life.
"Back when I surveyed lakes for the state, our department held an annual training course for the regional biologists at a lake in north Florida. We spent the week on airboats being tested on plant ID and mapping techniques. We had no TV or entertainment at the church camp where our training session was held, so one evening, two biologists and yours truly decided to go for an airboat ride after dark. I wasn't afraid to go since I hadn't seen a gator on the lake all week. Well, the buggers had evidently been hiding.
"The airboat we chose was a small one, a one-seater for the driver; two of us stood next to the driver's seat and held on. I had to aim the single lantern-type flashlight we brought to use as a headlight as we drove out across the lake, which left the area around us darker than the inside of a cow. And full of dozens upon dozens of shiny red eyes. Devil eyes.
"We stopped about half-way across the lake, having decided our excursion might not have been the brightest of ideas. The gleaming red eyes were everywhere. That was when the other biologist standing next to the driver's seat said, "Why are my feet getting wet?" The boat was taking on water in the pitch-black dark, and the dozens of red eyes were closing in.
"Holy Cow! That was the scariest moment of my life."
Her favorite character is Skye Landers, the hero in Everglades.
"He agrees to take the airboat safari into the famed River of Grass as a favor to his cousin Jimmy who got called out of town and couldn't take the gig. Skye grew up with Jimmy in the Everglades, so he knows what he's doing, but the heroine thinks she's in charge of the expedition, and that's when the sensual sparks start to fly. Alpha male and spunky female — what a match!
"Running through Florida waterways by airboat has to be one of the most exciting and dangerous modes of transportation ever created. I mean, there you have a sixty-inch propeller going around three feet behind your head and only a chain link fence in place to protect you if the propeller ever broke free. Perfect place for a take-charge alpha hero.
"When I did my years of aquatic survey work, I never once got to have a hunky airboat driver, so in Everglades, I created my own. And I did a mighty fine job if I do say so myself. I hope you check him out and fall in love with him — just like I did," she said with a grin.
While her experiences on that job helped her in writing, she didn't consider that the weirdest thing she had done in the name of research. That came about when she was writing Angel to the Rescue. She realized she need to know what type of gun her police negotiator would carry as his standard police-issue sidearm. After doing a little research, she found that varies from state to state as well as between large cities and small towns.
"So, I stopped a deputy in Chili's at lunch one day — stuck my arm out in the aisle to stop him, actually — and asked what the standard-issue sidearm was for our Sheriff's department. That got me the Sheriff's version of a 'stink-eye' once-over until I explained that I wrote novels and was asking the question for research. Of course, I got a different look altogether when I said, 'Whip yours out and let me have a look.' Poor choice of words, no doubt."
Petie told me she never realized just how important titles were to a book until she read a RWA article about it.
"I was surprised to learn editors have made offers for books in the past just because they fell in love with the title. Not often, but it's happened. Titles should separate themselves from the rest of the pack. The words should snatch the imagination and push the reader to immediately open the front cover and see what's inside," she told me. "An editor quoted in the article said she'd like to have a dollar for every submittal she'd received with the title, Second Chance. I was horrified! My WIP at that moment in time was titled — Yikes! — Second Chance. Thank goodness, my publisher allowed me to change the title of my WIP to No Going Back as soon as I finished reading the article."
"What would you say is your most interesting writing quirk?" I asked.
"I write a large portion of each rough draft in shorthand — yes, the ancient Gregg shorthand — and I can type as fast from reading shorthand as from reading typed print. The shorthand is built on phonetics and has its own shortcuts and abbreviations to speed writing along. My mother forced me to take typing and shorthand in high school. Though at the time, I hated the classes, I haven't stopped thanking her since. I use the shorthand every day and for just about everything, even grocery shopping lists."
Because of this, she can write just about anywhere and never goes anywhere without her steno pad. She's written in the doctor's office, shopping mall bench, restaurant, ferry, airplane.
"When I get far enough ahead — or if I reach a scene that requires extra conniving to get my characters up to scratch — then I type scenes for a day or two," she explained. "Every writer has their own process. This peculiar one works for me."
"What is your strangest habit?" I wondered.
"Oh, how embarrassing! Well, here goes… I smell books. There — I admitted it. I love the smell of books, especially paperbacks, and yes, I stick my nose right in the crease to take a big whiff. I forget sometimes, when I'm reading in a public venue like an airport or a doctor's office, and I have to catch myself before I bury my nose in the pages and people think I'm a whack job. The fetish may be genetic. My sister caught my nephew sniffing his books. When she called to tell me, I couldn't stop laughing, so I had to confess."
Finally, I asked, "What advice would you give a new writer just starting out?"
"My best advice is to fight the overwhelming urge to submit your first novel to a publisher as soon as you finish editing the story. Every novel needs at least two complex edits, preferably four or five, and all edits require a minimum of a week or more in between to percolate. You'd be surprised how much your critique will change if you walk away from your story for a short period of time. Believe it or not, every published author could go through each of their published novels and find editing they would like to do. You'd also be surprised how much rejection you can ward off by waiting until the manuscript is the best it can be.
"Lastly, develop a thick skin before you make your first submittal, and never take rejection or bad reviews personally. Even NY Times bestselling authors get less than stellar reviews from time to time. Remember… you can please some of your readers all of the time, and all of your readers some of the time, but you'll never please all of your readers all of the time."
Child psychologist Rachel Kelly isn't quite sure how to handle the situation with her newest client — a six-year-old boy who says he can talk to angels and one is coming to help Rachel. She already has her hands full of trouble this Christmas season, and things quickly take a turn for the worse when a stalker crashes Rachel's Christmas party and takes her young clients hostage.

Police negotiator, Lt. Jake Dillon, walked away from his fiancée Rachel when she suddenly balked at having kids. His kids. Yet when the hostage crisis erupts, Rachel calls Jake first. Now he has a choice to make — stand back and wait for the cavalry to save Rachel or step in and try to save her himself. Time is running out, and Jake may be their only chance for rescue.

Unless Rachel's little angel-spying client is telling the truth…
About the Author: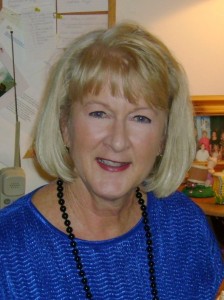 Petie spent a large part of her career working as a biologist at Walt Disney World — "The Most Magical Place on Earth" — where she enjoyed working in the land of fairy tales by day and creating her own romantic fairy tales by night. She eventually said good-bye to her "day" job in order to write her stories full-time.
Petie is a member of Romance Writers of America, and she shares homes in Tennessee and Florida with her horticulturist husband, a spoiled-rotten English Springer spaniel addicted to pimento-stuffed green olives, and a noisy Nanday conure named Sassy who made a cameo appearance in Angel to the Rescue.
Visit Petie's web site online at http://www.petiemccarty.com, her Facebook page at https://www.facebook.com/petie.mccarty, Twitter, or Pinterest.