Welcome to Amanda Forester who has brought the Duke of Marchford to Long and Short Reviews as part of a virtual book tour organized by the publisher.  Leave a comment for a chance to win a copy of the book (US/Canada only).
For readers out there that may not know you, can you briefly tell us about yourself?
Thank you for inviting me here today. I am the Duke of Marchford, inheriting the title after my elder brother died. It is no secret that I was never intended for this position. I was sent out of the country to work for the Foreign Office, a respectable way to dispose of the unwanted second son. Unfortunately for all concerned, I was called back when I unexpectantly inherited the title. To my mind, however, my work for the Foreign Office will always take precedence, particularly during these difficult times in our struggle against that crafty foe, Napoleon.
Did you give Amanda Forester a hard time while writing A Winter Wedding, or was it more the Miss Penelope Rose causing trouble?
I am certain I never give anyone any trouble, though I beg you would apply to my grandmother for support of such a claim. Miss Forester was always asking about my feelings or some such rot. I am currently involved in some potentially dangerous affairs of state and cannot be bothered by irrelevant questions about the affairs of the heart, which in my experience are more treacherous than a horde of foreign spies.
What are some of your favorite qualities of Miss Penelope Rose that made her irresistible?
Irresistible? Miss Penelope Rose is a capable person but I assure you, I can resist her without difficulty. Her main attribute is that she is of practical assistance to me. She is a sensible person, intelligent, brave, capable, and utterly trustworthy. In truth, I have found her assistance invaluable to me in my work for the Foreign Office. This is why I have decided she must remain in London to assist me…whether she wishes to or not.
Why is it important to you to keep Miss Rose in London?
Miss Rose has been exceedingly helpful in my investigations, which are of the greatest import for the security of our great empire. I have come to depend on her quite a bit in my work. So it is for these reasons, and these reasons alone, that I have decided we must be wed. It has nothing to do with how her figure has lately been shown to advantage in her new Town gowns, nor the way her hair falls in loose curls, nor the stolen kiss that nearly took my breath away. No, it has nothing to do with any of those irrelevant things that I cannot get out of my mind. Unfortunately, Miss Rose has decided not to wed without a firm declaration of love. Thus, she has forced me to do something against my natural inclination as a gentleman. She leaves me this one choice…I must trap her into marriage.
 *****
Read more about Penelope and Marchford, in A Winter Wedding now available. To get you started in the series, the first book in the trilogy, Wedding in Springtime is being offered FREE for a limited time, and Midsummer Bride is currently only $1.99. Amanda loves to hear from readers so visit her at her website, facebook, or twitter.
Amanda Forester holds a Ph.D. in psychology and worked for many years in academia before discovering that writing historical romance novels was decidedly more fun. Whether in the Highland hills or a Regency ballroom, Forester's critically acclaimed novels offer fast-paced adventures filled with wit, intrigue, and romance. She lives with her supportive husband and naturally brilliant children in the Pacific Northwest.Visit her at www.amandaforester.com.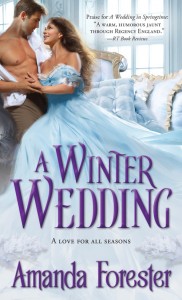 This adventurous duke…
The Duke of Marchford requires a suitable bride, but catching spies for the Foreign Office takes up most of his time. Not wanting to face another London season as an eligible man, he employs the notorious Madame X to find him a match.
Has met his match
Miss Penelope Rose knows the rules of marriage among members of the ton better than most. Her own unsuccessful attempts at matrimony did not stop her from becoming London's most exclusive matchmaker. Marchford proves to be a difficult client, but as he draws on her social expertise to help him flush out a dangerous traitor, they find that falling in love may be the riskiest adventure of all.
Buy Links:
Amazon: http://amzn.to/1vcjPpL
Apple: http://bit.ly/1orV3bN
Chapters: http://bit.ly/1pXOdMo
IndieBound: http://bit.ly/1ntyXVW
Kobo: http://bit.ly/1vckp71