A special welcome to Lee Rowan who is visiting with us today!
All in the Family
I made a big mistake while Christmas shopping at the pet supply store.
We have two dogs:  Watson is a big Shepherd-Lab-Collie mix who weighs in somewhere between 95 and 100 pounds. He's 4 years old and at the top of his form, while Cassie is a dainty little Aussie-Husky (and maybe Cattle Dog) mix who seldom tops 50.   She's 10 or 11 (rescue, so we're not sure) and she can't even get her mouth around some of the toys that Watson likes the most.
The store only had huge chew-bone candy canes—two feet plus—and little ones, about ten inches.  No medium size.  The big boy loved his: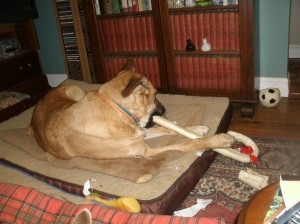 (excuse the mess, please, it`s kids at Christmas)
I didn't think Cassie could handle the big chew-bone… so I got her a small one.  As you can probably tell from her expression, she felt a little shortchanged: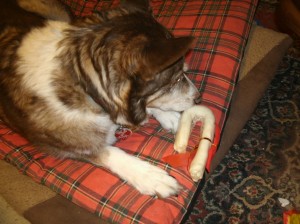 And, being the senior dog who mentored Watson from a pup, she decided to rectify the situation – much to his dismay.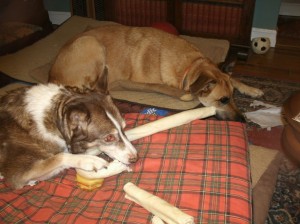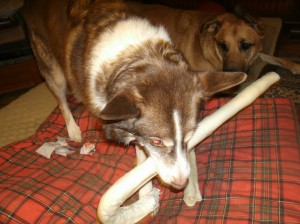 Watson sounds like the Hound of the Baskervilles if a strange dog walks by outside his window, but when Cassie's got his property, he doesn't get aggressive, he just complains.  At length.  At the top of his lungs. If you can imagine Chewbacca with a hangover, that's about what it sounds like.  I finally had to just put the damned thing up out of reach and give them both treats that were the same size.
And – since I wanted them both to enjoy the holiday (and shut up!)– we went out in -25 wind chill on Boxing Day to rectify the error.  The good news:   half-price Christmas clearance.  Peace and harmony (and quiet) were restored.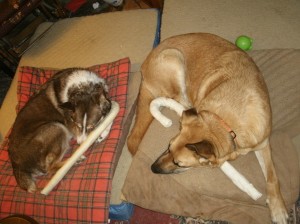 Of course, they've been stealing each other's toys back and forth ever since—Cassie likes to let Watson soften up an end of a rawhide so she can chew it more easily – but at least there are two of them.
How does that relate to my books?  Well, imagine that chew-toy is an estate worth millions in today's market, and it goes, by law, to the eldest son.  Imagine a second son who has no interest in taking responsibility for the welfare of the people who live and work on the estate, but has run up a lot of gambling debts and wants to get his hands on that cash.  And he isn't going to be satisfied with a two-foot rawhide candy cane.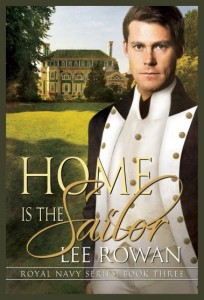 That's the situation  that sets off the events of Home is the Sailor, published January 5 by Dreamspinner Press.  It's the 3rd book in my Royal Navy series, following Ransom and Winds of Change/Eye of the Storm.
The Royal Navy meets the Stately English Manor Murder Mystery, and if it were only a matter of Colonel Mustard in the library, things would be so much easier. After an ambush by the French while on a routine surveillance mission, Will Marshall and David Archer are advised to retreat to the English countryside to avoid Bonaparte's animosity for a time. Upon their arrival, they discover that David's eldest brother has died after a mysterious accident and this puts his other, very unsuitable brother in line for the title. David's suspicions—that the new heir had a hand in his brother's death—seem so unreasonable that even Will finds it difficult to believe his fears are valid. If Davy thought his lover was hard to convince, his autocratic father, who still sees him as the inept youngest son, won't even listen to him. Davy and Will are thrust into the role of sleuths, trying to determine the truth behind the mystery. All the while Will has concerns of his own: his fear of losing Davy is still stronger than his desire to keep Davy beside him on the quarterdeck… but he knows no other life than the Navy.
http://www.dreamspinnerpress.com/store/product_info.php?products_id=5910
https://www.allromanceebooks.com/product-homeisthesailor-1700280-145.html