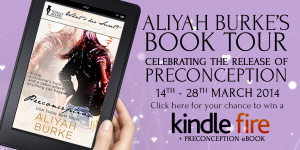 Preconception is released on 14 March 2014, and tells the story of a cop, a criminal's twin and a cabin where anything can happen.
To celebrate the release of Preconception by Aliyah Burke Totally Bound are giving a copy of the book away and a Kindle fire to read it on! For your chance to win make sure you enter the competition here:
You can also sign up to attend the release party on Facebook on the 28th March where the winner will be announced amongst other games and prizes!
CHARACTER CONNECTION
How do you connect with your characters? Do you fill out character sheets to figure out more about your hero and heroine, along with secondary characters? Do you interview them?
Me?
I learn about them as the story unfolds. I learn their fears, joys, hopes, and dreams as the words flow (hopefully) from me to the computer. I'm not a writer who knows everything about my characters before I begin the story. I like the discovery and to me I feel closer to them. I am there to experience firsthand the fear or thrill and their gut reaction to a scene, so it's raw and true, as opposed to being expected and planned in advance.
To me, it's always a blessing to watch them develop and grow as the story progresses. To see a rich, arrogant playboy learn to care about those who'd never before meant anything to him. Alternatively, a woman steps out of her comfort zone because for the first time, her journey has allowed her to grow and discover the confidence she'd needed before. Those are two examples.
That is what I love to experience. My characters don't always fit the stereotype, and honestly, I prefer that. So a reader will be like, wait…most wouldn't react that way, or they know they wouldn't. If everyone were the same with the same reactions, the world would be an extremely boring place, in my opinion.
My characters in Preconception, the main ones, have their own battles to overcome. No, not telling, you have to read the story. J There are fears to face and defeat. Beliefs to be changed. Declan has to learn about second chances. Caro swiftly discovers she may be further out of her league than she first believed and has to understand she's strong enough to face it. Both must overall; reevaluate their preconceptions about one another.
Thanks for allowing me to be here today.
Happy reading,
~Aliyah Burke