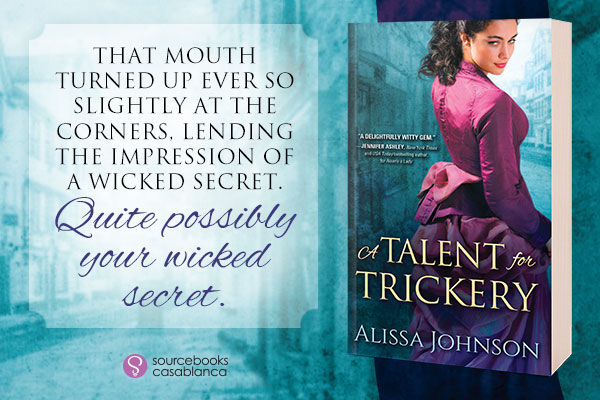 This post is part of a virtual book tour organized by the publisher. Enter the Rafflecopter to win a historical romance book bundle.
Hello Readers!
I'm delighted to introduce A Talent for Trickery, the first book in my new Victorian-set "Thief-takers" series. Our hero, Private Investigator Owen Renderwell, is on the hunt for a thief and murderer. And he knows just how to catch his man. All he needs is a little help from our heroine, Miss Charlotte Walker-Bales. The daughter of an infamous confidence man, Lottie is in a unique position to offer insight into the mind and motives of a hardened criminal. There's just one flaw in Owen's otherwise excellent plan. Lottie hasn't spoken to him in eight years. She has no interest in working alongside a man of the law, and certainly not the one who betrayed her trust, endangered her family, and broke her heart.
I've been asked to list my top five favorite books of all time. Obviously, this list has a tendency to change (often and a lot) but my current all-time favorites are—
1. Madeleine L'Engle's A Wrinkle in Time. The first picture-free book I read on my own. And by "on my own," I mean I pestered my parents for help every 3-5 minutes. Nonetheless, it succeeded in transporting me to a magical world that existed only in words and my own imagination. I owe my love of reading first to my mother, then to Madeleine L'Engle.
2. Jane Austin's Pride and Prejudice. I'm not sure this even needs an explanation. It's Mr. Darcy and Miss Elizabeth Bennett. It's balls and carriages and pretty gowns. It's embarrassing family relations and terrible scandals and love conquering all. It's glorious.
3. Douglas Adams's The Hitchhiker's Guide to the Galaxy. This was my first foray into adult Science Fiction. But definitely not my last. In fact, all of Adams's work remains on my keeper shelf.
4. Lisa Kleypas's Dreaming of You. There's a reason I will pick up any book featuring a blue-stocking and a bad boy, and Dreaming of You is it. I adore Sara and Derek.
5. Illustrated Poems for Children, A Special Collection. Why this book is out of print and impossible to find I do not understand. It contains some of my absolute favorite childhood poems, like Custard the Cowardly Dragon, as well as some adult favorites like The Raven. All beautifully illustrated by Krystyna Orska in classic 1970's slightly-psychedelic style. There NEEDS to be a reissue of this book.
The Lady is a Thief

Years ago, Owen Renderwell earned acclaim-and a title-for the dashing rescue of a kidnapped duchess. But only a select few knew that Scotland Yard's most famous detective was working alongside London's most infamous thief…and his criminally brilliant daughter, Charlotte Walker.

Lottie was like no other woman in Victorian England. She challenged him. She dazzled him. She questioned everything he believed and everything he was, and he has never wanted anyone more. And then he lost her.

Now a private detective on the trail of a murderer, Owen has stormed back into Lottie's life. She knows that no matter what they may pretend, he will always be a man of the law and she a criminal. Yet whenever he's near, Owen has a way of making things complicated…and long for a future that can never be theirs.
About the Author: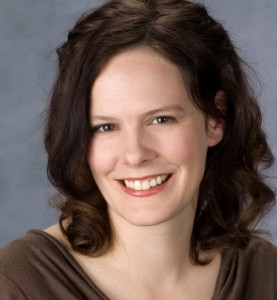 Alissa Johnson is a RITA-nominated author of historical romance. She grew up on Air Force bases and attended St. Olaf College in Minnesota. She currently resides in the Arkansan Ozarks where she spends her free time keeping her Aussie dog busy, visiting with family, and dabbling in archery.
Website | Facebook | Twitter | Goodreads
Buy the book at Amazon, Barnes and Noble, or Sourcebooks.