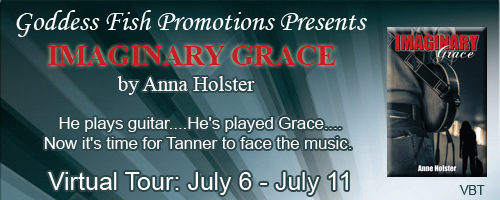 This post is part of a virtual book tour organized by
Goddess Fish Promotions
. Anne will be awarding a $15 Amazon or B/N GC to a randomly drawn winner via rafflecopter during the tour. Click on the tour banner to see the other stops on the tour.
Advice to New Writers
As a new writer, I understand better than anyone the emotional roller coaster of writing that first book. While writing Imaginary Grace, there were many wonderful moments when the story just seemed to flow out of me. The characters rose, fully formed, to the challenge and led me where they would. It was truly magical. Then there were those other, much less pleasant moments when the writing process was slow and torturous, when coming up with every word felt like trying to wring a drop of water from a dry rag. Through it all, I was plagued by the feeling that I had no idea what I was doing or where the story was going. It was walking through a long, dark tunnel with only a dim flashlight to guide me.
And that was just the actual writing! There were also the seemingly endless details that had to be managed before the book could make it to market. First, I had to decide whether to self-publish or seek representation from a literary agent. Exploring the pros and cons of each option only led to a litany of other issues – for example, if I self-published I would have to find a cover designer that understood the book; was reputable; and wouldn't break the bank. If on the other hand a traditional publisher picked up my manuscript, these decisions would be taken out of my hands, along, of course, with the control over the book's appearance. I also knew that if I self-published the marketing would fall completely on my shoulders.
By now you might be wondering whether I am offering encouragement to new writers or simply advising them to throw in the towel. I can assure you, it is the former. Why? Because of those magical moments I mentioned earlier – when it felt as though the story had already been written and I was just the medium it flowed through on its way to the page. This feeling was worth all the agonizing, all the indecision, and then some. There were many times when I assumed Imaginary Grace would never sell to anyone but my family and friends, and I believe this freed me and my characters to create and fully inhabit the world of the book. I urge you to do the same.
Tanner has always gotten wants from girls-whether it's the co-ed sitting next to him in class or the scantily dressed groupies that follow his band, Hudson Nash. There's only one woman immune to his charms, and that's his mother. Tired of Tanner's hard partying, she's waiting for him to grow up and settle down, preferably with a nice girl. When she refuses to finance his tour with the band, Tanner knows he'll have to find a way to change her mind.

Grace Roberts is not like most college girls. Shy and bookish, she prefers sneakers to stilettos and never quite mastered the art of taming her mane of unmanageable hair. Guys are not exactly throwing themselves at her, so when Tanner Reed, the hottest guy in school (scratch that, the hottest guy anywhere!) takes an interest in her, it seems too good to be true.

Bound by his deception and her girlish hopes, Tanner and Grace will be forced to question everything they believe about each other, and themselves. When these two get together, anything can happen and anyone can get hurt. Anyone can fall in love.
Enjoy an excerpt:
I just stared as I watched him walk in what seemed like slow motion – no, walk is not the word to describe what he did – more like I watched as he swaggered into the room. He was the most beautiful creature I had ever seen. His thick, shoulder-length brown hair was just a shade or two lighter than mine but fell perfectly around his equally perfect face. He was clean-shaven with a strong-looking, sculpted jaw and when he looked up, I saw that he had the most exquisite cornflower-blue eyes that I had ever seen. He wore a tight-fitting, gray vintage rock-n-roll t-shirt that stretched across a well-defined chest and revealed a set of equally well-defined biceps. My eyes traveled down to a pair of worn, faded blue jeans that hung low on his slim waist and I noticed that there was a slight tear just below his right knee that showed when he walked.
He took a desk a few seats up and to the right from mine. Then he turned and began a conversation with the girl next to him. I couldn't see her face but I could tell from her body language that she found him as attractive as I did. At one point she put a hand on his arm and said, "Oh, Tanner!" in a half-scolding tone. Tanner? Hmmm. When the professor walked in he turned around and I dragged my attention to the front of the room, but every so often I glanced in his direction. When class was over, I quickly gathered my things, but by the time I got up to leave he was already gone.
About the Author: First time author Anne Holster resides in Northern New Jersey with her husband and two children. When she's not writing she enjoys spending time with her family, playing tennis and reading angsty romance novels. She is currently working on her second novel.
Facebook | Goodreads
Buy the book at Amazon.