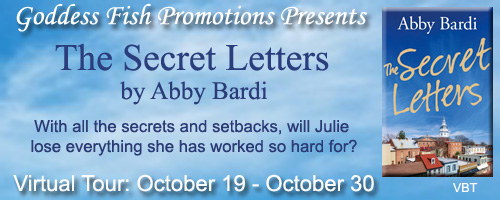 This post is part of a virtual book tour organized by
Goddess Fish Promotions
. Abby will be awarding an eCopy of The Secret Letters to 3 randomly drawn winners via rafflecopter during the tour. Click on the tour banner to see the other stops on the tour.
Advice for Writers
by Abby Bardi, author of The Secret Letters
Why should you take advice from me? Well, you probably shouldn't; writing is a weird business, and you're probably right to do what you think is best and let the chips fall where they may. (Writing tip: Avoid clichés like "let the chips fall where they may.") But I've been teaching creative writing for a long, long time, and over the years, I've been able to observe a lot about what seems to work and what doesn't. So this is not advice, exactly, but some thoughts about a few things.
Let's talk about genre.
Nowadays, I notice that many aspiring writers seem to be drawn to specific genres, especially romance, fantasy, and sci-fi. Traditionally, genre has been anathema to literary writers, i.e., people who use the word "anathema," but in recent years, those lines have begun to blur.
Obviously, genre-writing can be wonderful. But in my classes, I have noticed that people sometimes use the conventions of such genres as romance, sci-fi, or fantasy to dodge some of the hard work of writing.
In a romance, it's easy to dodge the problem of plot to an extent because on the whole, it is clear what will happen—mating rituals, love and/or sex, perhaps the ripping of a bodice. In sci-fi and fantasy, on the other hand, absolutely anything could happen, and the writer is not confined to any reality. This seems as if it would be simpler than working with strict plot conventions, but it's anything but simple–because even if the characters are in a different universe, if that universe doesn't conform to some kind of recognizably human logic, it's hard to make a reader care about what happens in it, or even understand it.
So in genre-writing, as in any kind of writing, the challenge is to make the reader care. But how? I recommend focusing on realism and characterization. (Hey, I'm not saying I'm a master at this myself, but this is what I have learned from reading other people's writing.)
Realism:
Yes, we are on the planet Zork in the distant future, or past, where anything can happen. How can we make that believable? Description helps a lot: the use of specific sensory details to create a tactile sense of what the planet or time period is like. Show characters handling objects; describe details about what places look like, especially places that don't exist; create a believable alternate world where things seem as concrete as, well, concrete.
The same is true for romance: if someone is actually wearing a bodice, make sure it is a historically accurate bodice and that you convey a sense of what it is like to wear one. I would think they'd be quite uncomfortable! If your protagonist is in the Scottish Highlands, give her a sweater! Create a sense of place, and show characters interacting with their environment, touching and smelling and hearing things.
Characterization:
And speaking of characters, here's the problem with Zork: if the life forms there don't behave somewhat like those of us residing on earth, the story will not be interesting to anyone but other life forms on Zork. In other words, a genre story is still basically about the earth, but you have cleverly disguised this by setting it in a distant galaxy/time. Your story needs to be about, well, people, even if the people don't look like us; they still need to behave in ways that hold up a mirror to human reality and show us what it means to be alive. This means that your characters should be fully fleshed out, even if they don't technically have flesh. Avoid characters who are too perfect or too evil; real people (or Zorkians) are more complex, a weird cocktail of good and bad and everything in between. Even very attractive people can have painfully ugly earlobes. And more important, humans have hearts: we feel emotions that cause life to be both ecstatic and painful for us, and if the Zorkians don't have a range of visceral reactions to their environment the way we do, their story will not engage us in the deep way that literature is meant to engage us. I know, maybe you don't intend to write literature, just a rattling good yarn (cliché! Sorry!), but if not, why not? Isn't that what all great stories are?
For romance, there is no better model for characterization than Jane Austen's seminal (no pun intended) Pride and Prejudice. Elizabeth Bennett is a wonderful heroine because she is not perfect: she suffers from prejudice, obviously, and a variety of other faults and flaws that make her interesting and relatable. Mr. Darcy, whose pride is initially his dominant feature, could have been completely repellent because of his creepy snobbishness, but he redeems himself by proving that he has Elizabeth's best interests at heart—and the enormous fortune does not hurt. The complexity and emotional reality of these characters makes the romance plot of the novel irresistible.
So to sum up, my advice for writers is this: if you write in a genre, use that genre to enhance your work, and don't try to hide behind it. No matter where or when it is set, what makes a novel or story interesting is the human element, the profound reality it reflects about life here on earth.
When thirty-seven-year-old slacker-chef Julie Barlow's mother dies, her older sister Pam finds a cache of old letters from someone who appears to be their mother's former lover. The date stamped on the letters combined with a difficult relationship with her father leads Julie to conclude that the letters' author was a Native American man named J. Fallingwater who must have been her real father.

Inspired by her new identity, Julie uses her small inheritance to make her dream come true: she opens a restaurant called Falling Water that is an immediate success, and life seems to be looking up. Her sister Norma is pressuring everyone to sell their mother's house, and her brother Ricky is a loveable drunk who has yet to learn responsibility, but the family seems to be turning a corner.

Then tragedy strikes, and Julie and her siblings have to stick together more than ever before. With all the secrets and setbacks, will Julie lose everything she has worked so hard for?
Enjoy an excerpt:
The casket was a double-wide, with painted flowers on the side like a circus wagon. Pam said it looked like hippies had scrawled on it with crayons while tripping.
"She's at peace now," one of our idiot cousins said to someone I half-recognized from when my mother used to drag us to West Virginia, where she was born. "Just a bunch of goddamn hillbillies in the Mountain State," she always said, like she was Martha Stewart.
"Shut up," Pam muttered in the cousin's general direction, smiling like she was saying something nice. I hoped she planned to provide snark during the funeral, since I didn't know how I would make it through otherwise. My other sister Norma was in the front pew sobbing. We were keeping our distance from her, not because of anything in particular, but because we always stayed out of her way if we could. It didn't pay to try to comfort her, since anything you said would be the wrong thing.
The casket was closed, thank God. Our mother had left strict instructions about this and everything else when she was still conscious. Even while dying, she was a control freak, and amazingly vain for someone who weighed just shy of 400 pounds, even with terminal cancer. "You're beautiful," we always said to her in a Hollywood voice, "don't ever change." She knew we were just messing with her, but she always smiled and patted her hair.
"That's a hell of a casket," I said.
"Sure is purty." Pam's eyes were red. I hadn't looked in a mirror since early morning when I'd slathered on eye makeup, but I'd been crying all day, too, and probably looked like a slutty raccoon. "Is Timmy here yet?"
"Haven't seen him. It's so crowded." I scanned the room.
"Did any of these weirdos actually know her?"
"I don't know. I bet those fat guys were football players at her high school." I wiped my eyes, though I knew it was a bad idea, smear-wise.
"Oh, there he is." Pam pointed to the back of the room and I spotted our older brother. He was wearing a dark suit that made him look like a Mafia don, talking to some blond guy. She tried waving, but he didn't notice. His eyes were on the casket. He hadn't seen our mother in almost a year, and I was sure it was hard for him to believe she was gone. Tough shit for him, I thought. He could have come here when it would have made a difference. Now it didn't matter to anyone what he did.
"Is The Asshole coming?" I asked, referring to our father.
"No, he says he has a schedule conflict."
"Probably golf. You'd think he could at least manage to show up for this."
"At least he's clean and sober."
"So he says. He's probably still banging down Zombies at strip clubs."
"Try not to be bitter, Julie. It's unattractive."
"Bitter? You think I'm bitter?"
As the minister cut in and began to read the eulogy my mother had probably written for him, my mind started wandering like I was in grade school waiting for the bell to ring. I tried to concentrate, but I couldn't. Every so often I'd tune back in and hear things that weren't true. Her devotion to other people. Her service to the community. Her wonderful family life—I could just about hear her voice coming out of the guy's mouth. I didn't know where she found him, since she never went to church. I figured he was an actor she hired to play a minister, and made a mental note to mention this to Pam.
As he droned on in his phony actor voice, I closed my eyes and imagined walking through the woods on the hill behind our house. Most of it was gone now, bulldozed to make room for the townhouse development just over the ridge. I made a path through the old trees, and the dogs ran in circles around me. Ahead of me was the pond, though in real life it wasn't there any more either, except for the hints that sometimes bubbled up in people's driveways. I was going to dangle my bare feet in the water. I could hide there all day, and no one would know where I was. Then I would run back through the trees to our house, with the dogs behind me, and my mother would be there, and Frank, and Donny.
When I opened my eyes the minister was gone, and some cousin who hadn't seen my mother in years was reading from a wrinkled piece of paper. She was stumbling over the words, maybe because it was Mom's loopy handwriting, or maybe she couldn't read. It was Mom's life story minus all the bad parts and made going to high school in East Baltimore, meeting The Asshole, and having five children with him sound like an E! True Hollywood Story. Norma was born six months after the wedding, and it didn't take a mathematician to figure out the facts, but the cousin glossed over that, and the ugly divorce, and finished with the happy ending, my mother finding true love with Frank and then having little Ricky. Ricky, on my left, burst into loud sobs. I put my arm around him and he cried onto my shoulder. I could smell he'd been drinking again. I would have pulled him onto my lap like I used to, but he was a big boy now. When I looked at him with his tattoos, dreadlocks, and piercings, I still saw that cute little blond guy
and felt how much we had loved him. We still loved him that much, but it was complicated.
Pam leaned across me and held his hand. "You'll be fine, sweetie," she whispered to him, though we were pretty sure he wouldn't.
About the Author: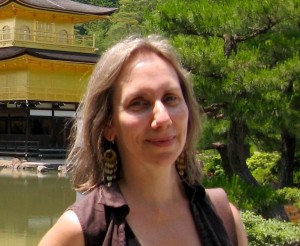 Abby Bardi is the author of THE BOOK OF FRED. She grew up in Chicago, went to college in California, then spent a decade teaching English in Japan and England. She currently teaches at a college in Maryland and lives in historic Ellicott City with her husband and dog.
Twitter | Website
Buy the book at Amazon.