This post is part of a virtual book tour organized by
Writer Marketing
. Click on the tour banner to see the other stops on the tour.
Abi's House- Cornish Memories
Many thanks for inviting me along today, on the last stop of my Abi's House blog tour.
Abi's House was written in memory of my much missed grandparents. Set in the Sennen Cove area of Cornwall (in the south west of England), Abi Carter is about to create a new life for herself not far from the market town of Penzance, where own my paternal grandparents spent their whole lives.
Newly widowed at barely thirty, Abi Carter is desperate to escape the Stepford Wives-style life that Luke, her late husband, had been so keen for her to live.

Abi decides to fulfil a lifelong dream. As a child on holiday in a Cornwall as a child she fell in love with a cottage – the prophetically named Abbey's House. Now she is going to see if she can find the place again, relive the happy memories … maybe even buy a place of her own nearby?

On impulse Abi sets off to Cornwall, where a chance meeting in a village pub brings new friends Beth and Max into her life. Beth, like Abi, has a life-changing decision to make. Max, Beth's best mate, is new to the village. He soon helps Abi track down the house of her dreams … but things aren't quite that simple. There's the complicated life Abi left behind, including her late husband's brother, Simon – a man with more than friendship on his mind … Will Abi's house remain a dream, or will the bricks and mortar become a reality?
On Abi's arrival in Cornwall, she meets Beth, a young woman who has recently inherited her grandfather's cobblers shop. My own maternal grandmother's family still own Wainwright's Shoe Shops in Buckinghamshire, where I spent many hours with my Grandad, who was the company's chief cobbler!
When we meet Beth, she is having trouble choosing what to do with her grandfather's shop, despite the encouragement of her best friend Max…
… 'Will you look at all that lot?' Max peered into the large cardboard box that Beth was carrying along the street towards her home. 'You've got to be the most popular teacher in town!'

Smiling at the welcome sight of Max, Beth shoved the box into his waiting arms, and hooked the large envelope she was still carrying under one arm, while rescuing her handbag before it slipped off her shoulder, 'With only three teachers in the school there isn't really a lot of competition. And I can assure you, Max, my colleagues are similarly stocked up with enough smelly candles, soap, flowers, and boxes of chocolates to stock a village shop.'

'A shop like your shop, maybe?'

Ignoring Max's oblique query to a use for her retail space, Beth fished her key from her skirt pocket and unlocked the door to the hallway. Ignoring the large white door to their left, which led into the shop space, she headed up the stairs to her flat, Max right behind her.

'I get a few more gifts than the other two staff because I teach the really little ones. It's always quite emotional for them, and for their parents watching them take the daunting step from nursery to "big school" life. Because I'm the teacher that steers them on that first educational journey, I get loads of thank-you presents.'

Following Beth into the flat, Max laid the box on the kitchen table, which was full of conflicting scents from various perfumed products. 'So it's nothing to do with you being a brilliant teacher then?'

'Not a thing.' Beth lifted up two mugs to ask if he wanted tea or coffee.

'Coffee please.' Picking up the large envelope Max asked, 'Can I peep?'

'Of course.'

As Beth busied herself making hot drinks, and threw the takeaway menus at him as he sat down. 'I'm feeling lazy, what shall we have?'

Max didn't bother to look, 'I imagine we'll have a large pepperoni with extra cheese and a side order of garlic bread, with wine for you and lager for me, like we always do.'

'One day I'll astound you and say I want something different.'

'No you won't! Now go and order the food, woman, while I examine what the next generation of Van Goghs have produced.'

Beth stuck her tongue out at him and went into the living room to make the call. By the time she'd returned Max had spread as many of the large drawings and paintings out across the table as he could fit.

'These are good. I mean, considering they're by four- and five-year-olds.'

A lump came to Beth's throat and tears prickled in her eyes as she looked at the array of painted flowers, happy smiley faces, and various portraits of herself teaching. She always found saying goodbye to the children who'd come to her as little more than toddlers, and (mostly) left as rounded young children ready for the challenges of primary school, rather emotional.

'They are, aren't they. Look at the effort that's gone into most of them. They've all done one. Even Brandon.'

'Brandon? That would be the lad you've mentioned before; the one who has the attention span of a gnat and an attitude like a teenager from a soap opera?'

'That's the one. Every class has a Brandon – and more often than you'd imagine, that's what they're called – but I did my best with him … and look, his picture is excellent. Perhaps I taught him something after all!'

Hugging his friend to his side, Max said, 'Of course you did! Come on, cheer up. They'll all do wonderfully next year, and you'll be able to watch them develop and grow while you're teaching a brand new batch of fledglings.'

'Thanks, Max.' Beth cradled her coffee. 'Do you ever wish you'd finished your teacher training so that you got presents like this?'

'So that I too could get an annual supply of bath fragrances?'

'Yep! Although the male staff at the last school I worked in tended to get chocolate, handkerchiefs, and ties rather than sickly bath stuff.'

'Makes a change from socks, I suppose!' Max began to line up the bars of soap and boxes of chocolates on the table while Beth put the bunch of carnations in a jug of water where it would survive happily until she had time to arrange them into a vase.

'You haven't answered my question.'

'No, I haven't.' He added a bottle of lavender bubble bath to the regiment of Beth's gifts. 'So when's the pizza coming, then?'

Accepting his unspoken request to change the subject, Beth picked up one of her pictures, 'It'll be about forty-five minutes.'

One at a time, Beth studied the pieces of artwork she'd been given, before piling them into a neat stack. A few of them had obviously been created by rushed sweeps of the brush or pencil, but most of them had clearly had taken her young charges some time, and had had a great deal of young concentration spent on them. 'It seems such a shame to just stick them back in the envelope and let it gather dust, but there's no way I can hang fifteen pictures up, I just don't have the room.'

Max stared at Beth over the top of his coffee at her, as if she was missing something obvious.

'What?'

He gestured his gaze toward the paintings.

Rolling her eyes, Beth said, 'Oh, just tell me, or I'll withhold your garlic bread.'

'I will put your lack of grasping the obvious down to the fact that it is the end of a busy term and you are emotionally impaired after saying tearful goodbyes to your little ones, and tell you.'

'Max!'

'You have a shop downstairs which is currently doing nothing but providing a useful home for a whole host of spiders. You could display them there, make it into a gallery.'

Putting her mug down slowly, Beth frowned. He was right of course, it was an obvious use for the space, even if only short-term, but a gallery?

'Are you being serious, Max, or was that you being flippant? I mean, galleries are ten a penny in Cornwall. Does Sennen need another one?'

'I just meant that you could use the space to show the children's work. They'd love it, wouldn't they, if they saw that their teacher was so proud of their work she wanted to show the world. I wasn't really thinking beyond that to be honest, but a gallery is a possibility, isn't it?'
If you'd like to discover what happens next, you can buy Abi's House as either an eBook or a paperback from all good e-retailer and bookshops, including Accent Press, Amazon UK (ebook), Amazon US (ebook), Amazon UK (paperback), or Amazon US (paperback).
***
Many thanks for letting me pop by to chat about my latest novel!
Happy reading,
Jenny xx
About the Author: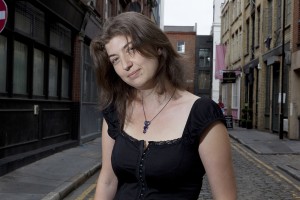 Jenny Kane is the author of the full length romance novel Abi's House (Accent Press, 2015), the contemporary romance/medieval crime time slip novel Romancing Robin Hood (Accent Press, 2014), the best selling contemporary romance novel Another Cup of Coffee (Accent Press, 2013), and its novella length sequels Another Cup of Christmas (Accent Press, 2013), and Christmas in the Cotswolds (Accent, 2014).
Jenny's fourth full length romance novel, Another Glass of Champagne, will be published in 2016.
Jenny is also the author of quirky children's picture books There's a Cow in the Flat (Hushpuppy, 2014) and Ben's Biscuit Tin (Coming soon from Hushpuppy)

Blog | Twitter | Facebook
Jenny also writes erotica as Kay Jaybee.