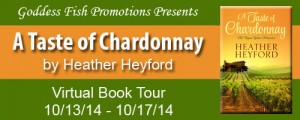 This post is part of a virtual book tour organized by
Goddess Fish Promotions
. Heather will be awarding a digital copy of A TASTE OF CHARDONNAY to a randomly drawn winner via rafflecopter during the tour. Click on the tour banner to see the other stops on the tour.
Today on LASR we're playing Ask Me Anything with Heather Heyford, author of the brand new sister series, The Napa Wine Heiresses. The first book in the series, A Taste of Chardonnay, just launched this week in digital and print-on-demand.
So tell us! Are you psyched, or what?
I can't even. I feel like I just gave birth to a new baby! Nine months ago, I was teetering atop a rickety ladder hanging Christmas lights, when my phone rang over on the kitchen counter. I thought about not climbing down to answer it, but then I thought, what if it's New York? It's never New York. But this time, it was! When I got off the phone with my brand new editor…well, let's just say it was the next day 'til I finished hanging those lights!
How did you get the idea for a sister series based in the Napa Valley?
Honestly—aside from the hard work—there's definitely been some sort of magical element. I never had a bucket list, but if I had, visiting the wine country would have been number one. I really never thought that would happen, though, because you're always planning your vacations around your family, not yourself, right? And I was the only one who was interested. Then, suddenly, I'm still not sure how, I found myself standing in the midst of the autumn crush with a glass of chardonnay in my hand. I went home absolutely enchanted with all things Napa.
Do you have any phobias?
I am terrified of driving over big, tall bridges. I was hypnotized for it, but it didn't help. It's awful.
What was the last thing you splurged on?
A local book launch at Cupboard Maker Books, my local indie bookstore. Michelle, the owner, believed in me back when A Taste of Chardonnay was still a twinkle in my eye. Plus, it's so important to support our local bookstores.
Are you obsessed with anything?
How much time do you have? I love clothes. There, I said it. I'm also an animal lover. I'm particularly fascinated by the whole suburban wildlife phenomenon. I live in suburbia, but my backyard is a virtual zoo. Everyday I have wild turkeys (if you've never been up close to one you don't realize how tall they are…our tom comes up to my waist!) foxes, and deer.
I'm also obsessed with that ancestry website. Did you know one out of ten Americans is a Mayflower descendant (though not me, so far).
What do you like to read?
I grew up devouring everything I could get my hands on. We didn't have a lot, but books were important to both of my parents, and although we moved every three years, we hauled our slim library around with us everywhere we went.
Today? I'm loving Kristan Higgins' humor, Robyn Carr's sensitive yet practical side, Mary Balogh for her pacing, and I just met Victoria Roberts so I'm starting one of her Scottish historical series.
What are you doing as soon as this interview is over?
Back to work! I'm trying to decide what will be Sake's job in A Taste of Sake. Hint: I'm leaning toward something food-related.
Anything you'd like to ask your readers?
First I just want to say a huge thank you for all the good feedback. I'm always wondering, what do you say when people ask you what kind of books you read? It can be such a hot button…
When the richly bred, poorly raised daughter of a notorious Napa Valley winemaker competes with Hollywood's hottest man in an unlikely race to see who can do the most good, who will win?
Enjoy an excerpt:
"Do I seriously have to go to this thing?" Ryder McBride asked Amy, his publicist. He had better things to do than spend his Friday night with a bunch of ritzy people he didn't even know and would probably never meet again. He'd just got off the plane from LAX yesterday to find his mom's gutters needed cleaning and the lawn mowing, and he was anxious to get started on it. And then there was the favor he'd been asked to do by the Firefighters' Relief Fund. But going to the right parties was part of promoting his acting career and arranging the invitations was Amy's job. And he had to admit, one she was damn good at.
"Are you kidding me?" Amy was incredulous. "Look, Ryder, I busted my butt finagling this invite. An actor—even a lucky one like you—has to network. You might be a rising star, but a ticket to one of the St. Pierre winery parties is envied up and down the whole north coast. You might meet anyone there, producers to politicians. Of course, they always blend a few mere mortals into the mix. But you have to be on your toes. Tomorrow you could read that the stranger you chatted up during cocktails was a Pulitzer Prize winner, a federal judge, or some rapper on the brink of gold. So hell yes, you have to go. No amount of my hard work will have an effect unless you do your part."
About the Author: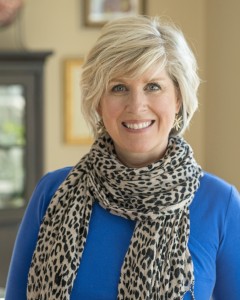 Born in the Northeast, Heather Heyford learned to walk and talk in Texas, and then moved to England. ("Ya'll want some scones?") While in Europe, Heather was forced by her cruel parents to spend Saturdays in the leopard vinyl back seat of their Peugeot, motoring from one medieval pile to the next for the lame purpose of 'learning something.' What she soon learned was how to allay the boredom by stashing a Cosmo under the seat. Now a recovering teacher, Heather writes love stories, feeds hardboiled eggs to suburban foxes, and makes art in the Mid-Atlantic. She is represented by the Nancy Yost Literary Agency (NYLA, @nyliterary) in New York City. The first book in her Napa Wine Heiresses Series from Kensington Publishing, A Taste of Chardonnay, is now available!
Buy the digital book at Amazon or Barnes and Noble. Buy the print book at Amazon or Kensington Publishing .
Website ~ Facebook ~ Twitter
a Rafflecopter giveaway