Long and Short Reviews welcomes Marie Harte who is celebrating the release of her latest book A Sure Thing. Ask the author a question or leave a comment for a chance to win a print copy of the book (US/Canada only).
What challenges did you face in getting your first book published?
When I first started trying to get published, it was over thirteen years ago. There was no indie publishing, and only a few small press houses existed. Think Hard Shell Word Factory and Bold Strokes Books. The real—only—deal was getting with Harlequin or one of the Big 6 houses. So I would write for Silhouette (now Harlequin), submit, then have to wait four months to hear back. The wait time was killer. In the meantime, I kept writing. That first year, I wrote 9 full length books and received many rejections. Then small press publishers evolved, and through my RWA chapter group, I discovered one such publisher. I submitted, they accepted, and the rest is history.
How long did it take to get this book from idea to being published? What was the most grueling process?
A SURE THING was an idea I had five years ago, when I finished my first McCauley Brothers book. I knew I had to write about their cousins, the Donnigans. It took a while for the McCauleys to find a home. And then I had to draft a proposal my publisher would accept. After a few months going back and forth on the Donnigans, we hit gold. From writing it, which took a few months, to the edits, proofs, cover art, and all the other logistical issues getting the book to the shelf, I'd say it took about 18 months. The hardest thing for me with each book are the proofs—the final set of edits before the book goes to print. I'm always so scared I'll miss something and then the mistake will be out there for everyone to see.
What was one of the most surprising things you learned while writing A SURE THING?
How much I liked Ava, the heroine. Ava appeared in Ruining Mr. Perfect, the third of my McCauley Brothers books. She's a therapist who helps out the hero's parents during a troubled time. Such a peripheral character, yet I loved the thought of a strong, independent woman. Ava's so cerebral. It was fun messing with her in this book. Landon is her perfect partner.
Do you have any interesting writing quirks?
I write to complete silence. And I usually have a hot cup of coffee next to me, sitting on my coffee warmer, while I write. Otherwise, not too quirky. 
Thanks for having me!
Marie
Meet the Donnigans

With the eldest Donnigan brothers adjusting to civilian life, their younger sister constantly in trouble, and their little brother clueless about life in general, falling in love is the last thing on anyone's mind…

Can this Bossy Badass Marine…

The Marine Corps was everything Landon Donnigan ever wanted in life…until a bullet sent him home with a medical discharge. Teaching a self-defense class at the gym is old-hat for a marine, but when he meets sexy Ava Rosenthal, his combat skills are useless for protecting his heart.

Be her Mr. Right?

Ava can take care of herself and likes quiet, bookish men—not muscular warriors who think women need to be coddled. But Landon is more than he seems, and when they come together, the results are explosive.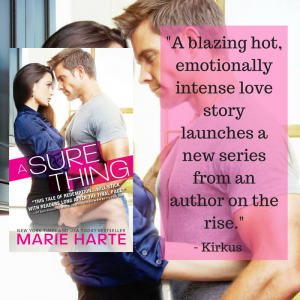 About the Author: Caffeine addict, boy referee, and romance aficionado, MARIE HARTE is a confessed bibliophile and devotee of action movies. Whether hiking in Central Oregon, biking around town, or hanging at the local tea shop, she's constantly plotting to give everyone a happily ever after.
Buy the book at Amazon, Barnes and Noble, or iBooks.