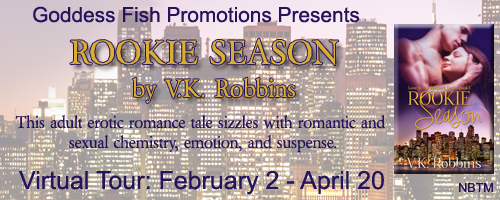 This post is part of a virtual book tour organized by
Goddess Fish Promotions
. One randomly drawn commenter will receive a $25 Amazon or Barnes and Noble gift card. Click on the tour banner to see the other stops on the tour.
A Strong, Independent Woman is the Centerpiece of Rookie Season
My novel, Rookie Season, falls in the category of romantic suspense. The interesting thing, though, is that I'm not a big fan of the romance genre, in general. A younger woman being saved and finally made happy by an older man is the typical scenario in many romance novels, and I'm just not into that. I wanted to write about a strong, independent, and successful woman who falls in love and brings a man into her life because she wants to. That strong woman is Rose Lasting, Rookie Season's main character.
Rose is a divorcée in her mid-thirties who meets and falls in love with a professional baseball player about ten years younger than herself. She doesn't need him to support her or take care of her, but she definitely does need the passion and energy that he brings to her life. As often happens, she doesn't know what's missing in her life until she experiences it. Then she doesn't want to live without it ever again.
Many of us carry around some excess baggage in our lives, like ex-husbands and troubled childhoods. So does Rose. She rebuilt her life after the devastating blow of her husband leaving her for a younger woman. She's much stronger as a result of that experience, but it left some scars on her self-esteem, and the return of her ex-husband to her life rips open some wounds that she thought were healed.
She has to decide if she's going to go back or move forward. She chooses, but her life is threatened as a result of that decision. The point, though, is that she chose. She made the decision of a woman, based on a woman's strengths and needs, and not the decision of a girl seeking safety.
The most interesting women in the world are the ones like Rose, the ones who live life on their own terms when it has thrown them more than a few curveballs. They are also the most inspirational.
Talented young ballplayer Clay Love has just been called up from the minors to play major league baseball. Freelance writer and divorcée Rose Lasting, the world's biggest baseball fan, wasn't expecting to fall in love when she fell into Clay's arms, but fall in love she did. Now they are caught up in a whirlwind romance complicated by the paparazzi, Clay's ex-girlfriend, Rose's ex-husband, and a stalker who puts Rose's life in grave danger. Saving her life and catching her attacker takes you on a roller coaster of emotion and intrigue that you won't soon forget.

Rookie Season is the first book in the Love in the Ballpark Series, by V.K. Robbins. This adult erotic romance tale sizzles with romantic and sexual chemistry, emotion, and suspense. Once you start reading, you won't be able to put it down.
Enjoy an excerpt:
Steve, Joe, Dave and I were waiting in the living room. I called up to Sam several times. He didn't answer.
"He's probably having trouble deciding which Clay Love jersey to wear," Dave joked.
I ran up the stairs and knocked on his door. "Sam?"
No answer.
I turned the doorknob and pushed the door open slowly.
"Sam, are you ready?"
Still no answer.
I walked through his room toward his bathroom. When I came around the other side of his bed, I saw him. He was laying on the floor unconscious.
I screamed, "Call 911! It's Sam!"
In less than two seconds, Steve was in the room. He must have taken the stairs three at a time. He pushed me out of the way and knelt next to Sam, checking his pulse, listening for breathing.
"He's alive! Let's not wait for an ambulance. We can get him there faster."
"No," I said. "The hospital is close. The ambulance is probably already here."
I was right. Within a couple of minutes, the paramedics were lifting Sam onto a gurney. Dave and Morrison held the photographers back so the paramedics could get Sam to the ambulance.
Steve took my arm. "Come on, I'll take you to the hospital." Then he looked at Joe. "Do you have that paperwork?" Joe nodded. I had no idea what paperwork they were talking about, but I didn't care. I just wanted to get in the car and get to the hospital as fast as possible. Joe and Steve got me into the car. Dave was going to watch the house and Morrison would be following to the hospital in another car to help with security there, if needed.
All I could think about was Sam.
In the car, I asked Steve, "How long was it since anybody saw him? How long could he have been lying there?"
"I don't know," Steve said.
"I saw him several hours ago, right after lunch. He said he was tired. He was going upstairs to rest."
"So he could have been there for hours? Oh my god." I put my head in my hands.
"There's something I need to tell you."
About the Author: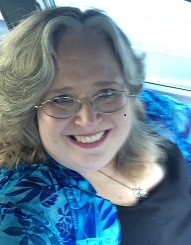 Veronica Robbins is a published author of both fiction and nonfiction who has been writing professionally for the last 20 years. In addition to writing fiction and poetry (her first love), she is also an expert grant writer and copy writer. When she's not writing, she's watching baseball, enjoying her children, reading, and trying to train her dog, Handsome, who so far has been very successful at training her. You can follow Veronica on Facebook or through her blog, A Writer's Journey.
Website | Facebook | Twitter | Goodreads | Instagram | Pinterest | Google+ | Tumblr
Buy the book at Amazon, Barnes and Noble, Kobo, or Smashwords.