Long and Short Reviews welcomes Emily March who is celebrating the release of her newest book A Stardust Summer.
Return to the beloved small town of Eternity Springs in the newest installment of Emily March's New York Times bestselling series with A Stardance Summer.

Sometimes the end of one road
Brick Callahan enjoys every minute of chaos at his campground, Stardance Ranch, especially after the Tornado Alleycats arrive for an extended summer stay. The members of the all-female glamorous camping club are primarily seniors—active and adventurous, friendly and fun. But when he discovers Liliana Howe frolicking with the glamping grannies in a late night skinny-dipping session, he fears he's in for a summer of trouble. Because his best friend's kid sister has grown up to be drop-dead gorgeous.
. . .is the start of another

Betrayed by those she trusted, Lili decides she's put her career first for too long. She sells her practical sedan, buys a travel trailer, and heads to Eternity Springs for a summer of rest, relaxation, and reassessment as the newest member of the Alleycats. The last person she expects to find running an RV resort is her high school crush. Their undeniable mutual attraction is a reminder that life is full of surprises. But when the past comes calling, will their summer romance stand the test of time?
Enjoy an Excerpt
I won't cry. I absolutely, positively will not cry.
Liliana Howe silently repeated the mantra as she rang the doorbell of her parents' home in Norman, Oklahoma. She still had a key to the house, but her arms were full with two large white paper bags of her father's favorite Tex-Mex from the taqueria over by Oklahoma University.
Brian and Stephanie Howe met at home for lunch every day, but it was rare for Lili to join them. She usually worked through lunch. But then, today was not a usual day, was it?
Her father answered the door. His gray eyes rounded in surprise. "Lili? Did we forget a lunch date?"
"No, Dad. I was in the neighborhood. Thought I'd surprise you with lunch from Miguelito's."
"Well, that's nice." He opened the screen door. "Come on in. Let me help you with those bags."
He led her through the house back toward the kitchen. "That smells wonderful. This is a real treat, Liliana. Your mother doesn't let me have Mexican too often."
"It's been too long since I've seen you guys."
They walked into the kitchen to find her mother seated at the table staring intently at her computer. Typical Stephanie Howe. Always working. Without looking up, she said, "Stevenson has the best rating, but—"
"Look who's here, honey," Lili's father interrupted.
Stephanie Howe finally glanced up, her thoughts obviously somewhere else, because she gazed at Lili as if she didn't recognize her. Lili waved her fingers. "Surprise."
"Oh." Stephanie gave her head a little shake. "Lili. Hello. Did we forget a lunch date?"
Inwardly, Lili sighed. "No. I was in the mood for Mexican and I thought of Dad."
"It's not good for his cholesterol."
"No, but once in a blue moon won't hurt him. Dr. Derek told me that himself."
She unloaded the bags, setting tacos, cheese enchiladas, refried beans, guacamole, and tortilla chips in the center of the table. Her mother brought plates and silverware from the cabinet.
"Nevertheless, it's nice to see you. It's been too long. How are you, Lili? Have you recovered from tax season?"
"It's definitely behind me," she replied with a wry twist of her lips.
They all filled their plates. Not anxious to spill her own beans, Lili took an extra spoonful of refried and asked, "So, what do you hear from Derek?"
Her parents spent quite a bit of time talking about their renowned heart surgeon son. Nerves caused Lili to make a pig of herself on chips and guacamole, and she didn't miss her mother's judgmental frown.
Finally, after extolling Derek's most recent peer recognition award, her father asked Lili what was new with her work and the moment was at hand.
She sipped her water, wished it were a beer, and summarized the sequence of events that had led her to this crisis point. Then she waited for them to react.
And she waited.
And waited.
Her parents shared one of those long, hard-to-read looks that made Lili's stomach do a bit of a sick flip. Her father cleared his throat. "It's an incredible tale."
Her mother nodded. "Unbelievable."
Lili sucked salt off her bottom lip. She hadn't expected them to jump to their feet and vow to make the villains pay, but she'd thought they'd be angry on her behalf. Not . . . reserved.
Deep within her, despair kindled to life. They were her parents. She was counting on them. Nevertheless, she pressed ahead, calmly and logically laying out the approach she wanted to take and the assistance she needed from her mother and father.
Again, her parents shared one of those inscrutable looks. Lili's heart began to pound. "I don't know, Liliana," her father said, rubbing the back of his neck. "It would be hard to fight them. They're powerful people. I hate to say it because it's not the way this country was supposed to work, but if a Normal Joe tries to go up against powerful people, most often he loses.
"I don't want to see you get involved with making a charge against the police. That could turn nasty real fast. This cop . . . you said you think your bosses might have threatened him, too? He might be in an even tougher position than you."
"But he lied, Dad! He falsified records."
"But you have no proof of that, do you?"
"Just my word." Isn't that enough, Dad? At least for you?
About the Author: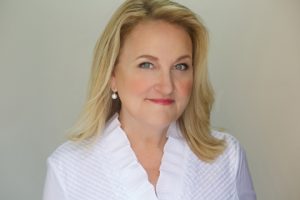 Emily March is the New York Times, Publisher's Weekly, and USA Today bestselling author of over thirty novels, including the critically acclaimed Eternity Springs series. Publishers Weekly calls March a "master of delightful banter," and her heartwarming, emotionally charged stories have been named to Best of the Year lists by Publishers Weekly, Library Journal, and Romance Writers of America. A graduate of Texas A&M University, Emily is an avid fan of Aggie sports and her recipe for jalapeño relish has made her a tailgating legend.
Author Blog  | Facebook | Twitter | Author Website | Pinterest
Buy the book at
Amazon
,
Barnes & Noble
,
Books-a-Million
,
Indie Bound
, or
Powells
.