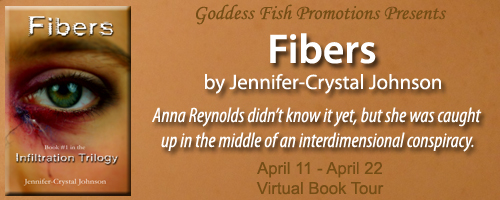 This post is part of a virtual book tour organized by
Goddess Fish Promotions
. The author will be awarding a $10 Amazon or B/N GC to a randomly drawn winner via rafflecopter during the tour. Click on the tour banner to see the other stops on the tour.
***
Hi there! I'd like to begin by saying thank you very much for having me and for allowing me to post about my new sci-fi release, Fibers. This is the first book of a trilogy called the Infiltration Trilogy, a story about a mysterious illness, an alternate dimension, and the government's covert involvement in both.
I won't lie – I'm feeling a bit out of place on this site because the focus seems to be mostly on romance, at least that's what the book covers dictate. Just as a full disclosure thing… my novel does have romantic elements in it, but that is not the main focus.
In light of this, I thought the best way to illustrate my novel's style and for you and your readers to determine if you'll even like it is by posting a short excerpt =). I invite you to shift your focus to the existential, the real possibility of other dimensions, and the power of the human spirit in the face of incredible challenges, adversity, and seemingly hopeless situations much larger than the self.
"According to superstring theory, there are at least ten dimensions in the universe (M-theory actually suggests that there are 11 dimensions to spacetime; bosonic string theories suggest 26 dimensions)."
Source:http://ultraculture.org/blog/2014/12/16/heres-visual-guide-10-dimensions-reality
If you go through and read this source article and have never researched quantum theory, string theory, or other possible dimensions, be warned – your mind might be blown!
With that said, here's a short excerpt from my novel.
She sighed as she sat down on the bed, a weird feeling of being watched washing over her. The room was dark, so she couldn't be sure of anything. Shadows always played weird tricks on her, especially after she'd started seeing moving ones, and she'd asked herself a million times if she was perceiving them more often simply because she thought she'd seen them before. It was a vicious cycle.

Unsure of what else to do, she lay back on her bed and closed her eyes, focusing on her breathing. The feeling of being watched grew stronger as she tried to relax, and a knot began to form in her stomach. The bridge of her nose tickled the way it does when someone is really close but not quite touching it.

She opened her eyes quickly and saw a black shadowy silhouette floating just inches above her. Her eyes widened and she stayed quiet, but fear gripped her with its icy fingers and she felt paralyzed as her breathing became ragged. The shadow above her looked like a face, but not entirely human. Its eyes glowed a dim red and it was staring directly into her eyes. She couldn't make out any distinct facial features, so she focused on her breathing… and not having a heart attack.

After what seemed like an eternity of being unable to move, Anna squeezed her eyes shut and mumbled, "You're not real, you're not real, you're not real…."

She opened her eyes and there was nothing there.
If any of you are interested in receiving more excerpts directly to your email, please take a moment to sign up for my author newsletter at www.JenniferCrystalJohnson.com =). You'll receive 12 excerpts you can either read or listen to me read to you on video.
Thank you again so much for your time! I hope you find the story intriguing and pick up a copy of the book to learn more about what Morgelloons disease is, what happens with the shadow people, and who is helping Anna through her strange and mysterious experiences.
Anna Reynolds is caught up in the middle of a secret interdimensional government agreement… and she doesn't even know it.

There's a medical anomaly loosely dubbed Morgellons disease afflicting a number of people. Symptoms include open sores that produce colorful string-like fibers, fatigue, and nightmarish visions of shadowy figures. No one knows where it came from. No one knows what causes it. There is no cure.

When Anna begins having nightmares and waking hallucinations of the shadow people, her uneasiness about her condition grows. Enlisting the help of her doctor and some friends, Anna is determined to find out what's really going on and why Morgellons is such a mystery.

With her health declining and doubts about whom she can trust, is Anna doomed to become a slave to her condition? Or will she and her unlikely group of would-be heroes come through, saving her… and, ultimately, the world?
About the Author: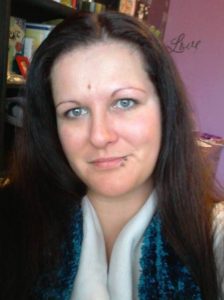 Jennifer-Crystal Johnson is originally from Germany, but was raised an Army brat. She has published one novella under her former last name, The Outside Girl: Perception is Reality (Publish America, 2005 – out of print as of 2013), a poetry book, Napkin Poetry (Broken Publications, 2010), and a collection of poetry, art, and prose called Strangers with Familiar Faces (Broken Publications, 2011). She's also published a collection of short creature horror stories called If You're Human Don't Open the Door (Broken Publications, 2012), a personal development book called The Ten Pillars of a Happy Relationship (Broken Publications, 2014), and a collection of more horror stories (no creatures this time, just people) called Our Capacity for Evil (Broken Publications, 2015). She has several poems and short stories published on Every Writer's Resource and has recently published a science fiction novel called Fibers, the first book in the Infiltration Trilogy. Jen owns and operates Broken Publications (www.BrokenPublications.com) and publishes an annual anthology to raise awareness about domestic violence called Soul Vomit (www.SoulVomit.com). When she isn't writing or editing, she enjoys playing games with her three kids, watching crime shows on Netflix, or reading. She lives in WA State with her three children, three cats, and a crazy puppy named Thor.
Website | Twitter | Facebook
Buy the book for only $0.99 at Amazon.