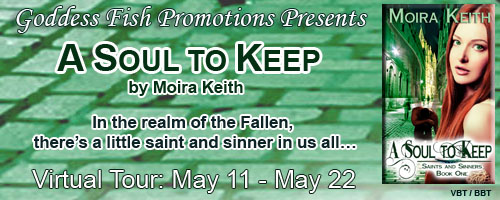 This post is part of a virtual book tour organized by
Goddess Fish Promotions
. Moira Keith will award a $15 Amazon/BN GC to one randomly drawn winner via rafflecopter. Click on the tour banner to see the other stops on the tour.
In the realm of the Fallen, there's a little saint and sinner in us all…

One moment can impact the future.

Love never served Jayde Cross well and owing a debt to a demon is the proof. Reaping is a lonely existence and with her thirtieth birthday approaching, she's got enough to worry about without adding romance to the mix. It's why her friendship with the man living next door works so well. They both live lives filled with secrets and ignoring their self-imposed rules isn't an option. Too bad her heart disagrees.

The past is about to come back and haunt one of Heaven's Fallen.

Caleb Thorne always found living among mortals difficult, until he met the intriguing woman down the hall. She demands nothing of him and is completely safe. When an enemy from his past catches up with him, Caleb soon discovers the rules of the Fallen exist for a reason and loving a mortal may prove to be the bigger danger.

In a world where their love is forbidden, Jayde and Caleb may just discover that sometimes breaking rules is the only thing that can set you free.
Enjoy an excerpt:
"Excuse the mess."
I turned and glanced up at him. "What? You didn't scrub the kitchen down before you tore it all apart? I'm shocked Mr. Thorne."
"Sure, make fun of me. I was simply being polite."
I smiled and set the coffee on the dark granite countertop. "Well we've both seen each other's homes in completely wrecked states. I think our friendship is strong enough to survive a messy kitchen. Maybe even an apocalypse."
"I don't know. I've seen your kitchen. It looks like a tornado blew through it. I don't even think zombies would venture in there."
"Wow! That hurts." I reached out to slap his arm and he grabbed my wrist. Warmth spread through my body and my chest tightened. He licked his lips and I found the movement incredibly inviting. The distance between us seemed to shrink. This could not be happening. As much as I adored Caleb, I could not allow myself to fall for him. I could see myself tumbling down the very path I swore I would never travel and liking the fall, but the pain that would surely follow would break me and likely him as well. Shit. I needed a distraction.
"I brought coffee, as promised. And…" I pushed the bag over to him.
He released his hold on my wrist, opened the bag, and peered inside. "Did we not just have a conversation about muffins and your training schedule yesterday? You know if you keep bringing me these, I'm going to lose this hard earned physique which makes the ladies drool."
"Whatever, Romeo. It's just a muffin." I rolled my eyes then turned to face the sink. The cherry wood cabinet doors were opened, revealing a bucket filled with water, a wrench, a screw driver, and a broken plastic piece from the pipe was disconnected and lying on the floor. "I see you've made some progress."
"Think I made it worse."
"Should have waited until I got here."
He shrugged. "Probably right. But my ego can only stand to be shown up by a lady so many times."
"They have these people. They're called plumbers. Professionals. Maybe you should call one."
About the Author: Moira Keith is a lover of shoes, a connoisseur of Guinness, baker of cocktail themed cupcakes, and an overall complete mess! She is also a proud Texan by birth (and true Southern girl at heart).
Moira lives in the city of neon with her twin zombie sons, a fish, three parakeets, and a turtle.
Website | Twitter | Facebook
Buy the book at Amazon, Barnes and Noble, or iTunes.