This post is part of a virtual book tour organized by Goddess Fish Promotions. Charlotte Hubbard will be awarding a $10 Amazon or Barnes and Noble GC to a randomly drawn winner via rafflecopter during the tour. Click on the tour banner to see the other stops on the tour.
Making rugs for the Simple Gifts store has taught Loretta Riehl that an unassuming pattern can reveal surprising depth. People, too, have a way of defying first impressions. Drew Detweiler came to Willow Ridge under a cloud, but the handsome craftsman has gained the community's respect for his upholstery skills and commitment to making amends for his mistakes. As her new brother-in-law's twin, he's joining the family for dinners and Sunday visits, and Loretta can't deny enjoying his attentions.

If only her dat were willing to let a little joy into his life. Cornelius Riehl grows sterner with each day, and Drew suspects there's more to his moods than missing Loretta's late mamm. Hoping to fulfill Loretta's wish to live in a peaceful, happy home again, Drew sets out to learn the truth. It's a journey that will bring to light painful realities—but also the chance to forge a new, honest, and loving future together…
Enjoy an Excerpt
Ordinarily, the shaded front porch was the coolest place to spend a July afternoon, but the sweat trickling down Loretta Riehl's back had nothing to do with Missouri's heat and humidity. Will Gingerich, her former fiancé, sat on the other end of the porch swing from her, and his back-and-forth motion was becoming so quick and jerky that she could barely guide her toothbrush needle through the loose knots of the rag rug she was making.
"The biggest mistake I ever made was to let your dat end our engagement, Loretta," Will said urgently. "I should've stood my ground. I should've believed that our love was strong enough to withstand my losing the farm to my brothers."
Loretta swallowed hard, fearful of where this conversation was leading. She'd been devastated when Dat had come between her and Will a couple of years ago, but she'd accepted it as her father's will—which was second only to God's will. "Who among us has ever stood up to Dat and won?" she asked in a tight voice. Her hands were trembling as she drew the strip of sage green fabric through the next rug knot with her needle. "I cried my eyes out and pleaded with him again and again, but he was convinced you weren't gut enough—that you could never provide me a home."
"He was wrong!" Will declared. "I should've insisted that you and I could live at your place—back when we were in Rosewood—the way a lot of newlyweds do until they have the money for a home of their own."
Loretta stifled a sigh. Why was Will thinking this way, when they both knew they would've been miserable living under Dat's roof after Mamm had died? Even with her sisters, Edith and Rosalyn, to support them, their marriage would've gotten off to a rocky start.
About the Author: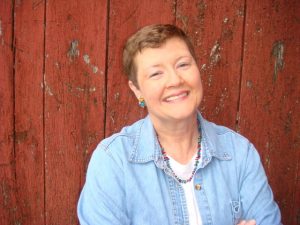 Charlotte Hubbard is the acclaimed author of Amish romance and fiction that evokes simpler times and draws upon her experiences in Jamesport, the largest Old Order Amish community west of the Mississippi. Faith and family, farming, and food preservation are hallmarks of her lifestyle—and the foundation of all her novels. A deacon, dedicated church musician and choir member, she loves to travel, read, try new recipes, and crochet. A longtime Missourian, Charlotte now lives in St. Paul, Minnesota, with her husband and their border collie, Vera.
Website | Facebook
Buy the ebook at
Kindle
,
Kindle UK
,
Kindle Canada
,
Kindle Australia
,
iBooks
,
iBooks UK
,
iBooks Canada
,
iBooks Australia
,
iBooks New Zealand
,
Nook
,
Kobo
, or
Google Play
.
Buy the print book at Amazon, Amazon UK, Amazon Canada, Barnes & Noble, Books-A-Million, IndieBound, or The Book Depository.