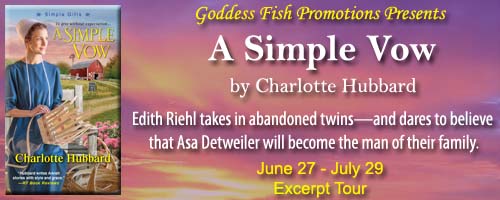 This post is part of a virtual book tour organized by
Goddess Fish Promotions
. Charlotte will be awarding a $15 Amazon or B/N GC to a randomly drawn winner via rafflecopter during the tour. Click on the tour banner to see the other stops on the tour.
Housed in a rustic red barn, the Simple Gifts crafts shop celebrates the talents of the Amish of Willow Ridge—and the faith that inspires them. For the acceptance of simplicity opens the path to love.

As far as Edith Riehl is concerned, the baby twins thrust suddenly into her arms are a heaven-sent gift. Unable to conceive, she longs to be a mother with a home of her own. She's going to abide by her promise to handsome Asa Detweiler to take care of them while he looks for their real father. And even if her domineering dat Cornelius refuses to countenance Asa's suit, she can only pray the bachelor's honesty and persistence will uncover the truth—even as he's kindled an impossible hope for a love of her own…

Asa can't understand why anyone would think he would be so dishonorable as to father babies and then abandon them. He's determined to clear his name—but Edith's caring ways also inspire him to help heal her wounded spirit and earn her trust. In the face of heartbreaking deception, he and Edith must find the strength to understand, forgive…and claim their own hearts' joy.
Enjoy an exclusive excerpt:
After taking a hot shower to soothe his aching body, Asa put on one of Luke Hooley's plain green shirts and then pulled on a pair of his trousers. He and Luke were nearly the same size, and Asa was grateful that his host had loaned him some clean clothes. Despite a killer headache, he chuckled at the assortment of bold prints hanging in the closet—and the fact that some of Luke's shirts and Nora's dresses matched. Not every Mennonite husband would be pleased that his woman had sewn such striking garments for him, but Asa suspected Hooley was too enamored of his attractive redheaded wife to fuss about it.
Nice people, these Hooleys. Luke offered me a room and Nora brought me food from the wedding.
Asa gathered his grass-stained clothes from the bathroom floor. He eased down the wooden stairs in his bare feet, aware of every aching muscle and joint in his body. Andy Leitner had told him he was awfully lucky he'd landed in tall grass rather than on gravel, and that he hadn't hit his head on a nearby tree. Even so, Asa chafed at the local nurse's order to lay low for a few days until they could assess how bad his concussion was—and until his horse was checked out by a vet. He had an entire set of antique bedroom furniture waiting to be restored in his shop—not to mention his mission of finding some Gingerich guy . . . whose first name had escaped him.
Asa shuffled carefully between the tightly arranged pew benches that filled the main level of the house, in awe of how many guests must have attended the wedding this morning. When he got to the kitchen, he lifted the foil from a glass casserole pan sitting on the counter. He inhaled the rich aroma of sauced pulled pork, several pieces of grilled chicken, and a huge mound of mashed potatoes that had been hollowed out to hold enough baked beans for three men. Next to the casserole pan sat a plate with two pieces of peach pie and a big wedge of wedding cake.
These people know how to put on a party. Asa tossed his dirty clothes aside and then opened drawers until he found a fork. He closed his eyes over a mouthful of the pork and let out a blissful sigh. It was an effort not to wolf down the food as a dog would, hungry as he suddenly was. He didn't bother finding a plate or taking his meal to the table. As he bit into a chicken leg, he didn't even care that juice dribbled down his chin—
"Anybody home?"
Asa stiffened, the chicken leg suspended in front of his mouth. Had someone called to him through the screened front door, or was he hearing voices as a symptom of his concussion? Maybe someone had come looking for Nora or—
"Asa? Are you in there?"
About the Author: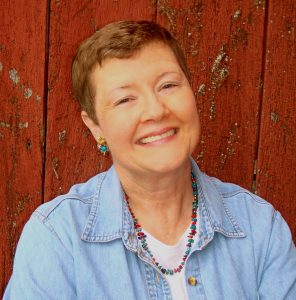 Many moons ago—like, in 1983 while she was still a school librarian—Charlotte Hubbard sold her first story to True Story. This launched her into writing around seventy of those "true confessions" stories over the years, and she's been a slave to her overactive imagination ever since. Over the course of her writing career, she has sold nearly 50 books—most recently, Amish romance series she's written as Charlotte Hubbard or Naomi King.
Charlotte lived in Missouri for most of her life, so her Amish stories are set in imaginary Missouri towns. These days she lives in St. Paul, MN with her husband of 40+ years and their Border collie, Ramona.
Website | Facebook
Buy the print book at
Amazon.com
,
Barnes and Noble
,
The Book Depository
,
B-A-M
,
Chapters
,
IndieBound
,
Powell's
, or
Kensington Books
.
Buy the digital book at Amazon, Barnes and Noble, Kobo, iBooks, Google Play, or Kensington.