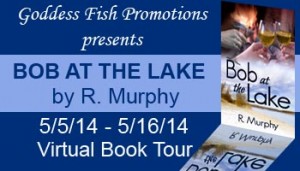 This post is part of a virtual book tour organized by
Goddess Fish Promotions
. The author will be awarding a $25 Amazon GC to a randomly drawn commenter during the tour. Click on the tour banner to see the other stops on the tour.
Good morning! Well, I thought and thought about your request that my guest blog today involve "something about the book or the author that the author isn't sharing at another tour stop."
So here it is…I'm going to share one of the recipes that, although mentioned in my book, Bob at the Lake, was never included in it. These Butter Bomb cookies are so good one cheerful consumer referred to them as "addictive as crack." Husbands have woken their wives in the middle of the night to ask for more of them. I've seen my sister, Katie, gnaw on frozen Butter Bombs as if they were popsicles.
In fact, I've even had a death threat over this recipe! Here's how that evolved… These are my sister Katie's favorite cookies in the world, and I make them for her once in a while when she visits. She doesn't want the recipe, though, because she wants to keep the cookies as a special bond that we share only on her visits. In fact, we've agreed that I'll leave her the recipe in my will.
One time I made a big batch of Butter Bombs and Katie brought a few in for her coworkers at the college. One coworker fell madly in love with the cookies and begged Katie for the recipe. When Katie explained how she wouldn't get the recipe until I died, the coworker looked off into space, thought for a moment, and then muttered…"Well, I suppose I could always kill off your sister…"
In short, these cookies are AWESOME!!!
Katie's Butter Bombs
(preheat oven to 350 degrees)
crust
1½ sticks of butter, softened and starting to melt
2 cups all-purpose flour
2 cups confectioners sugar
1 cup sliced almonds that have been crushed with your fingers
pinch of kosher salt
*Mix crust in a 9 x 13 inch pan. Spread evenly over bottom of pan and pat down with your fingers.
*Bake crust for 15 minutes or until edges start to brown
*Remove from oven and top with 1½ cups high quality fruit jam (raspberry is excellent!) and spread evenly.
Crumble topping
½ cup brown sugar
1½ cup old-fashioned rolled oats
2 tablespoons flour
½ cup sliced almonds that have been crushed with your fingertips
6 tablespoons butter, softened and starting to melt
pinch of kosher salt
*Combine topping ingredients in mixing bowl and sprinkle evenly over the jam
*Place back in oven and bake another 15 minutes
*Cool slightly before cutting into small squares (these are very rich). Makes 36 two-bite bars.
*Serve at room temperature with whipped cream or warm with vanilla ice cream.
ENJOY!!!!
Take a crabby woman of a certain age, move her to the wintry shores of a New York lake, and then throw in a martini-loving ghost from 1920s Manhattan. Last, stir in the good-looking grape grower who lives up the hill. Now there's a recipe for a potent screwball cocktail!
About the Author: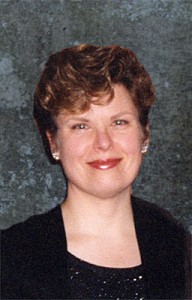 Roz Murphy is the pseudonym of a shy, retiring writer who doesn't want her neighbors to know how nutty she really is. Brooklyn-born and Jersey-bred, Roz now lives on the misty shore of one of New York's beautiful Finger Lakes. Prior to that, her business writing career took her to many locations, including Manhattan, where she worked for a number of years. As a freelance and corporate writer, Roz won several national and international writing and communications awards.
Now Roz is pursuing her first love—fiction. She's writing the 'Bob' books, the humorous chronicle of a crabby 'woman of a certain age' who moves to the wintry shores of a New York lake—and gets a ghost. And not just any ghost, mind you. Bob's a plump, middle-aged ghost from 1920s Manhattan who swans around in a silk smoking jacket and drinks far too many martinis. Stir the good-looking grape grower who lives up the hill into this mix and you get a pretty potent screwball cocktail!
When she's not reading, writing, hill-walking, staring mindlessly out the window at the lake or piling rocks onto her ever-diminishing lakefront, you can usually find Roz hanging out with her family, travelling, or exploring the amazing wines and wineries of the Finger Lakes.
'Bob at the Lake' is exclusively available as a Kindle download from Amazon. Please join Roz Murphy Author on Facebook for updates on the many adventures of Roz, David—and Bob.
Buy the book at Amazon
a Rafflecopter giveaway