Long and Short Reviews welcomes Sharon Sala whose 4th book in her Blessings, Georgia series, A Piece of My Heart, will be released on May 2 by Sourcebooks. Enter the Rafflecopter at the end of the post for a chance to win a set of the series.
She's never had a home
Growing up in a troubled foster home, Mercy Dane knew she could never rely on anyone but herself. She's used to giving her all to people who don't give her a second glance, so when she races to Blessings, Georgia, to save the life of an accident victim, she's flabbergasted when the grateful town opens its arms to her. She never dreamed she'd ever find family or friends—or a man who looks at her as if she hung the stars.

Until she finds peace in his arms
Police Chief Lon Pittman is getting restless living in sleepy little Blessings. But the day Mercy Dane roars into his life on the back of a motorcycle, practically daring him to pull her over, he's lost. There's something about Mercy's tough-yet-vulnerable spirit that calls to Lon, and he will do anything in his power to make her realize that home isn't just where the heart is—home is where their heart is.
Enjoy an Excerpt
Mercy watched one nurse rush out with the donated blood while another took the needle out of her arm. The panic of getting here was over. Whatever happened now was out of her hands, save for the silent prayer she'd said for the woman in need. She was about to get up when a nurse stopped her.
"Wait, honey. Not so fast," she cautioned.
Mercy didn't argue. The room had already begun to spin when she raised her head—a combination of too little sleep, an adrenaline crash, and a unit short of blood.
The nurse helped Mercy up and walked her out, talking as they went.
"I'm taking you to the waiting room to get juice and a sweet roll from one of the vending machines before I can let you leave. I don't know if anyone told you, but the woman needing the donation is a nurse in this hospital. We are all so grateful you came when you got the call. None of this is standard donation procedure, so thank you for going above and beyond for her."
"I am happy I was close enough to help," Mercy said.
"You gave her a chance, which is more than she had before you showed up," the nurse said.
Mercy was still shaky and wanting to sit down as they walked into the waiting room. But two men who were already there stood up and came toward her so fast she took a quick step back.
However, it was the cop standing behind them who caught her eye. She thought for a moment she was hallucinating, then saw the same look of shock on his face as the one she must be wearing. Her gut knotted.
"You! You disappeared seven years ago. I never thought I'd see you again," he said.
She shrugged. "Seven years is a long time. Neither did I." She wondered if he'd stayed to give her a ticket for speeding, and then decided she didn't care.
The brothers began crowding around her, all trying to talk at once.
"Miss Dane, this is Jack Talbot and his brother, Duke. Hope is Jack's wife, and it appears they've figured out who you are. Jack, this is Mercy Dane. She needs juice and a sweet roll from the vending machine."
"I'll get it," he offered, and ran toward the machines at the far end of the room, and then yelled back at his brother to see if he had a debit card on him while the nurse seated Mercy and introduced her to the chief.
"Mercy, this is Chief Pittman. He helped pull Hope from the wreck." Then she added, "Ideally, you need to sit at least thirty minutes after you've finished eating. An hour would be even better."
Mercy nodded. "Yes, I will, and thank you."
"Oh no, we're the ones thanking you. God bless you, Mercy Dane. Have a safe trip home," she said.
Lon was in shock. Seven years ago he'd spent a week looking for this woman. She was in his arms when he fell asleep, and when he woke she was gone. He'd never forgotten her or that night, and now, fate had brought her back into his world.
"So, Lucky, long time, no see," he said softly.
She nodded.
"You are one hell of a rider," he said.
Her eyes narrowed. "So, Chief, is that your way of saying I was speeding?"
She watched his eyes crinkling up at the corners as he smiled.
"Pretty much, but given the circumstances, I'm gonna let that slide. I stayed because I wanted to meet the donor who willingly interrupted her Christmas Day to save a stranger's life. I didn't know I was going to meet an old friend."
"We're not friends," Mercy said, and then blinked as she realized that was what she said before, and added, "I don't have family. Just a job. I was happy to do it."
He heard a challenge in her claim…as if daring him to remark about her solitary life. But he wasn't going to give her a moment of sympathy. "Yeah, same here. Cops and family aren't necessarily synonymous. Most days I feel like my life is the job. At any rate, you are not what you seem, and I am impressed."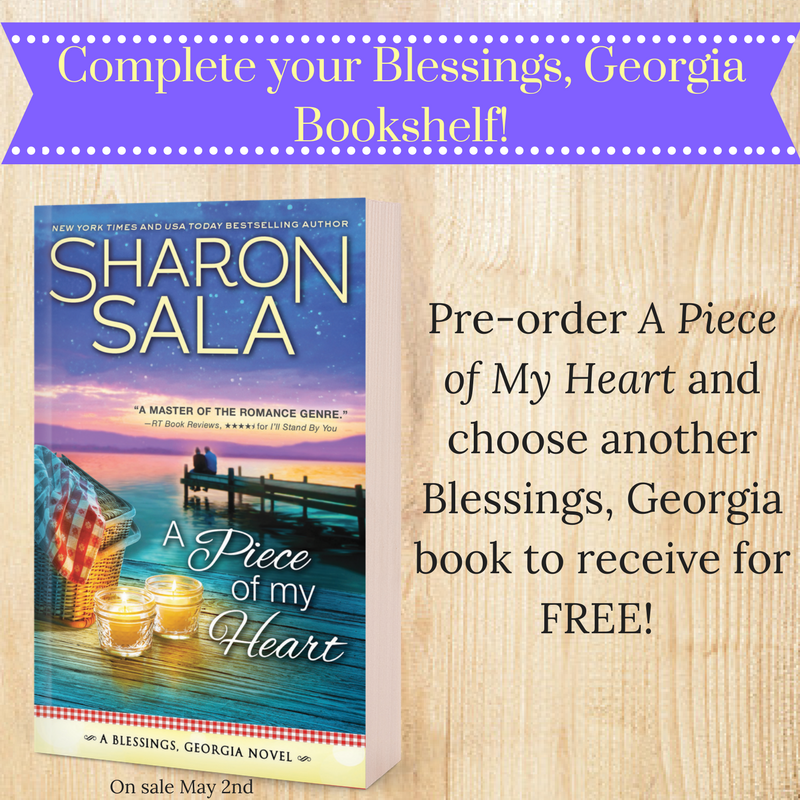 About the Author: Sharon Sala is a long-time member of RWA, as well as a member of OKRWA. She has 100 plus books in print, published in five different genres – Romance, Young Adult, Western, Fiction, and Women's Fiction. First published in 1991, she's an eight-time RITA finalist, winner of the Janet Dailey Award, five-time Career Achievement winner from RT Magazine, five time winner of the National Reader's Choice Award, and five time winner of the Colorado Romance Writer's Award of Excellence, winner of the Heart of Excellence Award, as well as winner of the Booksellers Best Award. In 2011 she was named RWA's recipient of the Nora Roberts Lifetime Achievement Award. Her books are New York Times , USA Today, Publisher's Weekly best-sellers. Writing changed her life, her world, and her fate.
Buy the book at Amazon, Barnes and Noble, BAM, or iBooks.