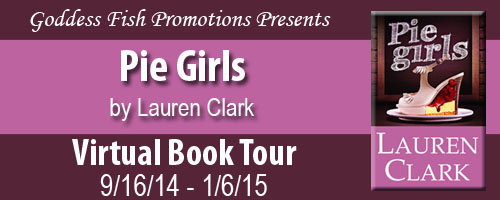 This post is part of a virtual book tour organized by
Goddess Fish Promotions
. Lauren will be awarding a $20 Amazon GC to a randomly drawn winner via rafflecopter during the tour. Click on the tour banner to see the other stops on the tour.
A Peek inside Author Lauren Clark's Office
I have a 70-year old cottage in a quiet Mobile, Ala. neighborhood; every room has wood floors and tall ceilings. The office, on the east side of the house, has built-in floor to ceiling bookshelves, three large windows, and gets lots of light.
My office necessities include photos of my children, my Macbook, and my 15 year-old desk and chair from Pier One. I often have my coffee nearby—it's a daily staple! Today, I have some LaCroix water with lemon. I always keep a notebook handy to jot down ideas, and usually record them later on my Mac.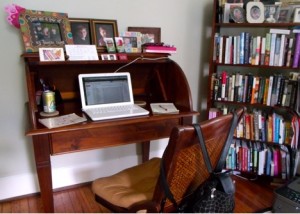 My trusty bookcases haven't buckled yet under the weight of books from my favorite authors—including Emily Giffin, Sophie Kinsella, Jennifer Weiner, Jodi Picoult, Stieg Larsson, and Alice Hoffman. The other shelves are filled with writing and reference books, as well as cookbooks, yearbooks, and photo albums.
My favorite writing reference or craft books are those by Stephen King (On Writing), James Scott Bell (Plot & Structure, Write Your Novel from the Middle), and Blake Snyder's Save the Cat is always fun.
If you're setting up your own writing space, in my opinion, it doesn't have to be large, and you don't need a massive oak roll-top desk or expensive framed prints to decorate the walls. Your "office"—whether it's a closet, or a corner in the laundry room, or a space you share with your spouse—should reflect what you love and what makes you feel comfortable. Happy Writing!
I'd love to hear about your writing space and what makes it special. Or, if you prefer, ask me about my latest book, Pie Girls. xx, Lauren
Princess, Southern belle, and spoiled-rotten social climber Searcy Roberts swore on a stack of Bibles she'd never return home to Fairhope, Alabama. After marrying her high school sweetheart and moving to Atlanta, Searcy embraces big-city life—Carrie Bradshaw style.

But now, Searcy has a teeny, tiny problem. Her husband's had a mid-life crisis. He's quit his job, cancelled her credit cards, and left her for another man.

Searcy returns to Fairhope, ready to lick her wounds. But when her mother falls ill, she's is thrust into managing the family business—only to discover the beloved bakery is in danger of closing its doors forever.

Enlisting the help of the adorable bike store owner next door, an array of well-heeled customers, and her soon-to-be ex-husband, Searcy hatches the plan of the century to save Pie Girls.
Enjoy an excerpt:
"Are you sure that the baby's mine?"
I feel faint and the room starts to tilt and swim. "Whatever are you talking about?" I demand, doing my best to sound indignant. "Of course it's ours."
Alton turns his body to face mine. "I'm asking, because it's impossible," he explains.
My lips part. I try to form words. What is he trying to tell me?
"Searcy," Alton leans closer. " I had a vasectomy. Six months ago."
"What?" I squeak. "How? When?"
"You were in California with Phillipa."
My hands begin to quiver. I brace myself on the sofa.
Vasectomy?
Six. Months. Ago.
I feel sick. I want to throw up. Or launch myself out the window.
My husband's gaze doesn't waver. He's serious.
"You see," Alton continues gently. "The baby can't be mine."
I can't speak or take a breath. All at once, I am furious. How dare he do this to me? Of all of the underhanded, rotten, selfish things to do to a wife. How could he take this away from me? From us?
Usually, I'm a calm, rational person. But without another thought, my right hand clenches into a fist. My fingers curl tight and the tips press into my palm. My arm bends at the elbow and I draw my body back, gathering momentum.
I take aim.
As my first jets through the air, cutting a path straight for my husband's gorgeous face, everything screams to a slow-motion finish.
His face registers a mix of doubt, surprise, and then…in the last second…out-right terror.
I punch Alton square in the mouth.
About the Author: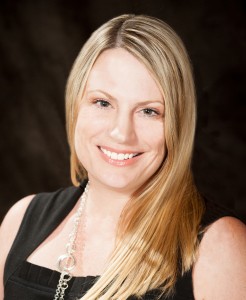 Lauren Clark writes contemporary Southern novels sprinkled with sunshine, suspense, and secrets. A former TV news anchor, Lauren adores flavored coffee, local book stores, and anywhere she can stick her toes in the sand. Her big loves are her family, paying it forward, and true-blue friends.
She is the author of four award-winning novels, Dancing Naked in Dixie, Stay Tuned, Stardust Summer, and Pie Girls, as well as a short story, A Very Dixie Christmas, published in the Merry & Bright holiday collection. Lauren is a member of the Gulf Coast Writers Association and the Mobile Writers Guild. Check out her website at www.laurenclarkbooks.com.
Blog: www.laurenclarkbooks.com/blog
Twitter: @LaurenClark_Bks
Facebook: https://www.facebook.com/pages/Lauren-Clark/235315706518284
Pintrest: http://www.pinterest.com/laurenclarkbks/
Buy the book at Amazon, Barnes and Noble, or iTunes.