No. 1 New York Times Best-Selling Author
Nicholas Sparks Discusses Upcoming Film
Safe Haven in Live Cinema Fan EventThursday, January 17, 2013, in Select Cinemas Nationwide: Oscar®-Nominated Director Lasse Hallström, Stars Josh Duhamel and Julianne Hough and Nicholas Sparks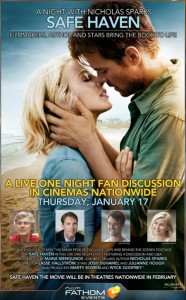 Unveiling a sneak peek into one of the most anticipated film adaptations of 2013, NCM® Fathom Events and Relativity Media present "A Night with Nicholas Sparks' Safe Haven: Filmmakers, Author and Stars Bring the Book to Life," broadcastlive to select cinemas nationwide on Thursday, Jan. 17, 2013 at 8:00 p.m. ET / 7:00 p.m. CTand tape delayed at 7:00 p.m. MT / 8:00 p.m. PT/Alaska and Hawaii. This special one-night
event, broadcast live from LA Castle Studios in Burbank, Calif., will feature the No. 1 New York
Times best-selling author Nicholas Sparks in a live discussion and Q&A session with fans about
the cinematic adaptation of his best-selling novel, Safe Haven. Moderated by Extra TV host
Maria Menounos and featuring appearances from the film's stars Josh Duhamel (Transformers,
Life as We Know It) and Julianne Hough (Rock of Ages, Footloose) as well as Oscar®-nominated director Lasse Hallström (The Cider House Rules), producers Marty Bowen (The Twilight Saga) and Wyck Godfrey (The Twilight Saga), fans will be treated to exclusive clips and behind-the-scenes.
Tickets for "A Night with Nicholas Sparks' Safe Haven: Filmmakers, Author and Stars Bring the Book to Life" are available now at participating theater box offices and online at www.FathomEvents.com. For a complete list of theater locations and prices, visit the NCM Fathom Events website (theaters and participants are subject to change). The event will be broadcast to more than 500 select movie theaters across the country through NCM's exclusive
Digital Broadcast Network.
"This event promises to be an exciting new way to connect with fans around the country – a first for me and the talented creative team behind Safe Haven," said Sparks. "I can't wait to talk about the unique collaboration with Josh and Julianne, who transformed the characters in my book into living people whose loves and losses will come to life soon on the big screen. It's been a privileged experience working with Lasse, Marty and Wyck on this film and now my readers will have a chance to share in that experience as well."
Safe Haven will be distributed by Relativity Media in theaters nationwide on Valentine's Day,
February 14, 2013. When a mysterious young woman (Hough) arrives in a small North Carolina town, her reluctance to join the tight-knit community raises questions about her past. Slowly, she begins putting down roots, and gains the courage to start a relationship with Alex (Duhamel), a widowed store owner with two young children. But dark secrets intrude on her new life that she is forced to rediscover the meaning of sacrifice and rely on the power of love in this deeply moving romantic thriller. The film is directed by Oscar®-nominated Lasse Hallström, based on the novel by Sparks from a screenplay by Dana Stevens and Gage Lansky and also stars Cobie Smulders (The Avengers) and David Lyons (J.J. Abram's Revolution). Bowen, Godfrey, Sparks and Relativity's CEO Ryan Kavanaugh (The Fighter) served as producers.
"Nicholas Sparks' books always translate so well to the big screen, including such hits as The
Notebook, Dear John, The Last Song – among many others," said Shelly Maxwell, executive
vice president of NCM Fathom Events. "Fans will get a look at how these bestsellers are transformed into blockbusters before Safe Haven hits theaters in February with this special event which features the film's Oscar®-nominated director and the film's stars."
For more information, please check out the Safe Haven movie Facebook and Twitter.
Leave a comment for a chance to win a movie-tie-in edition of SAFE HAVEN