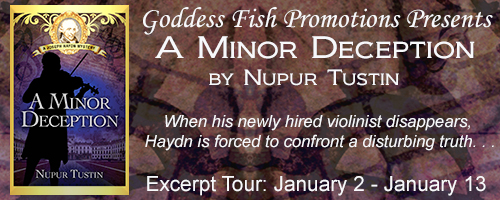 This post is part of a virtual book tour organized by
Goddess Fish Promotions
. Nupur will be awarding a a free print copy of the book (Open to US only) to a randomly drawn winner via rafflecopter during the tour. Click on the tour banner to see the other stops on the tour.
Kapellmeister Joseph Haydn would like nothing better than to show his principal violinist, Bartó Daboczi, the door. But with the Empress Maria Theresa's visit scheduled in three weeks, Haydn can ill-afford to lose his surly virtuoso.

But when Bartó disappears—along with all the music composed for the imperial visit—the Kapellmeister is forced to don the role of Kapell-detective, or risk losing his job.

Before long Haydn's search uncovers pieces of a disturbing puzzle. Bartó, it appears, is more than just a petty thief—and more dangerous. And what seemed like a minor musical mishap could modulate into a major political catastrophe unless Haydn can find his missing virtuoso.
Enjoy an Exclusive Excerpt:
Did Barto leave of his own accord, or was he . . . ?
Haydn began to pace the floor, needing the rhythm of movement to clear his head. He was aware of his brother's eyes following him as he walked to and fro, head bent, hands clasped behind his back. He stopped at last.
"There are some minor details that make Rosalie's supposition entirely plausible. Bartó's constant fear that he was being spied upon. His suspicion of his colleagues. Of Lorenzo, in particular. And the little I picked up from Maria Anna last night about his extreme dread. Of what exactly, I know not. I can only suppose he was making some clandestine plan. To desert his post, perhaps. It is entirely in breach of his contract, so it would have to be clandestine."
"As to Lorenzo." Haydn paused, making an effort to collect his thoughts. "This cannot be the first time that Bartó, instead of being in the Rehearsal Room leading the orchestra, is elsewhere. Yet, Lorenzo seems absolutely certain Bartó has left. Never to return."
Haydn dragged his hand through his wig, unwilling to follow his train of conjecture any further. "Bartó seems to possess a peculiar talent for rubbing people the wrong way. But I am afraid, the animosity he and Lorenzo have for each other could…" He hoped his brother would understand. He could not bring himself to name his fears.
Johann regarded him for an uncomfortable moment. "It was but yesterday that the Estates Director promised dire consequences unless you dismissed Bartó," he quietly reminded the Kapellmeister. "It would be as plausible to suspect he had some hand in Bartó's disappearance."
About the Author: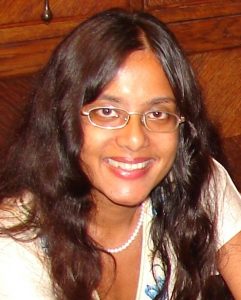 A former journalist, Nupur Tustin relies upon a Ph.D. in Communication and an M.A. in English to orchestrate fictional mayhem. The Haydn mysteries are a result of her life-long passion for classical music and its history. Childhood piano lessons and a 1903 Weber Upright share equal blame for her original compositions, available on ntustin.musicaneo.com.
Her writing includes work for Reuters and CNBC, short stories and freelance articles, and research published in peer-reviewed academic journals. She lives in Southern California with her husband, three rambunctious children, and a pit bull.
Goodreads | Facebook | Amazon Author Page | Website | Blog
Buy the book at
Amazon
,
Barnes and Noble
,
Kobo
, or
iBooks
.