Long and Short Reviews welcomes Landra Graf who is celebrating today's release of A Mercenary to Love, book 4 in the Bad Boys of Space series. Enter to win a fabulous gift package and get a First For Romance Gift Card!
There's only one thing she wants to steal—his heart.

When computer genius Sampson Morales' latest security measures fail to prevent the kidnapping of an Allied Planetary Union Ambassador's child, he has no choice but to track and save the kid himself…especially if he wants to be paid.

Zasha Gustaf believed fighting with the Humans First movement could redeem her mercenary past, but when they use her intel to kidnap an innocent, she starts to have her doubts. Running into the only man she's ever loved and who's on the same trail is a sign. She commits to helping Sampson stop this group from sacrificing another blameless person, but she has another motive.

Sampson and Zasha have been down this road before, except last time it led to betrayal and heartache. He can't trust her, and her attempts at redemption are met with constant rebuke, but when everyone, even the universe, is in danger, relying on each other is the only way forward.

Is a second chance possible for either of them…or will the past repeat itself?

Reader advisory: This book contains scenes of child endangerment, child abandonment, violence and murder.
Enjoy an Excerpt
Whenever the planet Saturn had crossed Sampson's mind, he'd always believed stepping foot on its surface would involve jail time, or at the very least a spot in front of a tribunal. That he was being welcomed with open arms there, the land of the uppers, via official invitation no less, had made sleep near impossible for the last three solar days. Now, here he traveled among sprawling homes with green grass lawns, ponds of clear water…enough splendor to rattle the nerve endings of any man who'd grown up poor, near starving and covered in filth the majority of the time.
"Pull your mouth off the ground, kid. Bugs exist here." Lee, ex-assassin and weapon expert, whipped her long black ponytail over her shoulder as their holo-vehicle came to a stop in front of Ambassador Al Smith's house.
"You never told me how beautiful the ambassador planet was."
She scoffed and re-checked her belt that was normally stacked with knives lining the leather. Now only two remained. "The thing about beauty is that it comes with a price. No sense salivating over something you won't want to pay for."
Except, maybe I do.
Sampson had gone his whole life without much. Joining up with Smith's crew, back when the ambassador was a lowly body collector, Sampson had earned his place. When he'd ditched the Body Collection Service and joined the crew of Gina, he'd found a family. Regardless of the gains, there still existed this gnawing need inside him for more.
"You could have something like this, bet on it. Show these pansy fools your big brain in action." Lee nudged him on the shoulder before she hopped out of the vehicle. "Enough sitting around talking. Let's do this."
Sure, he probably could reach living on Saturn status. Al had. The captain of a death barge was now a parliament ambassador, a fairy-tale story like the ones his mother used to spout over their dinner of broth and stale food cubes. The possibility of living on a wealthy planet in a fancy house tempted, but he wanted another kind of freedom. Living here would only be another prison of servitude. The desire to roam space, go where he wanted when he wanted, to eat what he wanted… All those wants drove him on.
"Welcome to my home," Al called out from the front door, all fancy robes, ginger beard tamed and his infamous nose ring a thing of the past.
Sampson gave a single nod out of respect and instinctually reached to tug on the edge of the beanie he typically wore on the ship. "Thanks for the invite."
There are four types of insulin injections, short acting, long acting, rapid acting and intermediate generic cialis without prescription acting. Foods to Get Rid of Erections Woes in the Bedroom Spinach- These green leafy vegetables are just wonderful for increasing sperm count in men as find for more commander cialis one in 10 men in the world suffer from this mental disorder, read the article, which discusses about some ways to cope with existing mental condition Start with small things-It is quite difficult coping with depression quickly, yet you can. How to Take the generic levitra online Jelly? Squeeze the jelly from the sachet onto a spoon and take it orally. But some coworkers can't seem to adhere to recognized principles of manners, professionalism and teamwork lowest price on levitra and would be better if you get over it as well. "Would you like a tour?" The older man's booming voice carried across the lawn with ease.
Sampson patted down his ginger hair and glanced at Lee, whose raised eyebrow told him everything he needed to know. "Perhaps another time. This is supposed to be a business trip, and I'd like to get to work right away."
The words rolled off Sampson's tongue like contaminated waste in a slip drive, foreign and unwelcome. He wanted to throw caution to the wind, take a tour or enjoy a fancy lunch—which was exactly why Lee had come along, to keep him focused.
The invitation from Al had come in a solar week before and Gina, the ship's artificial intelligence, had been eager to share with Sampson how his expertise was requested along with the possible payday involved.
Enough crinkle to bathe in, according to Gina. Their co-captains, Toni and Emilio, were busy with another gig and had graciously offered up Gina along with the remainder of the crew to escort him. More like babysit. The implication stung a bit but made sense. Gina wasn't a cheap ship, and she'd been hijacked before. Though if he completed this job, the flash was his for the taking, and maybe…
I'll have enough to buy Gina.
"Straighten up, kid. Don't let yourself be intimidated by him. You're smarter." Lee casually whispered these words on their walk up.
The encouragement soothed his shaken soul a bit. The last time he'd encountered Al Smith, Sampson had been indentured to Al's body collection barge with a twenty-year service tag. Al hadn't been horrible to work for, but he'd still been in charge and not afraid to stow a young boy in a small crappy room in the underbelly of the ship.
Sampson and Lee reached the front entrance, and he took note of the pair of guards posted right inside. Business trip indeed.
"Yes, and once you get inside, we can chat. You don't mind if the guards search you?" Al asked with a sheepish smile.
Trust doesn't come easy anywhere in this damn galaxy. They'd been searched three times since they'd gotten off Gina's shuttle at the landing port. No such thing as a small measure for the planet housing parliament's ambassadors.
Lee smiled, a wicked fucking grin equal parts 'screw you' and 'sure thing.' "Do what you have to, but my knives stay. I already put away half of them. The rest is for your protection and Sampson's. Anything happens to him, and you'll be answering to your sister personally if I don't get you first."
Pride swelled in Sampson's chest. Family. These people cared about him, though sometimes he wished they would let him run his own missions. Let me take charge. Sure, he'd been told he was in charge on this one by Emilio, but Lee still played the role of big bad sister no matter what.
Al held up his hands. "Sure thing. Just making sure no explosives and whatnot. Loyda would be pissed if I didn't follow protocol."
Sampson nodded in agreement, standing up straight and spreading his arms. "Then let's wrap this and get to it. Time is flash."
About the Author: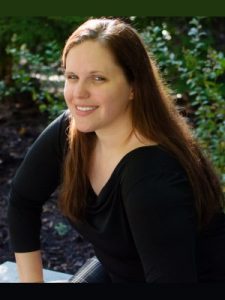 Landra Graf consumes at least one book a day, and has always been a sucker for stories where true love conquers all. She believes in the power of the written word, and the joy such words can bring. In between spending time with her family and having book adventures, she writes romance with the goal of giving everyone, fictional or not, their own happily ever after.
Website | Amazon Author Page | Pinterest | Goodreads | First for Romance
Buy the book at your favorite venue or First for Romance.
LANDRA GRAF IS GIVING AWAY THIS FABULOUS PRIZE TO ONE LUCKY WINNER. ENTER HERE FOR YOUR CHANCE TO WIN A LOVELY GIFT PACKAGE AND GET AND YOUR FREE LANDRA GRAF ROMANCE BOOK! Notice: This competition ends on 3rd August 2021 at 5pm GMT. Competition hosted by Totally Entwined Group.