Welcome to Melissa McClone who is joining up for some Christmas memories.  Leave a comment for a chance to win a Christmas swag pack of goodies!
A Fur Family Christmas
by Melissa McClone
Christmas is a time of togetherness, of family. Ours consists of two-legged and four –legged kiddos. Whether they are covered with skin or fur, Christmas is a big deal, which is one reason I love to put animals in my stories, particularly holiday ones. My furbabies love Christmas, too!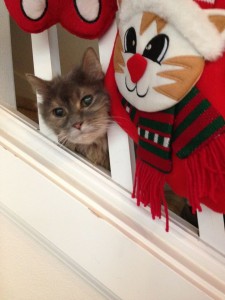 Our first Christmas in our first house was spent with two kittens named Rocket and Spirit, who my hubby calls the most expensive "free" pets ever. We found them at a garage sale. I was only supposed to bring one home, but the little gray girl was so underweight and pathetic looking I couldn't leave her.
I was pregnant with our first child at the time, but my first babies were those two cats. Spoiled doesn't begin to describe them. I rubbed them to sleep. They both slept on my pillow. I hated to leave them alone for any length of time. I even took them to see the neighborhood Christmas lights. I hadn't a clue at the time that they were training me to be a crazy cat lady! Of course, everyone else around me knew.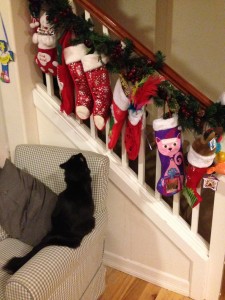 That first Christmas morning back in 1997, we set up the camcorder on a tripod to videotape the cats opening their presents and stockings. We called it Kitty Christmas and that hasn't changed even though we now have three kids, two dogs and many cats, including fosters from a local no-kill shelter where I volunteer. Each furbaby gets their own stocking, and each seems to know which one belongs to them. Santa Paws brings a bigger gift that goes under the tree!
Christmas was easy until we adopted our youngest cat, Beauty, in 2011 when she was only a couple months old. Until then, we'd never had a tree climber. Oh, the cats loved to bat ornaments or steal them. They would sleep under the tree or in the nativity crèche. Rocket, who is no longer with us, loved a singing Rudolf the Red-Nosed Reindeer that I bought from QVC after he went up to the TV and touched it with his paws during the presentation. But they left the tree itself alone. Not Beauty.
She de
cided the Christmas tree was hers. And every year since then, she's made herself at home amongst the branches. That means all my lovely glass-blown and other fragile ornaments no longer get hung. They sit in the ornament boxes, replaced by shatterproof balls and other unbreakable decorations. But I must admit, she looks pretty cute in their place!
This year we have a new foster with us so we'll have to see if Beauty has company in her tree or not! But no matter how many climbers we end up with, it'll be a very Merry Christmas at our house!
About the Author: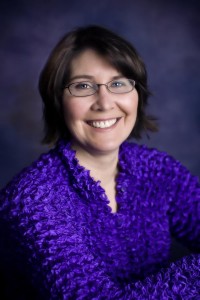 With a degree in mechanical engineering from Stanford University, Melissa McClone worked for a major airline where she traveled the globe and met her husband. But analyzing jet engine performance couldn't compete with her love of writing happily ever afters. Her first full-time writing endeavor was her first sale when she was pregnant with her first child! Since then, she has published over thirty romance novels with Harlequin and Tule Publishing Group. She's also been nominated for Romance Writers of America's RITA® award. When she isn't writing, you can usually find her driving her minivan to/from her children's swim practices and other activities. She also sends care packages to deployed service members and fosters cats through a local no-kill animal shelter. Melissa lives in the Pacific Northwest with her husband, three school-aged children, two spoiled Norwegian Elkhounds and cats who think they rule the house. They do!
You can connect with Melissa on her website, Facebook, and Twitter.
Buy Mistletoe Magic at Amazon or it's free on Smashwords. Buy Kiss Me, Cowboy at Amazon. Enjoy Mistletoe Wedding at Amazon.