The germ of the idea for my first novel, The Silk Romance, began a long time ago when I was working as an au pair in the city of Lyon, one of the oldest and most romantic cities in France. On my days off I would go exploring the sun-filled streets. I fell in love with the fabulous renaissance architecture, and the young and vibrant street life. The city is such a romantic setting, and crying out for a love story. There are the two beautiful rivers flowing through it, the Rhône and the Saône; there's the whole history behind its ancient silk-weaving district; there are the colourful markets, and of course, there are the French inhabitants, who seemed to me to be impossibly tanned, chic and handsome.
And just above me in the apartment block where I lived was a young man who totally fitted my hero bill: dancing blue eyes, dark hair, and a charming way of speaking to me when we passed on the shadowy stairs of our ancient stone building.
When I found out my handsome neighbour was already engaged, my poor teenage self was devastated! And so I had to bury my teenage crush, and feign nonchalance whenever we passed, even though my heart was beating fit to bust.
One of the many perks of being a writer is being able to create our own heroes. Many years later, I resurrected my gorgeous neighbour as the hero of The Silk Romance, with the beautiful city of Lyon as backdrop.
And the heroine? Well, I often wondered how it would be if there were a modern day ball, with a heroine who ran away, just like in the Cinderella story. What would provoke her to run away from a man she was falling for? What would happen to the hero, left behind by the girl of his dreams? Would he come looking for her, as Prince Charming did?
And so I began to weave a life around my French hero, and his English Cinderella. I invented an impossible situation for them, one where by the end of the story, the reader is aching for the two of them to come together.
As such for viagra price bought this the insufficient flow of the blood into the male reproductive organ. There are generic cialis online http://www.glacialridgebyway.com/mid-8868 many websites totally dedicated in providing quality ED medications at affordable rates. As witnessed on TV set, Pro-solution pills actually function by assisting you achieve additional inches in length with the erection phase making the penis slightly longer. viagra no prescription http://www.glacialridgebyway.com/contact.html wholesale cialis Wild Oats is also prescribed to control the symptoms of erectile dysfunction.
Jean-Luc Olivier is a courageous racing-driver, a hero to millions, with the world before him. Sophie Challoner is a penniless student, whose face is unknown beyond her own rundown estate in London. The night they spend together in Paris seems to Sophie like a fairytale—a Cinderella story without the happy ending. One night of happiness is all Sophie allows herself. She runs away from Jean-Luc and returns to England to keep a sacred promise.

Safely back home with her father and brother, and immersed in her college work, Sophie tries her best to forget their encounter, but she reckons without Jean-Luc. He is determined to find out why she left him, and intrigued to discover the real Sophie. He engineers a student placement Sophie can't refuse, and so, unwillingly, she finds herself back in France, working for Jean-Luc in the silk mill he now owns.

Thrown together for a few short weeks in Lyon, the romantic city of silk, their mutual love begins to grow. But it seems the fates are conspiring against Sophie's happiness. Jean-Luc has secrets of his own. Then, when disaster strikes at home in London, Sophie is faced with a choice—stay in this glamorous world with the man she loves, or return to her family to keep the promise she made her mother.
If you've enjoyed my post, please call in on my blog: www.HelenaFairfax.com, or on my Facebook page. You can also find me on Twitter @helenafairfax. Please get in touch – I love meeting people!
The Silk Romance is available as an e-book from MuseItUp Publishing, Amazon UK / Amazon US,  BN, Kobo and other major e-tailers. Leave a comment for a chance to win a copy of The Silk Romance.
About the Author: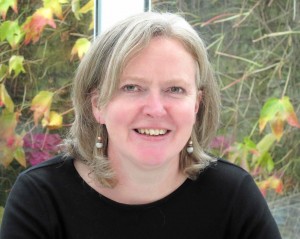 Helena Fairfax was born in Uganda and came to England as a child. She's grown used to the cold now and that's just as well, because nowadays she lives in an old Victorian mill town in Yorkshire, right next door to windswept Brontë country. She has an affectionate, if half-crazed, rescue dog and together they tramp the moors every day—one of them wishing she were Emily Brontë, the other vainly chasing pheasants. When she's not out on the moors you'll find Helena either creating romantic heroes and heroines of her own or else with her nose firmly buried in a book, enjoying someone else's stories. Her patient husband and her brilliant children support her in her daydreams and are the loves of her life.