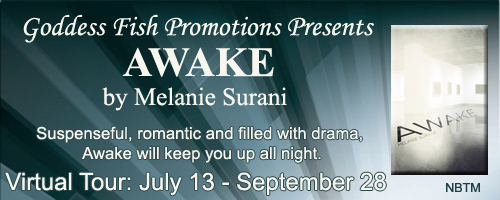 This post is part of a virtual book tour organized by
Goddess Fish Promotions
. Melanie Surani will be awarding a $30 Starbuck Gift Certificate to a randomly drawn winner via rafflecopter during the tour. Click on the tour banner to see the other stops on the tour.
A Day with Me Behind the Scenes
You're never supposed to start a book with the character waking up, but here we go.
My alarm goes off (it's Björk's Frosti). Snooze.
The second time it goes off, I get out of bed because my cat heard the alarm and she's crying outside my bedroom door. I go to the bathroom, where she drinks out of the sink.
Coffee.
Breakfast.
While I'm still bleary-eyed, I get into my laptop and if nothing distracts me, I work on one of many manuscripts. Usually by then, my email has refreshed, the cat jumps on my lap, and my husband wakes up.
I get ready for work (stand in front of my closet for 10 minutes, then throw on any old thing and put on my makeup).
Me: "I don't wanna go to work."
Husband: "I know, sweetie. You're getting late."
Walk half a mile to the subway station with my earbuds in. I might be listening to anything from Turkish pop to Lady Gaga to whatever. Anything to drown out the city noise.
Enter the subway platform and immediately think, "HOW IS IT POSSIBLE FOR THERE TO BE SO MANY PEOPLE?" (every morning)
If I get a seat, I read my Kindle. If I have to stand, well, I'm just standing, trying not to get my butt pinched. Usually halfway through the trip, I'm trying desperately not to freak out.
1.5 hours later…
Get to work at the barber shop and tell everyone my "weekend"* (*consecutive days off) was fine and that I didn't do a whole lot. Haha. Some of my better ones ask about my books and if I got any writing done. They ask about the ones being published and genuinely seem happy.
Clients want me to go a little shorter. Can you cut the top again? Can you make the back square instead? Can you just cut in the part line? Can you make it less but not take any length off? Well … It's fine. Yeah. I guess it's fine. Can you make the sides shorter, though? Sorry. Are you gonna fix it? Oh tip is cash only? Is it okay if I get you next time?
I go home (repeat morning journey, but sometimes with rowdy people).
If I'm not already peeved, the packed subway back to Queens seals it. Instead of reading, I get out my phone and take notes about my day. That one guy who was a dick. The one who told me an interesting story about how he met his partner. That adult person on the seat in front of me who won't stop swinging her damn feet.
Walk half a mile from the station home. There's so much garbage on the sidewalk, I want to scream. But stopping for a few groceries first.
The elevator in my building has a baby in it, but I get in anyway. This person lives on my floor just like everyone in the building, it seems.
As soon as I unlock my door, the cat bounds from wherever she was and yells at me and rubs my legs. The husband gets me after she's done.
"Sit for a minute! How was your day?"
"THERE ARE TOO MANY PEOPLE IN NEW YORK AND NONE OF THEM KNOW WHAT THEY WANT WITH THEIR HAIR!! I just wanna be a writer and not touch people all the time." (cries)
"(comforting remarks)"
"People are bastards."
"I know, sweetie. Everyone's a bastard. Hungry?"
Dinner
TV
I get out my laptop and make a few notes on a new story. I edit an older story. Then spend the rest of the evening "marketing"* (*goofing off and talking to people) on social media.
"Let's go to bed"
"Okay."
I read a book until I can't keep my eyes open. Then I dream about something amazing that never seems quite as interesting when I wake up.
In author Melanie Surani's edgy thriller novel, opera singer Joshua Gray wakes in an eerie art museum exhibit. He comes to believe he's been kidnapped and abandoned. And he isn't the only one…

As Josh and four others struggle to piece together their new reality, they discover the museum's main building has been razed and the place is boarded with no obvious exit. Who left them in the museum and why? How can they escape? The only link that binds them together is a mysterious woman named Blair, who they each encountered before blacking out. Josh unexpectedly finds himself drawn to one of the other captives, a long-time fan named Sophia. Their attraction plunges the group into a dark pool of suspicion. When allegiances shift and pieces connect, the strangers are forced to reassess their situation. Is the real danger inside or outside of the museum?

Suspenseful, romantic and filled with drama, Awake will keep you up all night.
Enjoy an excerpt:
Blair didn't go to the theater for a night of opera, but to kidnap Sophia Stewart. At the last minute, she bought a ticket and followed cues around the old, gilded theater to her seat in the topmost balcony. The seating sloped straight down, in hopes of giving each ticket holder the best seat in the house, though Blair's spot in the nosebleeds barely made the trip upstairs worth taking, if her goal had been to see anything on stage.
The house lights dimmed and rose again, signaling everyone to take their seats.
Sophia had already taken her spot, smoothed her dress and glanced around with shining, eager eyes. Her hair hung over her shoulders in loose brown waves, pinned over one ear with a peacock feather. The seat beside her was empty.
She's waiting for a date. Two for one if he's good looking.
Despite the suits and pearls and floral ensembles around her, Blair hadn't dressed for a fancy night out. She hadn't been to an opera or symphony in so long she didn't realize dressing up was still a big deal at these things. A blue button-down shirt, dark jeans, and a ponytail were all Blair could muster on her rush to get to the theater.
Everyone's sure to remember Sophia's purple sequined dress, even if they don't remember me.
About the Author: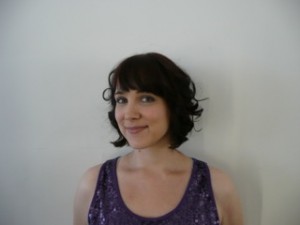 Melanie Surani is a blogger, hair stylist, and author with a heart for international travel. When she isn't cutting hair, Melanie is thinking about ways to kill people (for mystery novels). She lives with her husband and cat in New York City, where she is hard at work on her next book with Booktrope Publishing. Melanie is a member of the International Thriller Writers society. Follow her adventures at her blog.
Blog | Facebook | Twitter | Pinterest | Instagram | Google+ | Goodread | Amazon Author Page
Buy the book at Amazon or Barnes and Noble.