This post is part of a virtual book tour organized by the publisher. Enter to win signed copies of the full Surrender series as well as Mirror Mirror on either Blu Ray or DVD.
A Day With Me Behind the Scenes
Every writer has their own unique schedule or agenda each day. We all do things a little differently. People often ask what it's like to work as a writer during the day. It seems to be a special sort of mystery that they can't quite figure out when they picture you chilling at a coffee shop with you laptop for a few hours. It sure doesn't seem like work. But it is. Hard work. And the trick is staying focus. So here's your guide to my typical writer day.
5am- I'm up early and getting a good start to the day by walking my two dogs, Fritz the black schnauzer and Evie my wheaten terrier. I admit I'm one of those really annoying bright happy people early in the morning. I drink Diet Dr. Pepper and I'm good to go, no coffee for me.
6am- I'm already turning on the laptop to knock out an hour of editing on the computer for whatever I'm currently working on. I also might do some legal work since I do legal work by the hour for other attorneys.
7-8am- I usually make a trip to the gym to get in some cardio and weights. You got to stay trim when you're planning to spend the afternoon in your writer's chair.
Midmorning- I've usually taken the dogs on a second walk and then head out of the house to grab some lunch.
Afternoon- That's my time to check on the laundry, clean a sink or maybe vacuum a bit. The dogs tend to bring in all sorts of crazy stuff from the great outdoors.
Late afternoon- I'm back at the laptop, typing some stuff up. Because did I mention I hand write every single book? It just seems to flow better for me creatively to put a literal pen to paper. Then I have to type it up.
Evening- I'm usually ready to call it a day on the heavy lifting part of my writing or my legal work and I turn to reading whatever research books I need for my current project whether it's Jane Austen's World or The Idiot's Guide to Rugby.
Then it's time to eater dinner and call it a night! I'm definitely not a night owl and don't stay up late since I've had an early start. The main thing for me is a positive balance of life and work.
Tristan is a man who knows what he wants. And he wants Kat in his bed. All he has to do is convince her they belong together . . .

Kat knows the connection she and Tristan share is special. Her British bad boy is too much of everything: too hot, too arrogant, too irresistible to stay away from. He's her addiction and one night with him isn't enough.

That's what hurts the most. They can't date, can't be a normal couple, not when their parents are getting married. Because now that she knows he's going to be her stepbrother, no one can ever find out what they've done . . .

Part 2 in the Her British Stepbrother series.
Can Tristan convince Kat that, despite their parents' upcoming nuptials, that she belongs with him? Find out in SEDUCTION, part 2 of Lauren Smith's sexy New Adult series, HER BRITISH STEPBROTHER!
Grab both, FORBIDDEN and SEDUCTION in the HER BRITISH STEPBROTHER series for only $.99! What a steal! Make sure to grab your copies today! #bingeread
About the Author: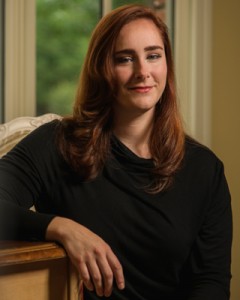 Amazon Best-Selling Author Lauren Smith is an attorney by day, author by night, who pens adventurous and edgy romance stories by the light of her smart phone flashlight app. She's a native Oklahoman who lives with her three pets: a feisty chinchilla, sophisticated cat and dapper little schnauzer. She's won multiple awards in several romance subgenres including being an Amazon.com Breakthrough Novel Award Quarter-Finalist and a Semi-Finalist for the Mary Wollstonecraft Shelley Award.
 Website | Blog | Facebook | Twitter | Goodreads | Amazon
Buy the book at Amazon, Barnes & Noble, Kobo, or  iBooks
*