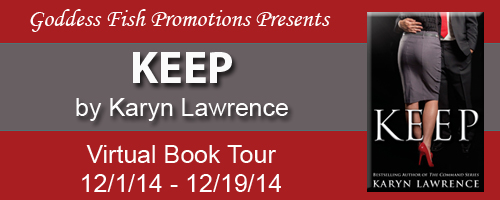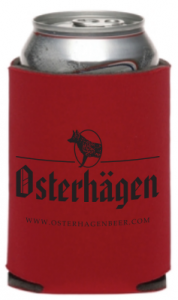 This post is part of a virtual book tour organized by
Goddess Fish Promotions
. Karyn will be awarding a $25 gift card to Amazon, a signed paperback copy of both "Keep" and the first book in the stand-alone series, "Stay", bookmarks from "Stay" and a can kozie with the logo from the fictional beer company that the hero owns in "Keep" (Swag and print book are US only) to a randomly drawn winner via rafflecopter during the tour. Click on the tour banner to see the other stops on the tour.
A day with Karyn Lawrence behind the scenes
My day begins around seven. I open up my laptop and check email, book stats on Amazon, then on to Goodreads. Once that's done, I read whatever I wrote the previous night and do some light editing. I can always tell when I started to get tired the night before by the frequency of typos. Some nights it's scary bad.
Real life takes over after that. I shuttle kids to daycare and go into my day job where I manage a team of graphic designers that build ads for newspapers. If I get a free moment, I'll check to see if I have any new ratings/reviews, or respond to posts on my website.
I usually bring my lunch to work, shut my office door at one, and pull up my latest draft. I save everything to my Dropbox account and date my filenames. Once again, I reread the newest material to get back in the swing of things, and I continue writing. On an undisturbed hour-long break, I get 750 words. I'm good at focusing and not playing on Facebook or whatever, but my desk phone rings… a lot. And I'm not so good at ignoring that, because it's usually a deadline emergency I need to address as soon as possible. It's not ideal for my writing process, but I'm a new author and not able to write full time. (Plus I'm insanely lucky and really like my day job.) I also try to plan accordingly so I'm writing the sexier scenes over the weekend. That's not something I'm interested in doing at the office!
My day job ends around five-thirty and I'm home with the family until the boys go to bed at eight. My husband is pretty incredible – If I'm hungry to write a big scene, he understands. My laptop heads upstairs with me to the bedroom, and I write in bed until ten-thirty or so. I'm pretty obsessive about the writing, and honestly, I still struggle with balancing it with life when I'm writing a first draft. Luckily, the more practice I get, the more efficient I get. It took six months to write my first book in the Command Series, Stay. Three months to do Keep. And the third book, working title "Surrender," was done in about seven weeks. (I don't know if I'll get faster than that without turning out uneditable garbage, though.) I'm not so crazy and driven with editing, probably because I find editing a million times harder, so during those weeks my husband actually gets to see me and we get caught up on TV shows we've DVRed.
Overall, the schedule works. I've published two books this year, and am set up to publish three more by the summer of 2015. (two under a pen name)
Thanks so much for having me!
Billionaire CEO Shawn Dunn has plenty of sex, power, and money. A woman turning down his advances? Unfathomable. Yet that's what she does, again and again.

Kara Hayward is supposed to be off limits. Her sister is hiding from the dangerous assassin she escaped from, and it's best for everyone if Shawn keeps his distance. Certainly as far as Kara is concerned. Shawn's only after one thing and then he'll walk away, just like her ex-husband.

But Shawn has larger desires and he's used to getting what he wants. He doesn't care if being together is dangerous. He doesn't believe that threat to him, or his empire, is real. Right up to the night he has everything taken away
Enjoy an excerpt:
This man moved with an elegance that was off-putting, as if everything was calculated, and then the gun disappeared into his suit coat.
"Does that make you feel safer?" he asked.
"No. It doesn't."
He gave her a pleasant smile. "Why do you think that is?"
Maybe she could stall him. Maybe the police weren't far behind and any moment they'd burst through the door.
"I'm not naïve," she said, for her benefit more than his. "Plus I know what kind of man you are."
"Really?" He looked, for lack of a better word, delighted. "What kind of man am I?"
"You'll do anything to get what you want."
"How do you know that?" His tone mocked her.
"I used to be married to a man like you."
He gave her a look, his pure eyes shining, one that said he highly doubted Paul was anything like him. That he was so, so much worse than her ex-husband.
"We're going to have fun together, you and me."
A chill ran down her spine.
About the Author: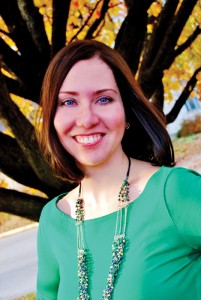 Karyn Lawrence is an author, graphic designer, and screenwriter. She published a nonfiction book about color guard after an editor discovered her blog, way back in the infancy of the Internet and long before blogging was really a thing.
She has been a screenwriter for more than fifteen years, with rather mild success, and grew tired of her stories only reaching a handful of readers. The decision was made to try fiction in early 2013 and once she figured out how to write internal dialogue again, the prose came fast and furious. She most enjoys writing smexy (smart-sexy) books featuring a lovable SOB hero and a tough-as-nails heroine.
Karyn is a Chicago native who lives in Kentucky with her epic husband and two adorable sons.
Facebook ~ Twitter ~ Website
Buy the book at
Amazon
or
Barnes and Noble
.