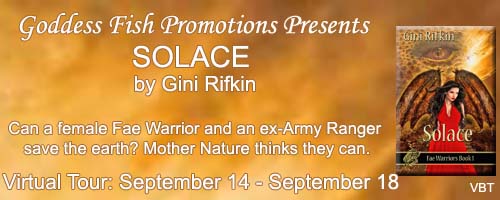 This post is part of a virtual book tour organized by
Goddess Fish Promotions
. Gini Rifkin will be awarding a $25 Amazon or Barnes and Noble GC to a randomly drawn winner via rafflecopter during the tour. Click on the tour banner to see the other stops on the tour.
A day with Gini Rifkin behind the scenes
I treat writing like a true job, or it doesn't get done. The darn books just don't write themselves. After my husband passed away, I moved to a little patch of land and started taking in abandoned farm animals. Having been raised with a hamster and a small dog, you can imagine the learning curve. I'm still in training. But fortunately, having been married to an outdoorsman for 30 years, I learned a lot when we hauled wood, built fences, and participated in Mountain Man reenacting. Now all those skills are coming in handy as I make my way in the world alone. As far as my menagerie of animals, I started with two goats, Precious and Cowboy, rescued from the local Humane Society. They were so glad to get rid of them they were BOGO. Now I have one goose, two ducks, two rabbits, two new goats, two donkeys and three cats. Most of my mornings begin when the donkey alarm goes off out in the barn, and everybody wants breakfast.
After morning chores, it's right to the computer. I might answer e-mails, but since I write best in the morning I try to crank out at least as many words as possible on my current project. I'm a slow writer, but I love writing so I'm also determined. At noon, it's back to the barn to let the critters out to graze and to give out special medicine for those with arthritis etc. After tending the garden, watering, mowing, or shoveling snow (depending on the season), or trimming and picking hooves, it's back to the computer. As promotion is so important, in the afternoon I work on Facebook, blogs, and any new e-mails. This is also a good time for research. Then it's time to put another five miles on the old stationary bike, and if I've been a very good girl, I will treat myself to a snack, usually something involving chocolate.
By five or six o'clock there's the mail to walk down and get, and evening chores. When everybody is fed and in for the night, heads down chomping away, it's the best sound and feeling in the world. Then it's me time, and after supper I read, make phone calls, or watch TV. Besides my furry and feathered "kids", my friends and family are my greatest treasure, writing is my greatest joy. I'm fortunate to be able to follow my passion, and I hope my stories reflect the dedication and care with which they were created. Happy fans are my goal and reward.
Solace Goodeve, one of Mother Nature's favorite Fae Warriors, is assigned to Earth to help save the planet. Reptile invaders, disguising themselves as humans, are waging a takeover—and Mother is mad enough to eat asteroids. Solace is ready to prove herself as a warrior, but having a human for a partner is not in her battle plan—even if the man is rugged, ripped, and ready for action.

Army Ranger, Tanner Jackson, has seen his share of black op missions. The last one took a toll on both body and soul. Tanner isn't looking for love, even though his new partner is six-foot-tall and drop dead gorgeous. However, after Solace shows him a new meaning to working undercover, he may have to reconsider that possibility.

As the Reps plan to sabotage NOAA, Tanner and Solace must learn to trust one another. But as they're trying to save the world, Solace and Tanner might just lose their hearts—and that takes the most courage of all.
Enjoy an excerpt:
There must be some mistake. The man striding toward her couldn't be Tanner Jackson. Dressed in a black t-shirt, camo cargo pants, and rugged lace up boots, he looked ready for a special ops mission, not a day of wrestling with figures and scientific data. Tall and well-muscled, he appeared rock solid, like he belonged in the age of Athena. In fact, he seemed so
overwhelmingly masculine, she worried he might not be human. That gave her pause. Had the Reps already established a man on the inside?
About the Author: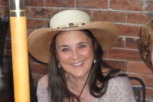 Gini Rifkin writes adventurous romance, past, present, and into the future. Her current book Solace, number seven for The Wild Rose Press, is a sexy sci/fi/fantasy romance. When not reading or writing, she has the privilege of caring for a menagerie of abandoned animals including ducks, geese, rabbits, goats, donkeys, and cats. She was born and raised in Illinois, became a registered nurse by age 19, and when struck by wanderlust, moved to Colorado where she met her husband Gary. They shared the journey for 30 years, spending vacations doing Mountain Man reenacting. Although Gary has passed on, a little bit of him lives on in every hero she writes. Her writing keeps her hungry to keep learning new things, and she considers family and friends her most treasured of gifts.
Blog | Website | Facebook
a Rafflecopter giveaway